The countdown begins to CanadaFootballChat.com Ontario Prospect Challenge on the May 1st weekend.  In the days leading up to OPC, CFC will preview the teams, coaches and players participating in the big event.
Heath Weir has enjoyed a storied coaching career.
His first tasting of coaching came in 1987 as he was a grade 10 student at Scarborough, Ontario's Stephen Leacock Collegiate Institute.
After one season, he was hooked and knew this was his calling.
"Guilio Giordani was my coach and he had a profound influence on me both as a student and as an athlete," recalled Weir.  "By the end of Grade 10 I knew after football, I wanted to pursue a career in coaching."
When he moved on to play CIS football for the Acadia Axemen (1991-1995), Weir played for legendary Head Coach Sonny Wolfe. Weir credits Wolfe for his first opportunity as well as mentoring and honing his skills to become an effective leader soon after his CIS playing career was over.
"Coach Wolfe gave me my first coaching job in 1996," reflected Weir who also did a brief stint with the Agincourt Lancers of the Toronto District Secondary School Athletic Association (TDSSAA).  "I spent quite a bit of time on the road recruiting with Coach Wolfe and he was directly responsible for teaching the art of recruiting."
As the Axemen position was a stepping stone, Weir moved south of the border to continue his coaching pursuits with two NCAA Division 1 FBS teams – Arkansas State (1998-2000) and Memphis (2002-2003).
"After Acadia, I was lucky enough to land in the deep south coaching besides the likes of Pittsburgh Steelers Head Coach Mike Tomlin, University of Maryland's Offensive Line Coach Greg Studrawa and Ottawa Red-Blacks Special Teams Coordinator Don Yanowski," added Weir, who also did a stint with Stouffville District Secondary School in between NCAA schools in 2001.  "While down south I soaked up as much football culture as I could and upon returning to Ontario."
"I have tried to instill as much of that culture as I possible."
Weir has been instrumental in the success his current team, Huron Heights Warriors of the York Region Athletic Association (YRAA) has enjoyed in recent years.  The team has won two consecutive OFSAA Bowls during his tenure including their first in 2012 (Metro Bowl) and 2013.
While Weir is passionate about his family, that includes his wife Kimberly and two sons, he lives and breathes football.
"I do football 24 hours a day, seven days a week and 365 days a year," expressed the Warriors coach.  "I love the game and I love to see players I've worked with go on and do great things both on and off the field."
For the next couple of weeks, Weir will be a little bit busier than usual as he is the Head Coach of varsity Team Central squad that will square off against Team East on May 2nd
Overall, the greatest challenge in preparing for the game is lack of time – something Weir wished he had more of for a key reason.
"We are so constrained by time that details sometimes get missed," explained Weir.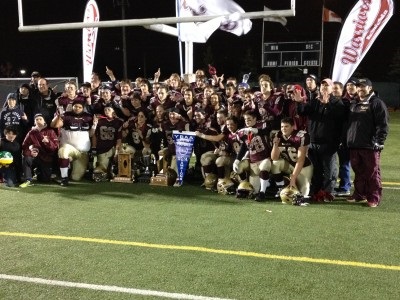 However, the lack of time is compensated by the chance for Weir to spend time with the players he had the pleasure of instructing throughout the OPC process.
"I always enjoy getting to know the boys," added the Team Central Head Coach.  "Working with kids from all over the Greater Toronto Area it can be a lot of fun."
As for how the Team Central varsity squad has been preparing for the main event, they've experimented throughout practices.
"At first we were trying to mix in a lot of different things," said Weir.  "In the end you do what you can do."
While OPC will be an opportunity for players to gain the attention of recruiters, Weir does not want participants in the game to lose sight or focus of the main goal. Overall, he imparts some key advice to the players of how to handle themselves in the competitive environment.
"Remember you are part of a team," offered Weir.  "All-Star games are won by the team that plays together."
"Too many times, I've seen the All-Star team with the most talent on paper struggle because it's everyone looking  out for themselves."
For his part, Weir says there is one objective he would like to achieve at OPC.
"The only goal is to help put on a great game for the boys and their parents," commented the Team Central Head Coach.
HEATH WEIR'S COACHING EXPERIENCE:
2004 – Present Huron Heights S.S. (York Region)
2002 – 2003 University of Memphis (FBS)
2001- Stouffville D.S.S. (York Region)
1998 – 2000 Arkansas State University (FBS)
1996-1998 Acadia University (CIS)
1995- Agincourt C.I. (TDSB)
(twitter: http://twitter.com/vohra_ameeta)
Advocating for football prospects one story at a time.