The countdown begins to CanadaFootballChat.com Ontario Prospect Challenge in Hamilton (May 1 & 2) and Ottawa (May 3rd).  In the days leading up to OPC, CFC will preview the teams, coaches and players participating in the big event.
For the past 13 years, Geoff Graham has achieved coaching success in the National Capital Amateur Football Association (NCAFA).
Since joining NCAFA in 2002, he has instructed at every single level including Tyke, Midget and Bantam levels.  Currently, Graham is the Head Coach of the midget Kanata Knights in the Ottawa region.
In addition to NCAFA, Graham has previously coached in the Ontario Varsity Football League (2009) and has served as Regional Director of the Football University (FBU) Canada Ottawa Region.
For Graham, there are several different reasons why he is passionate about coaching the sport.
"I enjoy coaching because I believe this sport is the best for teaching leadership, teamwork, and life skills to our youth," expressed Graham.  "I am honored to be in a position where I can help influence our future leaders, to help them understand the power of a team and what can be accomplished when everyone is on the same page with the same goals, working together."
"As a coach I hope I am able to help our youth deal with some of the ups and downs that life throws their way and offer them a place to escape the daily routines of life to play a sport they love.  I enjoy the many hours on the practice field with my fellow coaches and our players, when I coach I feel like I am the lucky one to be on the field and I learn as much as anybody else from those around me. If I can make a positive impact on a player or coach, the rewards are priceless."
For the next couple of weeks, Graham will be busily preparing for the Ontario Prospect Challenge as he will serve as the Head Coach of Team East's minor squad.  While he has coached many games at many different levels, getting ready for OPC is unique from situations he's experienced.
"Preparing for OPC is different than preparing for a normal season for a number of reasons including limited amount of time to get to know the players and coaches on a personal level as well as skill level, limited practice time (Only two practices to prepare for game), working with a new group of coaches, creating a simple yet prudent playbook based on two practices and having players and coaches from different cities makes it more difficult to bring everyone together for on and off field activities," explained Graham.
Throughout the entire OPC process, there were a couple of highlights of the tryout phase that Graham ranked as the most memorable.
"I really enjoyed travelling outside of the city to see all the great talent from the different regions and clubs as well as working with a new group of talented and experienced coaches," recalled the Team East coach.  "Everyone has come together to make this the best experience for all involved so it's been a thrill being a part of this."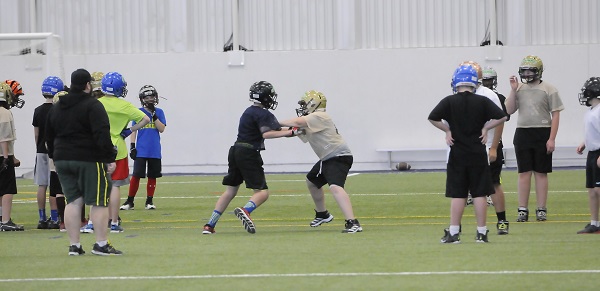 When it comes to preparation approach for the big game on May 3rd at TD Place in Ottawa, simplicity is what Graham is striving for overall.
"Both offence and defence have playbooks prepared for our players to review in advance," elaborated Graham.  "All systems will be reviewed on the field over and over until the entire team is comfortable and understand their responsibilities."
"Our approach is to keep everything simple and implement systems that our players will understand and be able to execute on game day."
For many players, the OPC will serve as their chance to get noticed and make a favourable impression early in their gridiron careers.  With the pressure of playing on a grand stage such as TD Place, Graham offers some advice to those players who are participating in the game.
"Take a deep breath, enjoy the moment, and be the best you can be," said the Team East Head Coach.  "Leave the field on this special day knowing that you tried your best for yourself and your teammates."
"Enjoy the surroundings and be proud that you are part of a selected few that have an opportunity to be a part of something special like OPC."
For Graham, his main goal for Team East at OPC is to achieve and maintain cohesion.
"From a coaching standpoint I strive and hope to be able to bring together a wide range of athletes and coaches that have never played together and provide an atmosphere for all of them to thrive in, in a very short period of time," commented Graham.  "We hope to create a family atmosphere between coaches and players and hope to provide the athletes with some great positional training to help improve their overall football skills."
Ultimately, Graham will be looking forward to seeing the OPC participants soak up this unique gridiron experience as the game has been the culmination of a long process fueled by hard-work focus and determination.
"I can't wait to see the faces of my players as they look around the stadium, absorb the atmosphere and finally get to play in the big game," expressed Graham.  "It's been many months of travelling for our camps and preparing for this day, now it's just about having fun and enjoying the moment that everyone worked so hard for."
"I am looking forward to seeing some great youth football, lots of cheers and smiles and an overall great day."
GEOFF GRAHAM'S COACHING ACCOMPLISHMENTS:
–Offensive coach Kanata Knights, 2003 Tyke NCAFA & Provincial "A" Championship
-Defensive Coordinator, 2005 Mosquito NCAFA City "A" Championship (undefeated)
-Defensive Coordinator, 2007 Peewee NCAFA City "A" Championship (undefeated)
-Head coach & Defensive Coordinator, 2008 Peewee NCAFA Chorney Conference Champions
-Head Coach & Defensive Coordinator, 2009 Bantam NCAFA Gilchrist Conference "A" Champions (undefeated)
-Defensive Back coach, 2009 OVFL Peewee – Provincial Championship (undefeated)
-Regional Director FBU Canada Ottawa Region, 2011-2012 Football University (FBU)
-Head Coach & Defensive Coordinator Kanata Knights Midget, 2011-Present
(twitter: http://twitter.com/vohra_ameeta)
Advocating for football prospects one story at a time.