The countdown begins to CanadaFootballChat.com Ontario Prospect Challenge on the May 1st weekend.  In the days leading up to OPC, CFC will preview the teams, coaches and players participating in the big event.
Patience is a virtue for Jack Gelbart.
"I wait to catch the ball at its highest point and always position myself in a spot that will help me the most," explained the 6'3, 205 pound wide receiver.
For the past seven years, Gelbart's patience has paid off in dividends.  During his stints with Blessed Trinity Thunder of the Niagara Region High School Athletic Association (NRHSAA), Niagara Storm of the Ontario Football Conference (OFC) as well as Niagara Region House League, his passion has grown for playing his primary position.
"I play wide receiver because I love the feeling you get when you make that big catch for a 30 plus yard gain and the fact that I'm the perfect size for it," elaborated Gelbart.  "The thing I love most about it is running and jump balls, especially because I'm so tall I can just hop over people."
"It really is the best feeling."
On the field, Gelbart emulates Dallas Cowboys star receiver Dez Bryant.
"He's just an absolute beast of a receiver and his jump balls are crazy," added the Ontario standout.
Tomorrow night, Gelbart will take to the field as he will participate in the Ontario Prospect Challenge (OPC) as a member of Team West.
"Last year, I wasn't really thinking of taking football any farther then high school but my friends and family really encouraged me to try and so I tried out hoping it would get me somewhere," recalled the wide receiver of his introduction to OPC.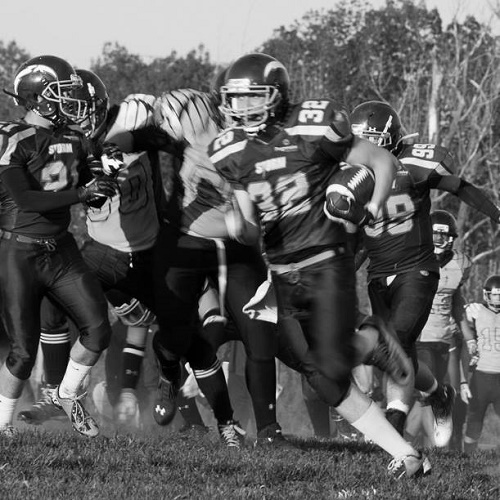 For his part, Gelbart has been satisfied throughout the entire OPC process, especially the opportunity to work with the coaching staff.
"It's been really fun, especially the coaches they're the some of the best coaches I've had," reflected Gelbart.  "OPC has been really intense as well because of the constant competition between teammates as we're all trying to get to the next level."
"The coaches have been great, so nice yet so hard; we're looking like a real solid team."
As for the pressure of playing a big game, Gelbart is used to it.  However, he is taking measures aimed at combating the challenge.
"Feeling pressure is normal as a football player," commented the Team West standout.  "You just got to take some deep breaths and do your thing."
"I have been speed training mostly and working on my hands and explosiveness it key especially as a receiver."
Gelbart hopes to put forth a good performance as he knows recruiters will be looking on.  While he will graduate this spring, he will return back to Blessed Trinity for a Victory Lap.  At this point, he is considering McMaster, Wilfrid Laurier, St. Francis Xavier, Guelph as well as NCAA Division 2 school Simon Fraser.
Ultimately, Gelbart is excited to play with and against the best from the province.
"I don't know many of the players in the Halton-Peel area but it's always a pleasure playing with buddies and guys you've grown up with," expressed Gelbart.  "I'm looking forward to the competition the most I think it's going to be a really intense game."
(twitter: http://twitter.com/vohra_ameeta)
Advocating for football prospects one story at a time.