The countdown begins to CanadaFootballChat.com Ontario Prospect Challenge on the May 1st weekend.  In the days leading up to OPC, CFC will preview the teams, coaches and players participating in the big event.
Perfection is something that Dale Wright lives by daily on the gridiron.
"It is one thing that I am always striving towards, may it be strength, agility, speed, awareness or conditioning," explained the 5'8, 185 pound running back from Markham, Ontario.  "I try to be the best I can be so I can be an efficient running back on the field and help my team when needed."
"I want to use my talents to be a reliable source of yard production within the CIS."
Wright has perfected his game during his time with both the Brother Andre Cardinals of the York Region Athletic Association (YRAA) and Markham Raiders of the Ontario Varsity Football League (OVFL).
Additionally, the standout has shown a sheer passion for playing the running back position.
"I play the running back position because I believe it is one of the best positions in which I can utilize my compact size," commented Wright.  "It is also a very fun position to play."
"The physicality and fast pace along with the feeling after making a long run are some of the best feelings out there."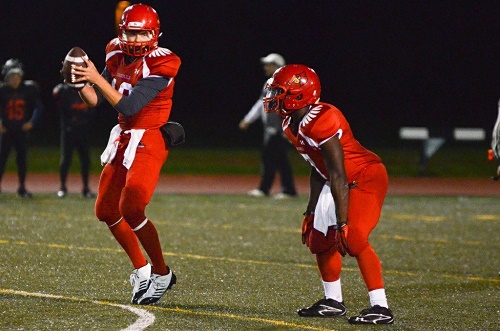 On the field, he thrives when given the opportunity to showcase his playmaking abilities.
"I would describe myself as an explosive player who is eager to outwork anyone in order to bring success to my team along with myself," added the running back.
There are two NFL stars that Wright tries to model his game after – Buffalo Bills' LeSean McCoy and Seattle Seahawks' Marshawn Lynch.
"I really like LeSean McCoy's speed and shiftiness and Marshawn Lynch's physicality and relentlessness," expressed the running back. "I am always trying to improve my speed, agility and strength in order to work towards an elite playing style."
Wright will once again tap his explosiveness as he participates in the Ontario Prospect Challenge (OPC) in Ottawa on May 2nd as a member of Team Central's Varsity squad.
"My decision to try out for OPC was well worth it," said the Ontario standout.  "I wanted to learn some new ways to improve my game so that I could increase my mental and physical capabilities to increase my worth in the recruiting process."
For his part, the opportunity to gain further instruction has been invaluable and worthwhile.
"It has been an honor to work with the OPC coaches," commented Wright.  "They have taught me many things relating to my playing style and how to be more efficient on the field."
Furthermore, the OPC experience has been a favourable one for Wright and there is one advantage of playing the OPC game that he is most looking forward to on May 2nd.
"The OPC experience has been very good," added the Team Central running back.  "I am very excited to pay at the TD Place in Ottawa."
Overall, Wright is unfazed about playing on a big stage in front of many spectators.
"I think the pressure from the OPC game comes from having only one practice and not knowing what to expect in terms of the opposition, but I believe that my off-season training regime so far has taken away a lot of the pressures of playing in the OPC game," expressed the Ontario standout.  "I am prepared to do whatever it takes to succeed on the field while sharing this experience with my friends, family and teammates."
Moreover, he is embracing this unique gridiron chance as it provides an avenue for his game to develop from different standpoints.
"I'm looking forward to playing OPC so that I will be able to know my updated strengths and weaknesses in a game situation after an already rigorous off-season," added Wright.
While many participants will be using the OPC as a prime recruitment opportunity, Wright comes into this game with a different path.  Last month, the Class 2015 running back committed to AUS team, Acadia Axemen.  In Wolfville, the Team Central standout will pursue business studies with a major in Accounting.
However, he is aiming high when it comes to his gridiron pursuits.
"I take football pretty seriously and hope to play professionally in the future," offered Wright.
For the time being, the Team Central running back is focused on two key goals he wants to specifically achieve at OPC.
"My goals for OPC are to score at least one touchdown and be as efficient as possible when on the field," commented Wright.
(twitter: http://twitter.com/vohra_ameeta)
Advocating for football prospects one story at a time.