****UPDATED JUNE 8TH @ 11:00AM EST*****
This past weekend was another jampacked slate of games in Ontario.
In the Ontario Varsity Football League (OVFL), London Jr. Mustangs and York Region Lions earned shutout victories.  Additionally, Toronto Thunder, Cambridge Lions, Ottawa Myers Riders, Kingston Grenadiers, Brampton Bulldogs and Essex Ravens were all Week 3 winners.
As for the Ontario Football Conference (OFC), the Burlington Stampeders and North Halton Crimson Tide were the only teams to get shutout wins.  Other Week 2 winners include Huronia Stallions, Forest City Thunderbirds, Hamilton Tiger Cats and Peterborough Wolverines.
Here are results for WEEK 3 OVFL and Week 2 OFC Junior Varsity Divisions
(NOTE:  At press time not all stats/scored were received; therefore, this page will be continued to be updated as more information does become available)
ONTARIO VARSITY FOOTBALL LEAGUE (OVFL):
TORONTO THUNDER 28, WEST DURHAM DOLPHINS 27:
On Saturday morning at Birchmount Stadium, Brandon Roach completed nine passes in 12 attempts for 252 yards and three touchdowns as the Toronto Thunder narrowly escaped with a 28-27 victory over West Durham Dolphins.
Vayi Yomo tallied two majors (one rushing, one receiving), rushed for 185 yards on 20 carries and racked up 49 yards on four receptions in the win.  #CFCOPC Kiondre Smith added a score and amassed 149 yards on four receptions.James Parchment added three PAT's and Kyle Pruden added one.
On defence, Mahdi Hazime reocrded a solo sack as well as five solo and five assisted tackles for the Thunder.
As for the Dolphins, Anthony Smith scored a touchdown and had 80 yards on two receptions.  Furthermore, Ethan Smith added a major and racked up 50 yards on two receptions.
Pivot Jaden Richards completed seven passes in 16 attempts for 115 yards and three touchdowns.  Adam Risbey was successful on a seven yard field goal and four PAT's in the loss.
CAMBRIDGE LIONS 13, ETOBICOKE EAGLES 6:
At Michael Power/St.Joseph's High School on Saturday afternoon, the Cambridge Lions defeated hosts Etobicoke Eagles 13-6.
Logan Hall caught two interceptions, had three batted balls, an assisted and three solo tackles.
Eric Stranz added a PAT for the Lions.
YORK REGION LIONS 36, METRO TORONTO WILDCATS 0:
On Saturday afternoon at St. Maxmillian Kolbe High School, Ron Boshoer scored two touchdowns and rushed for 172 yards on 18 carries as the York Region Lions earned a 36-0 shutout victory over the Metro Toronto Wildcats.
George Harper also tallied two majors and rushed for 91 yards on 10 carries.John-Kurt Andreacchi added a 14 yard field goal and two PAT's in the win.
LONDON JR. MUSTANGS 43, MISSSISSAUGA WARRIORS 0:
At Loyola Catholic Secondary School on Saturday afternoon, Ethan Martin tallied two majors and rushed for 112 yards on 10 carries as the visiting London Jr. Mustangs crushed the hosts Mississauga Warriors 43-0.
Hayden Herlick also added a score and rushed for 87 yards on 12 carries.  Wenman Lucas had a 64 yard reception in the game. Brian Garrity was successful on six conversion attempts.
Dylan Mattatal caught two interceptions as well as registered five solo and three assisted tackles to power the Jr. Mustangs defence.
OTTAWA MYERS RIDERS 42, CUMBERLAND PANTHERS 21:
On Saturday afternoon at Beckwith Recreation Park, Hayden Tripp scored three touchdowns and rushed for 204 yards on 30 carries as the Ottawa Myers Riders cruised to a 42-21 win over Cumberland Panthers.
#CFCOPC pivot James Keenan completed 16 passes in 24 attempts for 181 yards and three touchdowns for the Myers Riders.  Moreover, #CFCOPC Hono Iloki racked up 73 yards on eight receptions.
On defence, Blake Mackenzie-Thompson caught an interception, recorded a solo sack as well as three solo and six assisted tackles.#CFCOPC Malik Yusuf added two solo sacks, four solo and seven assisted tackles in the victory.
As for the Panthers, John Davis had 80 yards on six receptions.  Ryan Licandro completed 16 passes in 35 attempts for 151 yards and two touchdowns in the loss.Xavier Gervais added three PAT's.
Shane Koscher had two batted balls, seven solo and five assisted tackles to lead the Panthers defence.  Makayeo Hall recorded a solo sack, six solo and seven assisted tackles.
KINGSTON GRENADIERS 29, OSHAWA HAWKEYES 2:
At Oshawa Civic Stadium on Saturday evening, Brock Vale scored two touchdowns and rushed for 151 yards on 15 carries as the Kingston Grenadiers thumped the hosts Hawkeyes 29-2.
Tyrus Bromley had 74 yards on five receptions for the Grenadiers.
Brady Sager led the Grenadiers defence with an assisted sack as well as two solo and 10 assisted sacks.
Khayden Stewart caught an interception, recorded a solo sack as well as four solo and two assisted tackles for the Hawkeyes.
BRAMPTON BULLDOGS 50, HAMILTON IRONMEN 18:
On Saturday evening at Chinguacousy Park, Juwan Jeffrey tallied two majors and rushed for 158 yards on nine carries as the Brampton Bulldogs defeated the Hamilton Ironmen 50-18.
Shemar Headley added a score and rushed for 154 yards on eight carries in the win.  Antonio Webb had four PAT's, caught an interception as well as four solo and four assisted tackles.
For the Ironmen, Marcello DaSilva scored a touchdown and amassed 111 yards on nine receptions.  Additionally, Tyler Davies had a major and 82 yards on five receptions in the loss. Raven LaFromboise was successful on a conversion attempt.
Pivot Anthony Pimentel completed 16 passes in 29 attempts for 244 yards and two touchdowns in the game.
ESSEX RAVENS 30, NIAGARA SPEARS 28:
At University of Windsor Alumni Stadium on Sunday afternoon, the hosts Essex Ravens got by the Niagara Spears 30-28.
(NOTE: Stats were not available at press time for this game)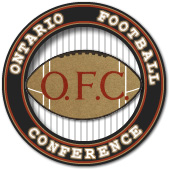 ONTARIO FOOTBALL CONFERENCE (OFC):
HURONIA STALLIONS 39, SUDBURY GLADIATIORS 22:
On Saturday, the Huronia Stallions coasted to a 39-22 win over Sudbury Gladiators.
(NOTE: Stats were not available at press time for this game)
FOREST CITY THUNDERBIRDS 9, GUELPH JR. GRYPHONS 7:
The Forest City Thunderbirds edged the Guelph Jr. Gryphons 9-7 on Saturday.
(NOTE: Stats were not available at press time for this game)
NORTH HALTON CRIMSON TIDE 38, TORONTO JR. ARGOS 0:
On Saturday, the North Halton Crimson Tide earned a 38-0 shutout victory over Toronto Jr. Argos.
(NOTE: Stats were not available at press time for this game)
HAMILTON TIGER CATS 51, TWIN-CITIES PREDATORS 13:
Game Recap by John Metcalfe
A 51-13 win over the Twin Cities Predators (1-1) allowed the Cats to even their record at 1-1.
Calvin Kelly paced the victors with two scores while Carter Routledge, Ryan Leder also scored as well.
Ethan Bastarache was good on 7 of 7 converts and the defence recorded a safety touch.
Dezman Bodan had a touchdown and convert for the Predators and Jared Letoille also caught a scoring pass.
BURLINGTON STAMPEDERS 36, SARNIA STURGEON 0:
Game Recap by John Metcalfe
Nathan Langley led the way for the Stamps with 2 majors in a 36-0 shutout at Sarnia.  Brandon Day, Josh Munoz and Adam Kranz also crossed the goal line for the winners.  Dalton James was good on 4 of 5 convert attempts and the defence forced a safety touch as the JVs moved to 2-0 on the season
PETERBOROUGH WOLVERINES 25, VAUGHAN REBELS 23:
Source: Peterborough Wolverines
The Wolverines Junior Varsity squad was able to overcome the strong effort from a very determined Rebels team to gain the come from behind 25-23 victory.
The Rebels started strong and jumped out to a 10-0 lead until the Wolverines scored in the second quarter closing the Rebels' lead to 16-14 at the half.
In the fourth quarter the Wolverines were able to outscore the Rebels 11-7 to preserve the hard fought victory.
Scoring for the Wolverines were Kyle Milburn with two touchdowns, Blake Dalgarno with one touchdown, Quinn Clancey converted three PAT's and added a nine yard ield goal. Graeme Highway recorded a single point off a punt.
The Wolverines are now 2-0 and will host a strong physical Sudbury Gladiators team at TAS this Saturday in a 2 pm game.
Advocating for football prospects one story at a time.