****UPDATED JULY 12th, 2016 @ 10:00AM EST***
As we are approaching the end of the regular season in the Ontario Varsity Football League (OVFL), two teams continue to dominate their respective conferences.
The Ottawa Myers Riders are tops in the Wettges Conference while the London Jr. Mustangs lead the Adam Conference with perfect records after victories this past weekend. Other Week 8 winners include SSM Sabrecats, Etobicoke Eagles, Cumberland Panthers, West Durham Dolphins and Brampton Bulldogs.
Meanwhile, teams in the Ontario Football Conference (OFC) were trying to keep pace with the perfect Burlington Stampeders who were enjoying a bye this past week.  Hamilton Varsity Tiger Cats, Peterborough Wolverines, North Halton Crimson Tide, Twin Cities Predators, Sarnia Sturgeon and Oakville Titans won their contests.
Here are results for WEEK 8 OVFL and Week 7 OFC Junior Varsity Divisions
(NOTE:  At press time not all stats/scored were received; therefore, this page will be continued to be updated as more information does become available)
ONTARIO VARSITY FOOTBALL LEAGUE (OVFL):
LONDON JR. MUSTANGS 34, NIAGARA SPEARS 7:
At TD Waterhouse Stadium on Friday evening, Dante Nicholls scored three touchdowns and rushed for 132 yards on 20 carries as the London Jr. Mustangs cruised to a 34-7 win over visiting Niagara Spears.
The Jr. Mustangs remain perfect at 7-0 while the Spears slip to 5-2.
Ethan Martin completed seven passes in 14 attempts for 112 yards, rushed for 83 yards on eight carries and had four touchdowns (two passing, two rushing) in the game.  Ethan Smith has 71 yards on four receptions while Shane Cameron racked up 77 yards on 11 carries for the Jr. Mustangs. Brian Garrity added four PAT's.
For the Spears, Joshua Lisi led the defence with two batted balls and eight solo tackles.  Additionally, Mitchell Demers blocked a kick as well as registered five solo and two assisted tackles.
Justin Succar tallied the lone major for the Spears
Liam Gaudet had 57 yards on three receptions in the loss.
SSM SABRECATS 24, METRO TORONTO WILDCATS 7:
On Saturday afternoon at Birchmount Stadium, Parker St. Onge tallied two majors and rushed for 171 yards on 33 carries as the SSM Sabrecats won on the road, defeating Metro Toronto Wildcats 24-7.
The Sabrecats improve to 4-3 while the Wildcats are winless at 0-7.
Taylor Holub also scored two touchdowns and racked up 60 yards on five receptions.
Byron Pine led the Sabrecats defence with an interception and two solo tackles.
As for the Wildcats, Tornel Reil completed five passes in nine attempts for 136 yards in the game.  Robert Scott had 45 yards on two receptions while Miguel Martin added a 45 yard reception in the loss.  Tristan Kindrachuk was successful on a conversion attempt.
Troy Holness (four solo, 16 assisted tackles), Thomas Manttari (four solo, 13 assisted tackles), Yiannis Spetsakis (one batted ball, three solo and 13 assisted tackles) Eric Dika (three batted balls, six solo and three assisted tackles), Omari Hastings (four solo, 12 assisted tackles) and Malik Treleven (an interception, two solo and two assisted tackles) all led the Wildcats's defence.
ETOBICOKE EAGLES 50, HAMILTON IRONMEN 0:
Source: John Metcalfe
Keon Edwards touchdown runs of 4, 1 and 86 yards led the Etobicoke Eagles to a 56-6 win over the Junior Varsity Ironmen.  Other scorers for Eagles were Jordan Morenzie (40 yard catch, 2 kickoff rouges), Karis Saplys (1 yard run), Imran Shahzad (10 yard run), Samuel Conteh (39 yard reception) and Dantae Lee (60 yard reception).  Hamilton's lone score came on 59 yard screen pass from Anthony Pimentel to Amlicar Polk.  Eagles moved to 4-3 with the win while Ironmen dropped to 0-7.
OTTAWA MYERS RIDERS 59, YORK REGION LIONS 14:
At St. Maximillan Kolbe High School on Saturday afternoon, Hayden Tripp tallied two majors and rushed for 193 yards on 17 carries as the Ottawa Myers Riders upended the York Region Lions 59-14.
The Myers Riders remain undefeated at 0-7 while the Lions fall to 2-5.
#CFCOPC Hono Iloki scored two touchdowns and had 412 yards on three receptions in the game.  Terrell Brown added a 39 yard reception while Ben Williams rushed for 49 yards on three carries.
Meanwhile, George Harper scored three touchdowns (two rushing and a 45 yard touchdown reception) and rushed for 122 yards on 11 carries for the Lions.  Moreover, Ron Boshoer amassed 98 yards on 20 carries.  John-Kurt Andreacchi added two PAT's.
CUMBERLAND PANTHERS 35, KINGSTON GRENADIERS 0:
On Saturday afternoon at Millenium Field, the Cumberland Panthers earned a 35-0 shutout victory over Kingston Grenadiers.
Both teams have identical 4-3 records on the season.
For the Grenadiers, Braden Hart registered five solo and 10 assisted tackles in the loss.
WEST DURHAM DOLPHINS 50, OSHAWA HAWKEYES 0:
At Oshawa Civic Stadium on Saturday evening, Jaden Richards completed eight passes in 10 attempts for 122 yards and three touchdowns as the West Durham Dolphins crushed hosts Hawkeyes 50-0.
The Dolphins moved to 5-2 while the Hawkeyes slide to 2-6.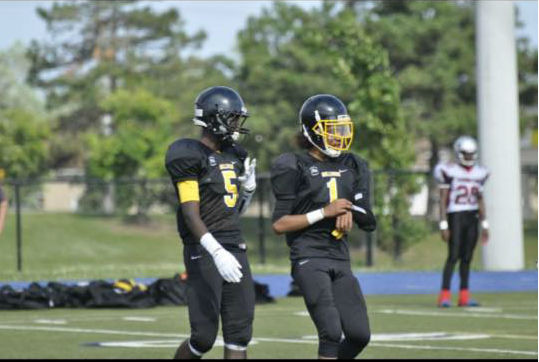 BRAMPTON BULLDOGS 36, MISSISSAUGA WARRIORS 0:
On Sunday evening at Chinguacousy Park, Shaye Wynter was nearly perfect as he completed 11 passes in 12 attempts for 101 yards and two touchdowns as the Brampton Bulldogs trampled on the Mississauga Warriors 36-0.
The Bulldogs improve to 5-2 while the Warriors drop to 1-6.
Shamar Headley scored a touchdown and rushed for 145 yards on 15 carries in the win.  Retsen-Taeshawn Daley had 52 yards on five carries for the Bulldogs. Antonio Webb added three PAT's.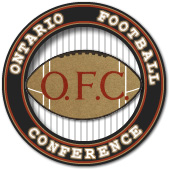 ONTARIO FOOTBALL CONFERENCE (OFC):
HAMILTON VARSITY TIGER CATS 16, FOREST CITY THUNDERBIRDS 10:
Source: John Metcalfe
A 16-10 win at Forest City solidifies the Cats hold on 2nd place in the South Division.  Spencer Kennedy and Carter Routledge scored the majors for winners with Max Sherwood converting both and adding a pair of singles.  For the Thunderbirds, Craig Coleman had the lone major while Nathan Hodgins added a field goal and convert.  The win improves the Cats to 5-1 while Forest City drops to 3-3.
PETERBOROUGH WOLVERINES 34, TORONTO JR. ARGOS 0:
Source: Peterborough Wolverines
The Jr. Varsity Wolverines were once again lead in scoring by Keegan Crough with two touchdowns and a 35 yard field goal. Quinn Clancey converted four convert kicks and Owen Jordan scored a touchdown on an exciting pass play from quarterback Blake Dalgrano. Graeme Heighway scored a single point off a punt.
The Jr. Varsity will enjoy a bye this week and will travel to Guelph on the final week of the regular season.
NORTH HALTON CRIMSON TIDE 42, SUDBURY GLADIATORS 7:
On Saturday, the North Halton Crimson Tide coasted to a 42-7 victory over Sudbury Gladiators.
The Crimson Tide move to 4-2 while the Gladiators drop to 1-5.
(NOTE: Stats were not available at press time for this game)
TWIN CITIES PREDATORS 30, BRANTFORD BISONS 6:
On Saturday, the Twin Cities Predators defeated the Brantford Bisons 30-6.
Both teams have identical 4-2 records.
(NOTE: Stats were not available at press time for this game)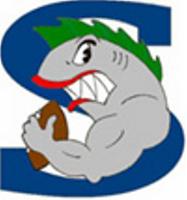 SARNIA STURGEON 11, GUELPH JR GRYPHONS 0:
On Sunday, the Sarnia Sturgeon scored an 11-0 shutout win over Guelph Jr. Gryphons.
The Sturgeon are 2-5 while the Jr. Gryphons are 1-5.
(NOTE: Stats were not available at press time for this game)
OAKVILLE TITANS 19, VAUGHAN REBELS 0:
On Sunday, the Oakville Titans defeated Vaughan Rebels 19-0.
The Titans move to 3-3 while the Rebels slide to 1-5.
(NOTE: Stats were not available at press time for this game)
Advocating for football prospects one story at a time.