****UPDATED JULY 12TH, 2016 @ 10:00AM EST***
With one week remaining in the Ontario Varsity Football League (OVFL), the Niagara Spears have proven that they are untouchable.
As they will enjoy the last week of the regular season with a bye, the Spears won their last game before the postseason.  Other Week 8 winners included Metro Toronto Wildcats, Hamilton Ironmen, Kingston Grenadiers, Ottawa Myers Riders, Oshawa Hawkeyes, Cambridge Lions and Mississauga Warriors.
In the Ontario Football Conference (OFC), it was a nailbiter in Burlington, but the Stampeders prevailed and handed the Hamilton Varsity Tiger Cats their first loss of the season.  Additionally, Huronia Stallions, Toronto Jr. Argos, North Halton Crimson Tide, Guelph Jr. Gryphons and Vaughan Rebels were Week 7 victors.
Here are results for WEEK 8 OVFL and Week 7 OFC Varsity Divisions
(NOTE:  At press time not all stats/scored were received; therefore, this page will be continued to be updated as more information does become available)
ONTARIO VARSITY FOOTBALL LEAGUE (OVFL):
METRO TORONTO WILDCATS 17, CORNWALL WILDCATS 0:
At Birchmount Stadium on Saturday afternoon, Joshua Knight was successful on three field goal attempts, including a 30 yard attempts as well as added a PAT as the Metro Toronto Wildcats earned a 17-0 win over Cornwall Wildcats.
The Metro Toronto Wildcats improve to 2-6 while the Cornwall Wildcats drop to 1-6.
Dolani Robinson tallied the lone major of the game and had 54 yards on six receptions.  Jerome Adams rushed for 129 yards on 14 carries for the Wildcats.
David Weldon led the Metro Toronto defence with a fumble recovery, four solo and six assisted tackles.
HAMILTON IRONMEN 18, ESSEX RAVENS 1:
Source: John Metcalfe
An 18-1 victory over Essex keeps the Varsity Ironmen in the playoff chase heading into the last weekend of the regular season.  Alex MacDonald with a 2 yard run and Cameron Cuicani with a 20 yard scoring reception were the touchdown scorers for Hamilton while David Benedetti added 2 converts, a 31 yard field goal and a rouge off a wide field goal to complete Hamilton's scoring ledger.  Vito Pipitone had the sole Raven's point on a rouge from a missed field goal.  Isaiah Joseph was a force for the Ironmen defence notching 3 sacks, 2 quarterback hurries and a fumble recovery.  With the win, Ironmen improve to 3-4 while Essex drop to 4-3.  The Ironmen, Essex and Mississauga Warriors are all in a dog fight to make the 4th and final playoff position.  Hamilton go to Cambridge at 8:00 pm on July 15th while Mississauga will host Essex on July 16th to see who will advance to the post season.
KINGSTON GRENADIERS 37, CUMBERLAND PANTHERS 0:
On Saturday evening at Millenium Park, the Kingston Grenadiers scored a 37-0 shutout victory over Cumberland Panthers.
The Grenadiers move to 6-1 while the Panthers fall to 2-5.
Grant LeGood scored two touchdowns and amassed 115 yards on four receptions for the Grenadiers.  Additionally, Harry Robinson (76 yards on 12 carries) and Josh Armstrong (74 yards on 15 carries) each tallied a major. Pivot Brendon Steele completed nine passes in 15 attempts for 2-9 yards and three touchdowns.  Shawn Miller added five PAT's.
Defensively, Chad Stymest had two forced fumbles, two solo sacks as well as an assisted and seven solo tackles.
OTTAWA MYERS RIDERS 46, YORK REGIONS LIONS 39:
At St. Maximillan Kolbe High School, Nolan Lovegrove broke a single OVFL game record for most receiving yards; however, it wasn't enough as the Ottawa Myers Riders defeated the York Region Lions 46-39.
Lovegrove amassed 383 yards on 17 receptions and scored five touchdowns in the Lions loss.
The Myers Riders are 6-1 while the Lions slide to 5-2.
#CFCOPC pivot Brayden Lassenba completed 16 passes in 25 attempts for 319 yards and three touchdowns for the Myers Riders. Richard Burton tallied a major and had 103 yards on two receptions. Jean-Paul Cimankinda also added a score and amassed 95 yards on three receptions.
#CFCOPC pivot Noah Craney completed 30 passes in 44 attempts for 475 yards and five touchdowns in the game.  Majeed Zabsonre racked up 42 yards on four receptions.  Marc Liegghio added a 15 yard field goal and five PAT's for the Lions.
Defensively, Cameron End had two fumble recoveries, recorded two solo sacks as well as four solo and nine assisted tackles. #CFCOPC Aaron Heffernan reigstered two batted balls, seven solo and three assisted tackles in the loss.
OSHAWA HAWKEYES 38, WEST DURHAM DOLPHINS 18:
On Saturday night at Oshawa Civic Stadium, the hosts Hawkeyes upended the West Durham Dolphins 38-18.
The Hawkeyes improve to 3-5 while the Dolphins slip to 1-6.
For the Dolphins, Teyas Yew Woon scored a touchdown and had 66 yards on five receptions.  Moreover, Andre Goulbourne rushed for 124 yards on 16 carries and Bailey Grimes had a 26 yard carry. Austin Brown was successful on a conversion attempt.
CAMBRIDGE LIONS 43, SSM SABRECATS 6:
At Wilfrid Laurier Stadium on Saturday night, the Cambridge Lions crushed the visiting SSM Sabrecats 43-6.
The Lions move to 5-2 on the season while the Sabrecats are now 3-4.
(NOTE: Stats were not available at press time for this game)
NIAGARA SPEARS 30, LONDON JR. MUSTANGS 22:
On Saturday night at Kiwanis Field, Travis Arp completed 14 passes in 21 attempts for 175 yard and two touchdowns as the Niagara Spears finished their regular season in fine form as the team got past the visiting London Jr. Mustangs 30-22.
The Spears have a perfect 8-0 record while the Jr. Mustangs are 4-3.
Jack Gelbart tallied a major and racked up 76 yards on six receptions.  Jordan Terrio added a score and 61 yards on four receptions for the Spears.  Ted Njeru and Tre Ford also added touchdowns.
Reid Wiley led the Spears defence with two interceptions, two batted balls as well as an assisted and three solo tackles.  Mikey Domanico recorded a sack as well as three solo and two assisted tackles in the game.
For the Jr. Mustangs, Connor Wicklum completed 14 passes in 31 attempts for 251 yards and two touchdowns.  Tazie Vang Bell scored a touchdown in the game.  Jack Kys amassed 108 yards on four receptions while Griffin Bock racked up 104 yards on four receptions in the loss. Nick Cozens tallied a major and had 54 yards on five receptions.  Sean Gough added three PAT's.
Tyler Hourie led the Jr. Mustangs defence with seven solo and six assisted tackles.  Omar Helbah added four solo and seven assisted tackles.  Chase McGee registered five solo and five assisted tackles in the game.
MISSISSAUGA WARRIORS 16, BRAMPTON BULLDOGS 14:
At Chinguacousy Park on Sunday night, the Mississauga Warriors escaped with a 16-14 win over Brampton Bulldogs.
The Warriors improve to 4-3 while the Bulldogs drop to 1-6.
Genesis Bediako led the Bulldogs as he tallied a major and rushed for 145 yards on 21 carries. Furthermore, Deandre Rose added a rushing touchdown and 46 yards on 10 carries in the loss.  Ricardo Reyes added two PAT's.
Defensively, Chris Spencer registered a solo and 14 assisted tackles for the Bulldogs.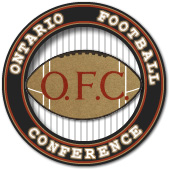 ONTARIO FOOTBALL CONFERENCE (OFC):
HURONIA STALLIONS 51, NIPISSING WILD 14:
On Saturday, the Huronia Stallions cruised to a 51-14 win over Nipissing Wild.
The Stallions move to 3-4 while the Wild slide to 1-5.
(NOTE: Stats were not available at press time for this game)
TORONTO JR. ARGOS 28, PETERBOROUGH WOLVERINES 27:
Source: Peterborough Wolverines
In the Sr. Varsity contest, the Wolverines were again lead in scoring by Nick Clarkin with two touchdowns and he was also successful with two field goals of 18 and 25 yards. The other Wolverines score was a touchdown by Spencer Johnston.
The Sr. Varsity squad will travel to North Bay this Saturday to face the Nipissing Wild. They will finish their regular season on the final week end as they host the Burlington Stampeders at TAS.
NORTH HALTON CRIMSON TIDE 28, SUDBURY GLADIATORS 14:
On Saturday, the losing skid continued for the Sudbury Gladiators as the team suffered another loss at the hands of the North Halton Crimson Tide 28-14.
The Crimson Tide improve to 5-2 while the Gladiators fall to 3-4.
In this game, the Gladiators went with a different quarterback.  SInce Chris Moutsatsos was sidelined due to an injury, Samson Recollet got the start.  Noah Skuse and Graeme Stevens each scored a touchdown for the Gladiators.
Defensively, Andrew North, Josh Girolametto and Riley Roy each had interceptions in the game.
BURLINGTON STAMPEDERS 35, HAMILTON VARSITY TIGER CATS 23:
Source: John Metcalfe
The defending champs won the initial battle for first as they downed their western neighbours, the Hamilton Varsity Tiger Cats 35-23.  The Cats got on the board first from an 81 yard bomb from Connor Carusello to Jacob Patten Bohtelo on Hamilton's first play from scrimmage.  The Stamps came right back to even things on a 4 yard run from Dominic Mandalfino.  Patten Bohtelo hoofed a 20 yard field goal and then hooked up from midfield to give the Cats a 10 point lead.  Zachary Hoffner with a 21 yard fumble return and Nicholas Mardner on a 10 yard pass from Mason Brown gave the Stamps a 21-17 lead at the half.  Mandalfino on a 10 yard run and Ben Cadman's 30 yard interception return plus 5 Patrick Whelan converts closed out the Stampeder scoring.  Jordan Rimac plunged in from a yard out to give the Cats their last scoring play.  Mandalfino ended the day with 172 yards on 27 rushes to lead the Stamps while Patten Bohtelo ended the day with 4 catches for 148 yards to lead Hamilton.  The win moves the Stamps to 6-0 while the Cats drop to 5-1.
GUELPH JR. GRYPHONS 56, CHATHAM-KENT COUGARS 6:
On Sunday, Keith Bray scored two touchodowns as the Guelph Jr Gryphons trampled over Chatham-Kent Cougars 56-6.
The Jr. Gryphons move to 4-2 while the Cougars are winless at 0-6.
Jackson Taylor tallied a major and rushed for 78 yards on 14 carries.
Dalton O'Brien, Kenneth Morris, Keontae King, Nicholas McKellar and Cameron Bulmer each added a score in the game.
Defensively, Demarre Brown caught two interceptions as well as three solo and two assisted tackles for the Jr. Gryphons.
Cameron Grineage scored the Cougars' only touchdown.
(NOTE: Stats were not available at press time for this game)
VAUGHAN REBELS 35, OAKVILLE TITANS 33:
On Sunday, the Vaughan Rebels got past the Oakville Titans 35-33.
Both teams now sport identical 1-6 records on the season,
(NOTE: Stats were not available at press time for this game)
TWIN CITIES PREDATORS VS BRANTFORD BISONS:
Game was cancelled on Sunday
Advocating for football prospects one story at a time.