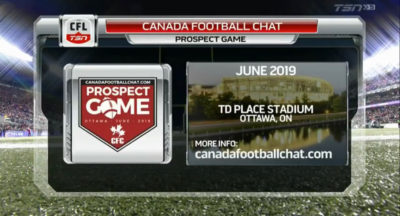 Did you miss the big announcement live on TSN? … We're taking amateur football to the national stage! Head over to our new independent site to learn more about the Canadafootballchat.com Prospect Game broadcast by TSN – We look forward to meeting the brightest talent from around the country on our road to TD Place Stadium.
AAA
CFC50 No. 9 Mount Douglas v. CFC50 No. 16 New Westminster
Dec. 1 @ 7:00pm, BC Place
In a thrilling win over CFC50 No. 20, the Vancouver College Fighting Irish, 31-28, with a last play field goal for the win, the Rams are headed back to the Dome to attempt to defeat defending 2017 champions, the New Westminster Hyacks.
Rams are no stranger to the winner's circle as they won the title from 2010-2013 and then again in 2015. Looking for their 6th provincial title in the past 10 years, they have proven over and over again that when the big games count, they play up to the expectation and more. With a quarterback who's hit his stride later in the season, the whole team has come alive and have been playing their best football yet.
In last week's game, CFC100 Gideone Kremler had an explosive game rushing for 146 yards and 1 rushing touchdown as well as passing for 138 yards and 1 passing touchdown and was just as effective on defense with 8 tackles. Up and comer, Sebastian Hansen, was key to this victory tallying up 104 yards on the ground and 1 rushing touchdown and 73 receiving yards and 1 touchdown reception. He also registered 7 tackles on defense. CFC100 Zairech Kremler led the defense with 8 tackles and made one key fumble recovery with VC knocking on the Rams own 1 yard line. The nail in the coffin was 10th grader, CFC100 Jackson Reid, kicked the game winning field goal (as well as 4 converts). Reid was not expected to play due to a lower body injury, but was clutch on this day.
"I'm really just looking forward to being able to leave it all out on the field," said Gideone Kremler. "Not having to worry about next week or game planning for anything else except this one game. I'm excited to watch our team give everything they got." His twin, Zairech, added, "It's just been an amazing ride, it's incredible to have another shot at the title, especially in my last year, so I'm nothing but excited for the game".
The Rams will need to put out that same tremendous effort if they are to beat the NWSS Hyacks, who also had a upset win, 33-0, against CFC50 No. 35 Terry Fox.
The Hyacks were prepared for a battle not only of the physical type, but of the emotional type. You may recall how the Ravens and the Hyacks ended last year's provincial title game in the last seconds of the game clock. Well, that emotion was carried through to this season as well. However, the Hyacks, determined to go high when others go low, outplayed and out coached a tough and gritty Terry Fox team that couldn't seem to get on the same page in any phases of the game. The Hyacks also came together like they haven't all season long.
CFC100 athlete Kinsale Philip and CFC100 DL Evan Nolli continued to do what they do best, wreck havoc all over the field in various positions. but it was a few other players that really stepped up to make the win. Matt Lalim and Greyson Planinsic had monster games, as well as CFC100 defensive tackle, Vishaan Narayan, Zach Northgraves, and Michael Kingsley.
That being said, that game has past and both teams have one more on the line.
"Being able to have the chance to be back to back Provincial Champions" is what Nolli said he is looking forward to come Saturday. He added, "Also to be able to finish a great season with my brothers".
Kinsale Philip chimed in, "The biggest thing I'm looking forward to is really enjoying my last game playing high school football and leaving downtown with a W. All I want to do is win".
After losing three of their last four games – one of those to the Rams 34-28 – one can only expect an incredibly tight game filled with all kinds of athletic plays and stellar performances. Nolli believes that a week of the best practices that they have ever had and to focus on the game plan without distractions is what is going to be key leading into this game.
"I don't think the team needs to do anything special other than calling on themselves to make a play every down. That's all I could ever ask for with a team. Passion is going to be key on Saturday," continued Philip.
"I feel like in order to win this week we are going to have to play the smartest, most physical football we have played all year. We are going to have to set the tone early and capitalize on any and every opportunity we get," said Gideone.
"I think to get this win we just gotta keep playing and keep moving the way that we've been going, we're improving every week, every practice, and I just think that when that shows it's gonna be an amazing game," finished Zairech.
In the end, we believe this game is going to be a tight one decided with maybe one score or less in between. It's bound to be full of fireworks and one not to forget.
Players to watch Mt. Douglas: CFC100 QB Gideone Kremler, CFC100 ATH Zairech Kremler, REC Sam Mosky, DB Sebastien Hansen, CFC100 DL Aiden Bertuzzi, CFC100 OL Jackson McEwan, CFC100 OL Matt Ounsted, CFC100 Jackson Reid
Players to watch New Westminster: CFC100 DL Evan Nolli CFC100 DL Pavan Kainth, CFC100 DL Vishaan Narayan, OL Daniel Dordevic, CFC100 ATH Kinsale Philip, CFC100 ATH Broxx Comia, CFC100 DB Taran Birdi, CFC100 DB Deakon Young, ATH Matthew Lalim, ATH Greyson Planinsic
AA
Robert Bateman v. Vernon
Dec. 1 @ 5:00pm, BC Place
Vernon carried on with their shutout play with their win, 44-0, over John Barsby in the semifinal round. Going on an 8 game winning streak, the Panthers will look to finish the season undefeated and AA provincial champions this Saturday. They should have a pretty good chance if their CFC100 quarterback Thomas Hyett carries on as he has been all season long. They will also rely on athlete Charles Lemay on both sides of the ball if they are going to get past Robert Bateman who also is coming off their semifinal win, 49-0 against Holy Cross.
In a no contest game, Bateman couldn't have scripted it better. With receiver Sam Davenport stealing the show with four touchdowns, 2 interceptions, and 6 out of 7 PATs, they will need that kind of performance again against a much tougher opponent in the Panthers.
"I'm most looking forward to being able to put on my high school jersey one last time with my team. It is such a great feeling knowing that this is farthest we could have gone. Stepping on to that field with guys that have been fighting for the same opportunity is amazing. Each individual has done what has been asked of them to make it where we are now," said Davenport. "We need to keep pushing each other in practice and do what our coaches believe we can do. If we play to our strengths and give 100 percent effort each play we will have a good shot. Our coaches are putting us in the right spots we just need to go out and perform."
This will be Bateman's first appearance in the Subway Bowl and one can only imagine the gameday jitters that will ensue. Quarterback Logan McDonald has been a true leader getting his team on a five game winning streak. With each week, the momentum has been building as well as the confidence in what their coaches have been selling all year long.
We started to follow the Timberwolves midway through the season and can see the momentum growing in that program. No doubt, win or lose this weekend, this isn't the last time we'll see this team compete at the top.
Players to watch Vernon: CFC100 QB Thomas Hyett, ATH Charles Lemay, OL Jackson Thomas, REC Caden Danbrook, DL Trey Defoor, DB Zachary Smith
Players to watch Robert Bateman: QB Logan McDonald, RB Phoenix Moller, REC Sam Davenport,  REC Ty Martens, REC Ryan Sztuhar
[/private]
Advocating for football prospects one story at a time.