Offensive Lineman – #65 Michele Vecchio – Okanagan Sun
Saturday night the Sun offense amassed 257 yards on the ground and kept the very quick and talented VI Raiders defensive line in check. The "BC Lions Offensive Player of the Week" is Michele Vecchio who led the charge opening up holes for running backs and keeping the two quarterbacks off the ground all night without a sack. The entire offensive Line was solid on the night, but Vecchio stood out with his strong play, anchoring a solid team effort.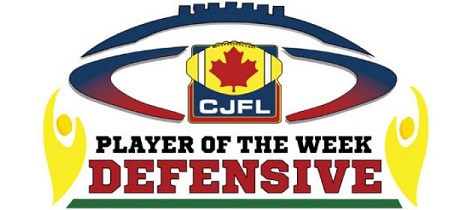 Linebacker – #55 Tyler Leader – Westshore Rebels
For the second straight week a Westshore Rebels linebacker has been named the "BC Lions Defensive Player of the Week."  This past weekend Tyler Leader certainly lived up to his name, leading the Conference with nine tackles and added an assist.
Returner – #21 Jake Hauge – Westshore Rebels
Saturday afternoon one play on special teams stood head and shoulders above all the others.  Westshore Rebel defensive back Jake Hauge broke through the line on a Valley Huskers field goal attempt.  He blocked the kick, picked up the bouncing ball and returned it 62 yards for a touchdown, his first career touchdown.    Hauge is named the "BC Lions Special Teams Player of the Week."
Advocating for football prospects one story at a time.