Western faces Guelph in battle of CIS TOP 10 teams
The Western Mustangs football team rebounded nicely from their first loss of the season with a dominant 61-20 victory over the Laurier Golden Hawks last Thursday. Western now looks to begin another winning streak when they head on the road this Saturday for a showdown with the Guelph Gryphons.
 
Saturday's game will mark the third time in as many weeks that the CIS No. 4 Mustangs have faced an opponent listed in the CIS Top 10 rankings as the Gryphons sit two spots behind the Mustangs in the latest media poll in sixth place. With both team's tied for second in the OUA standings with identical 5-1 records, the game will have major playoff implications including going a big way to determine which team earns a first round playoff bye.
 
Western's latest contest featured a bit of a different look for the Mustangs with a number of players out of the lineup due to injury, including starting quarterback Will Finch and receiver Matt Uren.
 
Despite missing some key players the Mustangs didn't miss a step, posting 720 yards of offence with six touchdowns. Quarterback Stevenson Bone impressed in his first career OUA start, completing 19-of-25 passes for 285 yards and three touchdowns. He also ranked second among all Mustangs rushers with 86 yards and one TD on only seven rushing attempts.
 
Garret Sanvido led the Mustangs ground game, picking up 165 yards on 17 attempts, while Brian Marshall topped the receiving section of the score sheet with eight catches for 157 yards and one touchdown.
 
Defensively the Mustangs held the CIS' top rusher Dillon Campbell to his worst total of the season, gaining only 111 yards on the ground with one touchdown. Although 100+ yard games are something to celebrate for most running backs, Campbell had been averaging 204.2 yards per game prior to facing the purple and white defence.
 
A strong defence will be key to this Saturday's contest as the Gryphons enter as one of the CIS' highest scoring teams, ranking fourth in the nation with 42.2 points per game. They also head into Saturday with momentum on their side, with the team riding a five-game winning streak that includes wins over Toronto, Ottawa, Windsor, Carleton, and perhaps most impressively, a 66-0 win over Queen's that marked the first time since 2005 that the Gaels had been held pointless.

The Gryphons offence is lead by the duo of quarterback Jazz Lindsey and running back Rob Farquharson. In six games this season Lindsey has completed 90 of his 160 passes for 1,218 yards with nine touchdowns and two interceptions. The senior pivot can also get the job down with his legs as he's scored four rushing TDs while running the ball 27 times for 194 yards. Despite missing last week's game due to injury, Farquharson has also had a strong season, averaging 117.5 yards per game and 6.7 yards per attempt with three touchdowns on the year.

Western's offensive line will have to look out for senior defensive lineman Cameron Walker who leads the team with four sacks on the year. Fellow linemen Djordie Gravilo and Charlie Taggart are also effective at getting to opposing quarterbacks as they both have three sacks this season.

Game time for the contest on October 18 is set for 1 p.m. at Alumni Stadium in Guelph. Fans can watch all the action live on OUA.tv, or listen on CHRW and Newstalk 1290 CJBK with Tom McConnell and legendary Mustangs coach Larry Haylor calling all the action.
Photo credit:  Gary Jubenville
Source:  Tony Von Richter, Western Mustangs Sports Information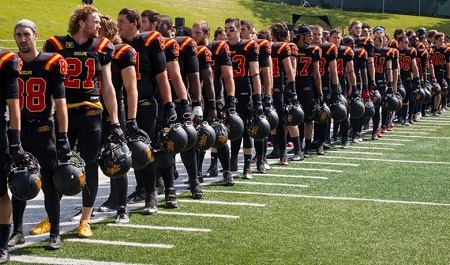 Gryphons host Mustangs in TOP 10 matchup
Guelph, Ont. – It is truly one of the biggest games of the entire CIS regular season schedule.  The No.6 Guelph Gryphons (5-1) and the No.4 Western Mustangs (5-1) will square off Saturday afternoon in a marquee matchup that will see one team walk away having taken a big step towards securing a first round bye and spot in the OUA semifinals.  Kickoff is set for 1pm at Alumni Stadium and will be webcast on oua.tv
Last season, football fans in southern Ontario were deprived of the opportunity to see these two heated rivals go at it, as the OUA's rotating bye week system meant fans had to wait until 2014 for this day to arrive.   But now it's almost here.  Anticipation is high.  The stakes are even higher.  With things still crowded at the top of the OUA standings, both the Gryphons and Mustangs have their sights set on a top two finish.  A win this week would go a long way to ensuring that.  The last time these two teams met was in the 2012 regular season when the Gryphons pulled off a thrilling 42-39 victory.  Saturday's game promises to be another entertaining affair.
For the Gryphons, the key to stopping the Mustangs potent offensive attack will be winning the battle up front.  Of course, that is easier said than done.  As university football fans have become accustomed to over the years, the Western Mustangs once again boast one of the best offensive lines in the country.  Led by NCAA transfer Eddie Meredith (former Boston College Eagle), the Mustangs set the tone up front for their talented playmakers.  Western quarterback Will Finch (Burlington, Ont.) took home OUA MVP honours a year ago and has picked up right where he left off.  Finch ranks second in the CIS, completing nearly 70% of his passes and has a talented group of receivers at his disposal.  George Johnson (London, Ont.) and Brian Marshall (London, Ont.) were both named 1st team All-Canadians a year ago and both return to the Mustangs this season.  Yates Cup MVP Matt Uren (London, Ont.) and Justin Sanvido (Vancouver, B.C.) round out a dynamic receiving unit that will give the Gryphons secondary plenty to worry about.  On the ground, the Mustangs are led by a pair of CFL prospects in Garret Sanvido (Vancouver, B.C.) and Yannick Harou (Gatineau, QC).  The good news for the Gryphons, is that their defence boasts plenty of talent as well.
John Rush (Niagara Falls, Ont.) is now in his fourth year after having fully recovered from a torn knee ligament a year ago.  He leads a talented group of linebackers that include Curtis Newton (London, Ont.) and MacKenzie Myers (Guelph, Ont.)  The Gryphon secondary is experienced, with four returning starters from 2013-2014.  But if the Gryphons are going to successfully disrupt the Western attack, it will have to start with the front four.  Number 96 Donnie Egerter (Niagara Falls, Ont.) and number 99 Djordje Gravilovic (Waterloo, Ont.) will look to provide a physical presence inside for the Gryphons, while Cameron Walker (London, Ont.) provides the Gryphons with one of the best rush ends in the league.
Offensively, quarterback Jazz Lindsey (Markham, Ont.) continues to play the best football of his career.   Last week, Lindsey finished 20-33, 291 yards, one touchdown and zero interceptions in a win over Carleton.
From a rushing standpoint, the Gryphons have showcased some tremendous depth this season.  As usual, Robert Farquharson (Niagara Falls, Ont.) is the one leading the way for the Gryphons ground game, but Johnny Augustine (Welland, Ont.), Mason Swift (Sooke, B.C.), Daniel Palmer-Salmon (Brampton, Ont.) and Brandon Gordon (Toronto, Ont.) have all proven to be more than capable of carrying the load in the backfield as well.
Playmaking receivers Alexander Charette (St. Catherine's, Ont.) and A'Dre Fraser (Halifax, NS) have been Lindsey's favourite targets and will need to come up with some big plays once again if the Gryphons are to consistently move the ball against a big, experienced Western defence.
While the OUA playoffs may be still be three weeks away, but it will sure feel like the postseason is upon us when the Gryphons and Mustangs renew their rivalry on Saturday afternoon.
(Source Guelph Gryphons Sports Information)
Laurier looks to knock off unbeaten Marauders
WATERLOO  – With two games left in the regular season, the Wilfrid Laurier Golden Hawks men's football team will look to move one step closer to the playoffs when they travel to Hamilton to take on the No. 3 McMaster Marauders on Saturday.
Kickoff is set for 1 p.m. at Ron Joyce Stadium and the game can be seen live on OUA.tv and heard onRadioLaurier.com.
Playing their final road game of the regular season, the Hawks face a stiff test in the unbeaten Marauders who enter the game with a perfect 6-0 record. McMaster has been impressive in 2014 as they have handled all challenges thrown at them. They opened the year with a thrilling come-from-behind win over Guelph before knocking off the No. 4 Western Mustangs in their last game two weeks ago. A victory on Saturday would move McMa ster one step closer to clinching first place in the OUA.
As for Laurier, they sit fifth in the OUA with a 4-2 record but will have plenty of motivation to pull off the upset as they look to improve their positioning for a playoff berth. The Hawks are in a battle with the Ottawa Gee-Gees and the Carleton Ravens for the final two playoff spots but the combination of a Laurier victory on Saturday and a Ravens loss to Windsor would be enough to ensure a return to postseason play for the purple and gold.
The Hawks will also be looking to put last week's tough loss to the Mustangs behind them. After moving into the CIS Top 10 following their win over York, the defeat at the hands of Western knocked the team out of the national conversation. However, a victory over the Marauders would undoubtedly return Laurier into the national spotlight as they head into the final week of the regular season.
To do so, Laurier will need to find a way to snap their four-game losi ng streak against McMaster. In particular, the Hawks will have to get their offence going against the Marauders as the opposition from Hamilton have held the purple and gold to just 11 points in their last three meetings.
This matchup may be the one where the Hawks are able to break through on the scoreboard as they enter the showdown with McMaster owning the fourth-best offence in the province, scoring 38.5 points per game. In particular, Laurier has been very effective in the red zone as they are the only team in the OUA to have scored on each of their trips inside the 20-yard line. Of their 20 scores, 13 have been touchdowns, which at 65 percent is the second best touchdown-conversion percentage in the conference.
HAWKS TO WATCH
– RB Dillon Campbell continues to be nearly unstoppable for opposing defences. He has rushed for at least 100 yards in each of the Hawks first six games and is working his way up the CIS record book. His 1,132 yards is in the Top 40 all-time in the country and the fourth year back still has two games to play this season.
– DL Ese Mrabure-Ajufo is having an outstanding season for the Hawks on the defensive line, especially as of late. In his last three games, he is averaging over four tackles and a sack per game. He has also recorded 6.5 tackles for losses in that same stretch.
– RET Carson Ouellette has been showing his talent as a kick returner in 2014. He is averaging 25.7 yards per return this year, the second most of any player in the OUA this season, only behind teammate Marcus Arkarakas. Since taking over as the primary returner for the Hawks, the rookie has definitely been a key contributor on special teams.
– REC Greg Nyhof is having a big year for Laurier despite missing three games due to injury. The third year receiver is averaging 78.3 yards per game, seventh most in the league, and his four touchdowns ties him for fifth most in the conference.
Photo credit: Trevor Mahoney
(Source: Jamie Howieson, Wilfrid Laurier Golden Hawks Sports Information)
Gaels host Lions for Homecoming
In the final home game of the season, this Saturday the Gaels take on York at 1pm at Richardson Stadium for Queen's Homecoming. Last weekend the Gaels achieved their first official win of the season, defeating the Toronto Varsity Blues 48-27. Queen's put in an astounding effort defensively, picking up three first quarter fumbles to give the offence a chance to get an early lead. Curtis Carmichael's (Scarborough, Ont.) 42-yard touchdown from Billy McPhee(Burlington, Ont.) and Dillon Wamsley's (London, Ont.) field goal put the Gaels ahead 10-0 early in the first quarter. The second half opened with a blocked punt by Rookie linebacker and OUA Football Athlete of the Week on DefenceMichael Moore (Mississauga, Ont.) that set the intensity level for the rest of the team. Although Toronto put 27 points on the board, the Varsity Blues didn't have an answer for the Queen's air attack, as McPhee finished with 380 passing yards, going 22-35 for three touchdowns and two interceptions. In the Gaels 48-27 victory, McPhee now moved to second all-time in passing yards at Queen's, as he now has 7,749 in his career, trailing only Danny Brannagan, who had 10,714 during his tenure with the Gaels. 
(Source: Shawn MacDonald, Queen's Golden Gaels Sports Information)
Blues set to honour Grads in Season Finale Saturday
The University of Toronto Varsity Blues football team caps off their 2014 campaign this Saturday, October 18 as they host the Waterloo Warriors at 1 p.m. at Varsity Centre.
 
The Blues will honour their graduating players in a special pre-game ceremony, and also launch U of T's 2014-15 Think Pink, #BLEEDBLUE campaign. The game will also be streamed live on OUA.tv.
 
The 1-6 Blues look to end their season on a high note versus the 0-6 Warriors. Toronto has taken the last three meetings and holds a narrow 22-17-2 head-to-head record over Waterloo since their first meeting in 1979.
 
While U of T's season hasn't gone as planned, Blues quarterback Simon Nassar and sophomore receiver Llevi Noel have enjoyed great success on the field.
 
A fourth-year pivot from Toronto, Nassar currently leads the CIS in passing yards (2058), attempts (260) and completions (168) and nears U of T single-season records in all three categories heading into Week 8.
 
Noel (Toronto) also tops the all CIS receivers with 45 receptions and 678 yards. He too nears U of T's single-season records in both of those stats.
 
Second-year running back Lukas Gavac sits second in the OUA with 543 rushing yards, while third-year defensive back Jaiden McBride ranks fourth in the province with 41.5 tackles.
 
Waterloo's Lucas McConnell and Jamie Cook have split quarterbacking duties, holding 535 and 595 passing yards, respectively. Danny Silvestri and Ryan Di Risio leads the team in rushing with 115 and 118 yards, while Mike Dedys has made 33 catches for 294 yards so far this season.
(Source:  University of Toronto Varsity Blues Sports Information)
Advocating for football prospects one story at a time.