Canadafootballchat.com is previewing 80 high schools in 40 days.  As the previews are announced, you can find them here on CFC.
What is #HSpreviewCFC?
#HSpreviewCFC is the Twitter hashtag to use if you want to get involved in the discussion or just follow along.
BALFOUR REDMEN (REGINA, SASKATCHEWAN):
This fall, expect the Balfour Redmen of the Regina Intercollegiate Football League (RIFL) to be tenacious on the field.
"We don't have a ton of players coming out, but the guys that do are here to play and grind," explained Redmen Head Coach Darcy Olynyk.  "They earn everything they get."
Going into the 2014 season, the Redmen has a lot of depth and experience which will not only be an asset, but a guiding source for success against opponents.
"We have a high number of returning and Grade 12 players," added Olynyk.  "We have tremendous impact players in all three phases of the game."
A trio of players will spearhead the Redmen offense – running back Ryan Schienbien, receiver Riley Orchard and pivot Mark Grain.
In addition to Grain, Austin Halstead will be the Redmen's other quarterback.
As for the Redmen defense, linebacker Jon Stricker, defensive back Jon Martin and lineman Randy Orchard will be expected to provide veteran leadership and be the ones to watch for on the unit.
"We are aggressive on both sides of the ball," described Olynyk of both the offensive and defensive styles of play.
In his assessment of the competition in the conference, Olynyk expects the usual suspects to be right up at the top.  Moreover, there is one team he believes could surprise many because of their improvement this season.
"Campbell and LeBoldus are always the contenders and we want to emulate their success and compete with them and give them good games every time we play," assessed the Redmen Head Coach.  "Sheldon will be a stronger team than they had last year."
However, the Redmen hope to be contenders themselves and hope their tenacious attitude will pay off in dividends this fall.
"We have high expectations," said Olynyk.  "We are going to be in the mix with the top teams of our league."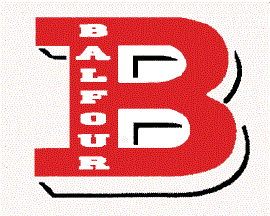 BALFOUR REDMEN (RIFL – REGINA, SASKATCHEWAN):
2013 REGULAR SEASON: 1-4, lost in quarterfinals against Thom Trojans 41-20
HEAD COACH: Darcy Olynyk (will also serve as running backs coach)
COACHING STAFF:  Travis Kuntz (Offensive Line Coach), Dylan Hart (Quarterbacks Coach), Jon Probe (Receivers Coach), Joey Todd (Defensive Coordinator / Defensive Backs Coach), John Tokar (Linebackers Coach), Nick Fox (Defensive Line Coach), Jamie Lofthang (Defensive Line Coach), Brandon Jelinski (Defensive Backs Coach)
NUMBER OF RETURNING STARTERS – OFFENSE: N/A
NUMBER OF RETURNING STARTERS – DEFENSE: N/A
KEY RETURNEES: Ryan Schienbein (running back), Riley Orchard, (receiver), Mark Grain (quarterback), Jon Stricker (linebacker), Jon Martin (defensive back), Randy Orchard (defensive line)
(twitter: http://twitter.com/vohra_ameeta)
Advocating for football prospects one story at a time.