QB Canada is a one-day clinic designed for both players and coaches to attend.  CLICK HERE for information on a clinic near you
Throughout his gridiron career, pivot Deandre Rose lives for playing under pressure.
"I play quarterback because I want be the one that the coaches have faith in to make the big play when it is needed," explained Rose.
The 5'10, 155 pound quarterback has demonstrated his ability to be a pressure performer on both the Brampton Bulldogs of the Ontario Varsity Football League (OVFL) and St. Roch Ravens of the Region of Peel Secondary School Athletic Association (ROPSSAA).
On the field, Rose tries to emulate his game to NFL stars Aaron Rodgers (Green Bay Packers) and Cam Newton (Carolina Panthers).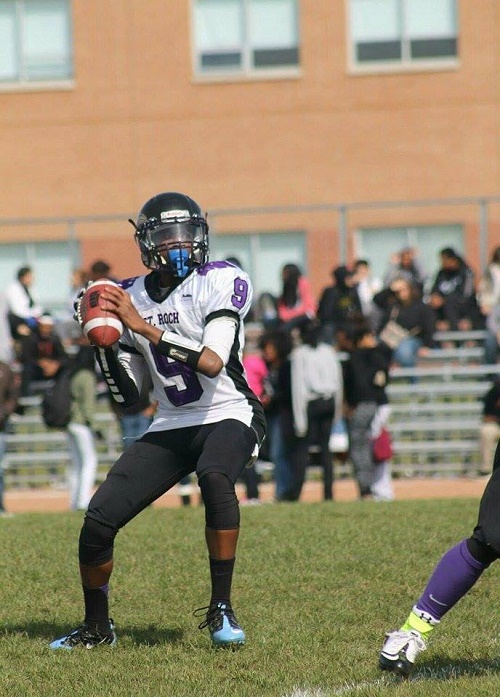 With his experience as well as looking up to his main idols, Rose has been able to evolve his playing style.
"I am a pocket passer because I make good decision with the ball," added the Ontario quarterback.  "Playing my position I really like the fact that I can control the game."
Later this month, Rose will participate in the QB Canada Mississauga Clinic (March 28th). He is ecstatic for the opportunity to take part in the elite event.
"I am looking forward to meeting great people developing my skills and playing at the next level," said the Ravens quarterback. "I am very coachable I am always happy and take advice from the coaching I get."
Ultimately, there a couple of key goals Rose would like to achieve as a pivot.  His participation in QB Canada will be another step that will get him closer in his quest to achieve those feats.
"I would like to achieve playing at the highest level possible," expressed Rose.  "Also, making myself better and others around me better as a quarterback."
(twitter: http://twitter.com/vohra_ameeta)
Advocating for football prospects one story at a time.