University of Regina Rams head coach Mike Gibson announced Thursday the team's third group of recruits, with six more additions to bring the incoming class up to 14 players for the 2015 season.
The Rams have received a CIS Letter of Intent from offensive lineman John Lerach, defensive back Preston Paulson, receivers Ryan Schienbein and Tanner Zaharia, quarterback Tyler Vieira, and running back Michael Webber.
"It's a good group of six we're announcing today," Gibson said. "They bring a lot to the table and they'll be great addition to the Rams for this coming season. It's a nice mix of both local guys and some out-of-province players that we think can really help this football club immediately."
One of three local products out of this group of six, Lerach was named a Stewart Conference all-star for Luther College last fall while helping lead the Lions to the school's first 3A city championship in just under a decade. Along with both Schienbein and Zaharia, he was also a member of Team Saskatchewan's Green squad that won a silver medal at the 2014 Football Canada Cup in Saskatoon.
Paulson was named first-team all-District 11 at outside linebacker for Terrell High School (Terrell, Texas) following his senior season in 2010, but is expected to join the Rams as a defensive back. He has attended Texas A&M University-Commerce, the University of the Incarnate Word, and the University of Saskatchewan since graduating from Terrell but should have four full seasons of CIS eligibility for the Rams and can play immediately.
A dynamic returner for Balfour Collegiate in Regina, Schienbein was named the Schwann Conference Special Teams Player of the Year in both 2013 and 2014. He was South's leading receiver in the recent Ed Henick Senior Bowl, catching a team-high five passes for 35 yards while also returning five punts. Schienbein, who also won a silver medal on Team Saskatchewan's Green squad at the 2014 Football Canada Cup, was recently named the male recipient of the RHSAA's Lorne Aston Scholarship as a student who excels athletically and academically while demonstrating leadership abilities, sportsmanship, and community commitment.
Vieira emerged as the starting quarterback for the Winnipeg Rifles last season in his fifth year with the team, leading the Prairie Football Conference with 14 touchdown passes and finishing second in the league in both passing yards (1915) and completion rate (59.4%). Prior to his time with the Rifles, Vieira starred for Sisler High School in Winnipeg and earned a selection to Team Manitoba for the 2010 Football Canada Cup.
At 6-4 and 255 lbs., Webber has incredible size for a running back and helped the Windsor AKO Fratmen to a 7-1 regular-season record and an Ontario Football Conference championship in 2014. He averaged just under seven yards per carry for Windsor last year, finishing the regular season with 15 rushes for 104 yards.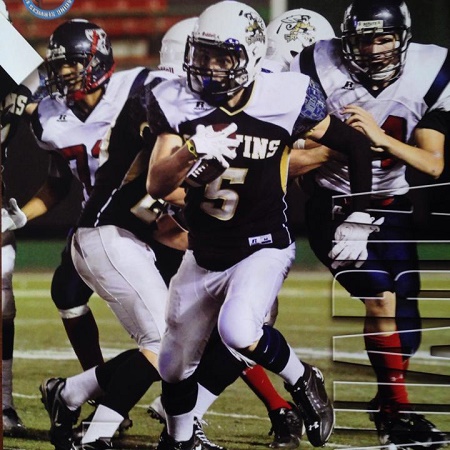 Zaharia was a two-time Stewart Conference all-star with Greenall High School, leading the Griffins with eight touchdown receptions in 2014 as a Grade 12 standout. He finished second on the team in both receptions (22) and receiving yards (516) last season, and won a silver medal with Saskatchewan Green at the 2014 Football Canada Cup in Saskatoon.

2015 University of Regina Rams Recruiting Class
DL Joshua Brown • 6-3/320 • 1st • Toronto, Ont. (Langley Rams)
OL Liam Jensen • 6-2/300 • 1st • Watrous, Sask. (Winston HS)
OL Braydon Johnson • 6-3/280 • 1st • Moose Jaw, Sask. (Central Collegiate)
DB Polis Koko • 5-8/150 • 1st • Regina, Sask. (Dr. Martin LeBoldus HS)
OL John Lerach • 5-11/265 • 1st • Regina, Sask. (Luther College HS)
DL Matthew Moore • 6-1/260 • 1st • Regina, Sask. (Dr. Martin LeBoldus HS)
DB Preston Paulson • 5-11/195 • 2nd • Terrell, Texas (Texas A&M University-Commerce)
REC Adam Rask • 6-3/180 • 1st • Cochrane, Alta. (Cochrane HS)
QB Ellis Richards • 6-0/205 • 1st • Regina, Sask. (Sheldon-Williams Collegiate)
REC Ryan Schienbein • 5-7/170 • 1st • Regina, Sask. (Balfour Collegiate)
QB Tyler Vieira • 5-10/195 • 2nd • Winnipeg, Man. (Winnipeg Rifles)
DL Ajai Washington • 6-3/230 • 1st •Dallas, Texas (Woodrow Wilson HS)
RB Michael Webber • 6-3/255 • 1st • Guelph, Ont. (Windsor AKO Fratmen)
REC Tanner Zaharia • 6-1/180 • 1st • Balgonie, Sask. (Greenall HS)
Advocating for football prospects one story at a time.