Ottawa receiver to play in front of hometown crowd by joining OUA team's 2015 class.
After years of forming a strong connection, the Carleton Ravens reaped the benefits of their latest recruitment efforts this past Saturday.
Lost in the 2014 Panda Game frenzy was the announcement that earlier in the day, Ravens signed Phil Iloki.  The 6'2, 182 pound receiver from Ottawa, Ontario will join the team for the 2015 OUA season.
"Phil is a dynamic receiver who can turn a short pass into a long gain," commented Ravens Head Coach Steve Sumarah He has had a lot of success playing for the Myers Riders and we are excited to have him bring that winning attitude to Carleton."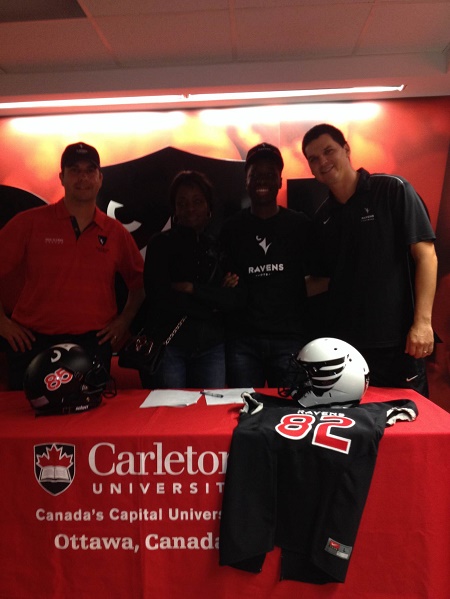 For his part, Iloki said the bonds he formed with the Ravens coaching staff; especially with Ravens Receiver Coach Josh Sacobie were a determining factor in his decision to commit to the team.
"I chose Carleton because they were the first team to approach me in the fall of grade 10," recalled Iloki.  "I formed a great relationship with them and their coaching staff."
"Coach JP Asselin, Coach Steve Sumarah and Coach Josh Sacobie are great guys and they are building something great.   Coach Sacobie is a great wide receivers coach and person in general.  He coached my brother on Team Ontario so I got to know him quite well. My high school coaches (Blaine Scatcherd and Mario Panetta) also spoke very highly of the program."
For his part, Sacobie is thrilled to have Iloki as part of the Ravens fold.
"He is a special player with good football intellect and the versatility to play any receiver position," said the Ravens Receivers Coach.  "I look forward to working with Phil for the next four to five years."
The receiver has played for St. Joseph Jaguars of the National Capital Secondary School Athletic Association (NCSSAA), Ottawa Myers Riders of the Ontario Varsity Football League (OVFL) and Nepean Redskins of the National Capital Amateur Football Association (NCAFA).
With his commitment to the Ravens, Iloki credits the individuals who've all played a role in helping him to realize his gridiron dream.
"I was blessed to have couple people in my life that I'd like to thank – Blaine Scatcherd, my parents, Kyle Kirkwood, Rob Webb and George Dorian," expressed Iloki.
(twitter: http://twitter.com/vohra_ameeta)
Advocating for football prospects one story at a time.