CFC #4 Cure-Antoine-Labelle Wolves are becoming invincible in RSEQ Juvenile Division 1.
After earning a 49-0 shutout victory over Triolet Harfangs, the Wolves remain undefeated with a 6-0 record, which put them in first place in the division.
Jeff Carpentier led the Wolves defense with nine tackles while Jeremie Engelo caught an interception and Christopher Jean recorded a sack.
Here are the rest of the results from Week 6 action in RSEQ Juvenile Division 1:
CFC#10 SEMINAIRE SAINT FRANCOIS BLIZZARD 35, COLLEGE JEAN-EUDES EAGLES 7:
At Seminaire Saint-Francois, Guillaume Vermette scored two touchdowns and rushed for 208 yards on 35 carries as the hosts CFC#10 Blizzard cruised to a 35-7 win over College Jean Eudes Eagles.
Guillaume Leblond-Paquin and Sean Cote each tallied a major for the Blizzard.  Eric Verrault added five PAT's.
Pivot Felix Hamel completed 13 passes in 22 attempts for 134 yards and a passing touchdown in the victory.
On defense, Mathieu Cauchon-Beauséjour caught an interception while Cote recorded two sacks.  Didier Lacombe registered 7.5 tackles while Gabriel Francoeur added seven tackles and a sack. Cedric Tremblay also recorded a sack for the Blizzard.
Julien Boudreau-Plouffe tallied the lone major for the Eagles.  Charles-Olivier Lavigne completed 18 passes in 35 attempts for 227 yards and a passing touchdown. Youssef Kaced was a beast on defense with 13.5 tackles in the loss.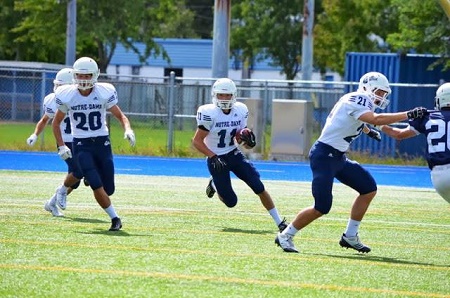 CFC#11 COLLEGE NOTRE-DAME CACTUS 35, CFC#38 SAINT JEAN EUDES CONDORS 23:
At Saint-Jean Eudes, Francois Rocheleau was unstoppable as he tallied four majors, rushed for 292 yards on 32 carries and added five PAT's as CFC#11 Notre Dame Cactus defeated hosts CFC#38 Saint Jean Eudes Condors 35-23.
Lancelot Rivard scored the other touchdown for the Cactus.
Bruno Legace was a menace on defense as he caught two interceptions and racked up 15.5 tackles.  Andriy Nikulich recorded a sack and added 11.5 tackles for the Cactus.  Julien Stein-Tremblay and Simon Yee each caught an interception.
As for the Condors, Alexandre Belliveau tallied two majors while William Valliere-Olivier scored a touchdown and rushed for 131 yards on 21 carries.  Pivot Victor Loungnarath completed 18 passes in 36 attempts for 202 yards and two passing touchdowns in the loss.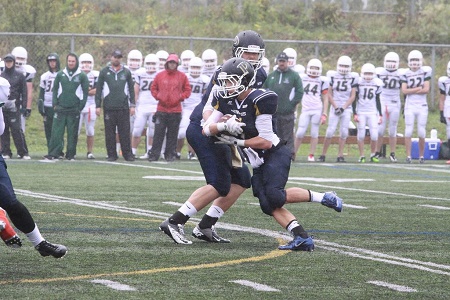 CFC# 42 ACADEMIE LES ESTACADES 41, ROGER COMTOIS PATRIOTS 29:
At Academie Les Estacades, Alexis Daigneault scored three touchdowns (two rushing, one receiving) and amassed 114 yards on four receptions as the hosts CFC#42 Les Estacades defeated Roger Comtois Patriots 41-29.
Thomas Trottier and Samuel Hubert each tallied a major in the win.  Pivot Trudel Nicolas completed nine passes in 11 attempts for 167 yards and two passing touchdowns for the Estacades.
Christophe Tremblay-Harnois completed 15 passes in 30 attempts for 250 yards, two passing touchdowns, two rushing touchdowns and rushed for 126 yards on 24 carries to lead the Patriots.
Philippe Lamoureux, Alexis Gauvin (97 yards on four receptions) and Gabriel Montminy each scored a touchdown in the loss.  On defense, Philippe Marcil registered 9.5 tackles, Francois-Xavier Beaulieu recorded two sacks and Dominic Lévesque-Nadeau added a sack.
JACQUES ROUSSEAU SPHINX 26, ACADEMIE SAINT LOUIS ARSENAL 16:
At Jacques Rousseau, Tristan Marcil-Raymond tallied two majors as the hosts Sphinx got past Academie Saint-Louis Arsenal 26-16.
Guillaume Renaud-Dumoulin completed nine passes in 19 attempts for 162 yards, two passing touchdowns, a rushing touchdown and 122 yards on 12 carries in the victory.  Antoine Dansereau-Leclerc racked up 73 yards on three receptions.
On defense, Jonathan Desbois recorded two sacks and registered 10 tackles.  Germain Renaud-Dumoulin added a sack and 7.5 tackles.  Markenley Philippe chipped in with a sack and seven tackles for the Sphinx.  Simon Dionne caught an interception while Tommy Pelletier added a sack.
Advocating for football prospects one story at a time.