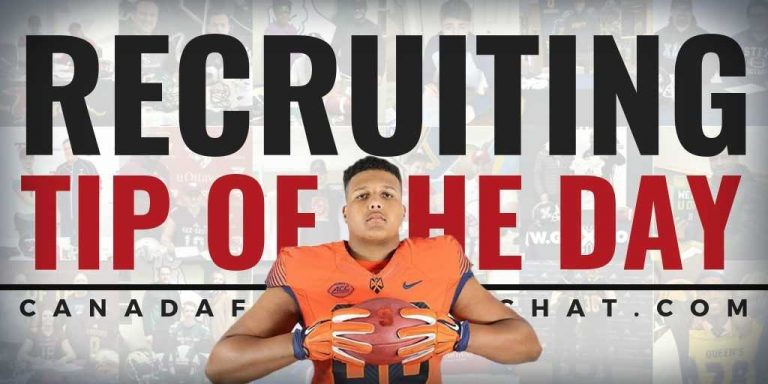 What are the first two questions recruiters are going to ask your coach?
Recruiting season never ends. In fact, with the exception of regulated blackout periods, coaches and recruiters are constantly on the lookout for talent to add to their team.
Their first contact is often the high school and/or community coach and here's what they want to know.

CFC INSIDER  MEMBERSHIPS
SILVER MEMBERSHIP
ARTICLE ACCESS: Prospect Articles & Profiles, Offers Page (NCAA/U Sports), Exclusive CFC Event Coverage
Canada only access
MONTHLY FOR $9.99 (Click to purchase)
ANNUAL FOR $99.99 (Click to purchase)
GOLD MEMBERSHIP
All Silver Benefits +
ARTICLE ACCESS: Rankings (Prospect & Team); Archived Articles; Tips & Reviews (Recruiting, NCAA, U Sports, Training, Parents, Products)
Canada only access
MONTHLY FOR $35.99 (Click to purchase)
ANNUAL FOR $199.99 (Click to purchase)
INTERNATIONAL MEMBERSHIP
International is equivalent to a domestic GOLD CFCINSIDER membership
World-wide access
ANNUAL FOR $799.99 (Click to purchase)
*ALL Subscriptions automatically renew
** Add Harmonized Sales Tax (HST) to price
PROSPECT RANKINGS: 
CFC100  =  High school football prospects (non-specialist, not including Quebec)
CFC30 = Quebec JUVENILE football prospects (non-specialist) 
CFC60 = Quebec CEGEP &  American Junior College (JuCo) football prospects
CFC40 = U Sports & NCAA players who are eligible to declare for upcoming CFL/NFL draft
CFC10 = High school football specialist prospects – kickers, punters, long snappers
HOW IT WORKS?
Rankings are determined by CFC's proprietary algorithm known as the "CFC Prospect Composite Score". You must be on track to qualify as a 'National' in the Canadian Football League (CFL) to be eligible for all CFC player rankings.  CFC scouts conduct and attend camps, clinics, tournaments, games and other football functions to continually update the CFC database. 
HOW I CAN PROMOTE MYSELF?
Submit all player profile information, including highlight film, directly to CFC – HERE
---
LEGEND:
QB = Quarterback
RB = Running Back 
FB = Fullback
TE = Tight End 
WR = Wide receiver/Inside receiver
OT = Offensive Tackle
OG = Offensive Guard
C = Offensive Centre
DE = Defensive End
DT = Defensive Tackle
LB = Linebacker
CB = Cornerback
DB = Safety/Halfback
K/P = Kicker/Punter
---
CFC Scouting Bureau
The Canadafootballchat.com (CFC) Scouting Bureau is comprised of CFC scouts, selected private scouts, selected college coaches, and other professional contributors. Coaches/players can email game film and STATS to the CFC Scouting Bureau for consideration.
Advocating for football prospects one story at a time.