Mohawks standout currently keeping considerations under wraps.
Strong-willed defines Medicine Hat Mohawks running back Tristen Getzinger.
Tristen Getzinger
Positions:
Running Back, Linebacker
Height/Weight:
5'11, 200 lbs
Teams:
Medicine Hat Mohawks (high school – varsity:  ASAA)
Medicine Hat Hawks (high school – junior varsity:  ASAA)
Canada Brokerlink Roughriders (bantam)
Canada Brokerlink Raiders (peewee)
Cedar Square Alouettes (atom)
Commitment:
None
Official Visits:
None
Consideration:
Open
Class:
2015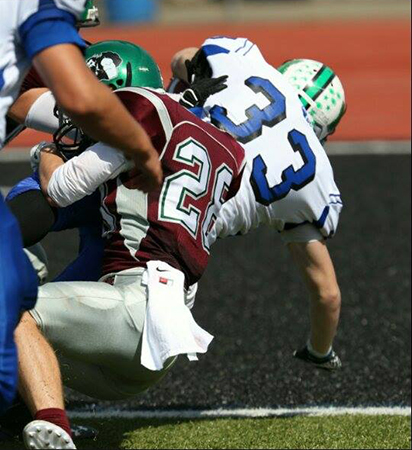 Medicine Hat's Tristen Getzinger started in his second year of eligibility for atom, then worked his way steadily up the ranks through peewee and bantam with the Alouettes, Raiders and Roughriders.
Tristen is now in his ninth year of football. When he started at Medicine Hat High School in grade seven, he played for the junior varsity team, the Medicine Hat Hawks of the Alberta Schools Athletic Association (ASAA) and they won the Tier 2 Championship two years later. Tristen was named the team's MVP and Offensive Back of the Year for the second time.  However, he also had to contend with a serious injury during the final game.
"I had a spinal concussion that game and had to get an ambulance to the Lethbridge hospital, then to the Calgary hospital, with no feeling in my legs from my belly button down," he says. "I was running the ball and someone wrapped me up, so I tried to spin off the tackler."
"As I did that, someone hit me with their helmet on my lower spine, and I just dropped to the ground.  I didn't even know something was wrong until I attempted to get up and I couldn't move.  It was so weird, I couldn't feel any pain. It just felt like extra weight. But luckily for me after two to four hours, I could start to feel my toes and it kind of worked its way up my leg with feeling coming back in random spots."
Despite the terrifying situation, Tristen was determined to support his team as much as he could.
"The whole time, I was getting my dad to get updates from the parents at the game letting us know the score and how the team was playing," he recalls. "It was so exciting to know that our hard work in the season paid off."
As it was, Tristen took only about a month to recover most of his ability to walk, and was even able to finish the season. Tristen then moved up to the varsity Mohawks. This past year,  he was named the team's MVP for a second time.
Tristen has enjoyed his years with the Mohawks and is looking forward to his senior year.
"Just being around all the players and coaches, they all have such amazing characters," he says. "They are the ones that really make football fun for me."
While Tristen has spoken to a few universities, he is keeping his post-secondary consideration under wraps for the time being. Even today, he can still feel the effects of his spine injury. He still feels pain in his back every day, which he doubts will ever stop completely, and has seen his chiropractor more times than he cares to count.
However, Tristen is keeping a positive outlook.
"That injury was so humbling as a player because I could be in a wheelchair right now," he says. "But everything worked out in my favour and I'm able to continue to play."
"It could have gone the complete opposite way and I could not be doing any of the things I am doing now. It would have changed my whole life."
Advocating for football prospects one story at a time.