Another week of action is in the books in the high school football season in Saskatchewan.
Here is a glimpse of some of the games that took place in Regina and Moose Jaw.
(NOTE: At press time not all information was available.  This recap will be updated as more information becomes available):
REGINA INTERCOLLEGIATE FOOTBALL LEAGUE (RIFL):
SCHWANN CONFERENCE (4A):
CFC#6 LEBOLDUS GOLDEN SUNS 31, CFC#16 CAMPBELL TARTANS 20:
In the top ranked national game of the week, Terrell Mildenberger scored a touchdown and amassed 216 yards on six receptions as CFC#6 LeBoldus Golden Suns defeated CFC#16 Campbell Tartans 31-20.
Semba Mbasela tallied two majors and rushed for 180 yards on 14 carries as well as a 13 yard reception.
Brayden Kuski completed 13 passes in 26 attempts for 317 yards, two passing touchdowns and an interception.
On defence, Nick Cross led the way as he recorded a quarterback sack and eight tackles.  #CFC100 Nicholas Dheilly had two deflections and four tackles.  #CFC100 Rylan Lucyk racked up 2.5 tackles, an interception and a blocked kick.  Additionally, Zach Moore had 5.5 tackles, an interception and a deflection.
Mildenberger led special teams with three PAT's and a field goal.  Furthermore, Owen Kot amassed 250 on eight punts.
One area the Golden Suns had difficulty in was discipline.  Overall, the team had incurred 17 penalties which costed the team 143 yards.
Despite that, the Golden Suns were satisfied with their effort in handing the Tartans their first defeat of the season.
"It was great patience and composure displayed by our team," commented Golden Suns Head Coach John Foord after the win.  "The experience of the veteran players was a definite asset as 24 of the 31 points by our team were scored in the second half."
"Special teams and defense were solid.  The offense started great with a 60 yard touchdown run by Semba Mbasela on the first offensive play of the game, but then slowed down until the second half.  The offense found its stride in the second half with a number of big plays and that proved to be the difference."
As for the Tartans, Brayden Wagg completed 13 passes in 27 attempts for 133 passing yards, 90 rushing yards on seven carries, two touchdowns (one passing, one rushing), and one interception.
Bennett Stusek scored a touchdown and had 68 yards on five receptions.   Yiani Maragos tallied a major and rushed for 54 yards on nine carries. Avery Pierce had 77 yards on seven carries and 29 yards on two receptions.
Jaxon Ford was the Tartans' leader in tackles while Dyson Nordwick-Chan caught an interception and Josh Hagerty has a fumble recovery.
"This was a very tight back-and-forth game until the fourh quarter when the Suns made several chunk plays that allowed them to take the lead," assessed Tartans Head Coach Ryan Hall after the game.  "Us getting stopped on their five yard line late in the game stifled our come-back attempt."
"They are a very talented team and know how to put their athletes in situations to be successful. Our focus will be on improving the little details of our techniques and execution as we finish the regular season against the Balfour Bears this week."
SHELDON WILLIAMS SPARTANS 20, BALFOUR BEARS 19:
Last week, Sheldon Williams Spartans escaped with a 20-19 win over Balfour Bears.
For the Bears, Dayne Agopsowicz rushed for 96 yards on 16 rushes in the loss.
"Alex Lenius returned a punt for a touchdown late in the fourth to take the lead, but our guys couldn't hold them for the final 1:30," added Bears Head Coach Darcy Olynyk.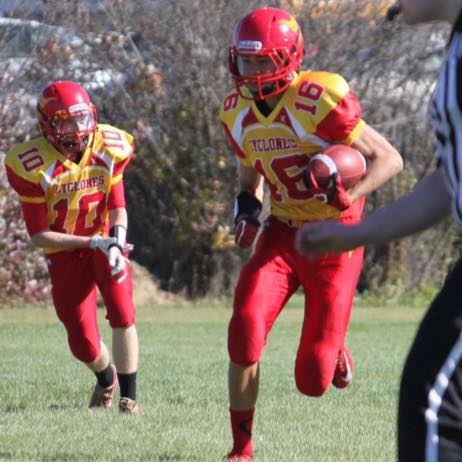 MOOSE JAW HIGH SCHOOL FOOTBALL LEAGUE (MJHSFL):
CENTRAL CYCLONES 49, ESTEVAN ELECS 20:
In Moose Jaw, the Central Cyclones defeated Estevan Elecs 49-20.
Jonah Branning and Zach Hagerman each scored two touchdowns while Aidan Baillie and Joel Litt-Jukes each added a major.
On defence, Levi Kelly recovered a fumble and dashed downfield for a 30 yard score.
At halftime, the Cyclones enjoyed a 28-20 lead.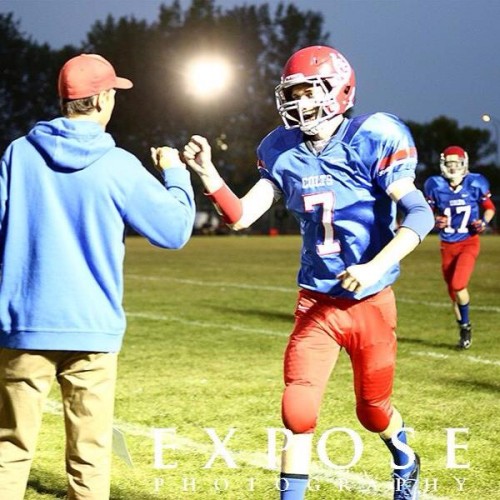 SWIFT CURRENT COLTS 20, VANIER VIKINGS 6:
At Gutheridge Field, Tristan Lockman tallied two majors and rushed for 120 yards on 24 carries as Swift Current Colts scored a 20-6 victory over Vanier Vikings.
Kelton Dyck also added a 21 yard score for the Colts.  Dalton Christiansen completed four passes in nine attempts for 77 yards.
As for the Vikings, pivot Ryan Stefanovic connected with Paul Froehlich for a 27 yard major – their only score of the game. Kelton Kouri had 78 yards on 23 carries. Stefanovic completed four passes in 11 attempts for 51 passing yards and an interception in the loss.
(twitter: http://twitter.com/vohra_ameeta)
Advocating for football prospects one story at a time.