Saskatoon linebacker opts to stay home and signs with CWUAA team
Eric Thakurdeen will get to live a childhood dream at the CIS level.
Recently, the 5'9, 205 pound linebacker from Saskatoon has signed with the University of Saskatchewan Huskies.  Thakurdeen will join the team for the 2015 CWUAA season.
"I chose to commit to the University of Saskatchewan because I have always watched the Huskies play, and I've always loved going to the games," expressed the Saskatoon linebacker of his commitment.  "I believe that they have kept a consistent competitive program over the years, playing for [Head Coach] Brian Towriss would be an absolute pleasure and I couldn't be more excited to play at home in front of my friends and family."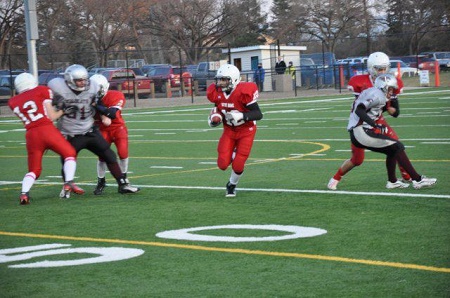 Thakurdeen has played for Notre Dame Hounds of the Saskatoon Secondary School Athletic Directorate. This past month, he travelled to Arlington, Texas as a member of Team Canada's under-18 squad.
In both May and September 2014, the linebacker was ranked on the CFC 100.
(twitter: http://twitter.com/vohra_ameeta)
Advocating for football prospects one story at a time.