Winnipeg defensive back joins AUS team's 2016 class.
Barakemi Oumo is headed to the East Coast to continue his gridiron career.
Recently, the 6'3, 165 pound defensive back from Winnipeg, Manitoba committed to StFX X-Men.  Oumo will join the team for the 2016 OUA season.
For his part, the defensive stanodut liked the fact that the X-Men showed a ton of interest in him during the recruitment process.
"A big part of deciding to commit was my high school coaches and trainers who made me aware that I was capable of playing in the CIS," recalled Oumo.  "They had contacted some schools who I talked to but StFX was the only one to contact me without even getting a call from my coaches and showed continued interest in me."
Soon after, the defensive back did due diligence with the only institution that reached out to him. Overall, he was impressed with what he saw.
"I looked into the school and liked what I saw because the football program only gets better every year and they also stress on excelling in the classroom too," recalled Oumo.  "The school itself seems to have a really nice student environment and is a really good option to have a great university experience."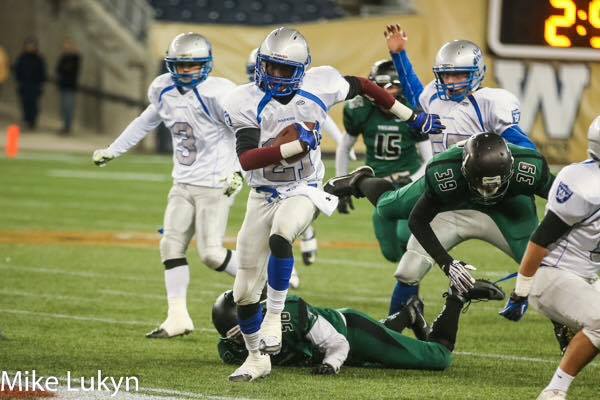 A native of Lagos, Nigeria, Oumo migrated along with his family to Houston, Texas when he was six years old. However, he didn't get his taste of the gridiron until he joined the Oak Park Raiders of the Winnipeg High School Football League (WHSFL).
"Despite spending almost nine years in Houston I had never played football although I was really interested in it," recalled the defensive standout.   "I had joined the football team at Oak Park the start of my grade 11 year and I was really bad."
"I didn't like being a defensive back at first because I couldn't backpedal and didn't really understand the defensive aspect of football. I got better as the year went on and really started to love being on defense. After the season was over I underwent training during the offseason and came back better and went from being a really bad player to being one of the better players on the team."
In his final season with the Raiders, Oumo registered 12 tackles and had a fumble recovery. He also played a prominent role on Special Teams as a kick/return specialist.
"Even during grade 12, despite my love of football, I had never planned to play again after high school because of my lack of experience so I was very surprised when many of my coaches were asking me if I was interested in playing CIS because they believed I was good enough to," expressed Oumo.  "And even now, I think I'm the only one that's actually surprised that I made it into the CIS and it still doesn't feel real."
(twitter: http://twitter.com/vohra_ameeta)
Advocating for football prospects one story at a time.