The Concordia Stingers football staff is pleased to announce the addition of seven new players to its 2015 recruiting class.
Two players from LaSalle, Que. lead the list of new players joining the Stingers at training camp in August.
Receiver Justin Julien, who checks in at five foot nine, 170 pounds, earns praise for his speed and athleticism. His 40-time is 4.52 and his vertical leap is 35 inches.
The second player is also named Justin Julien, although he is a five-foot-nine, 168-pound cornerback. He also runs the 40 in 4.52 and has a vertical of 35 inches.
Stingers defensive co-ordinator Pat Donovan is excited to have Jeffrey Gasse, a six-foot-two, 225-pound linebacker-defensive end from the Collège FX Garneau Élans join his unit.
Gasse played three seasons with Garneau and had his best year in 2014. He recorded 16 solo tackles and 13 assists.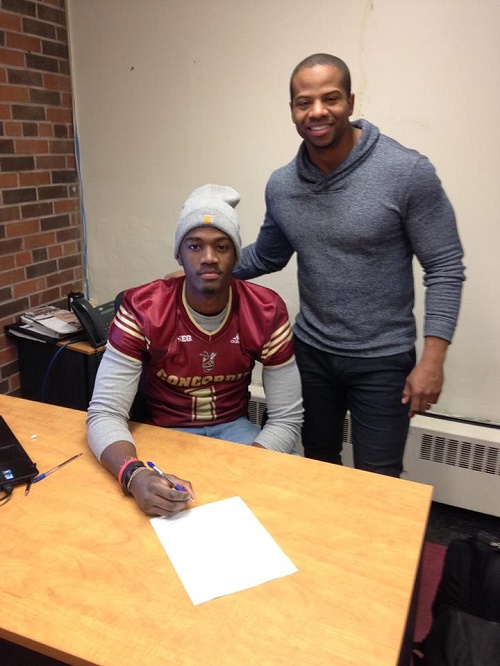 At six foot three and 205 pounds, receiver Jérémy Mogni will be a big target for the Concordia quarterbacks. The native of Paris, France caught seven passes for 65 yards and one touchdown last season. He played for the run-oriented Cégep de Thetford Filons.
Also joining the receiving corps is Dominic Lamontagne, a five-foot-10, 185-pound athlete from the Cégep de St. Jérôme Cheminots. In 2014, he had 22 catches for 320 yards and two touchdowns.
Finally the Stingers will be adding some depth at offensive line with Ismael Coridon, a six-foot, 270-pound lineman from the Collège Montmorency Nomades, and Tarik Lalic, a six-foot-three, 270-pound athlete from the Collège Édouard Montpetit Lynx.
Advocating for football prospects one story at a time.