Ontario tailback/linebacker becomes first recruit to commit to RSEQ team's 2015 class.
On Monday, the Concordia Stingers signed their first recruit for the team's 2015 class.
Micah Sullivan is the newest Stinger.  The 6'1, 197 pound tailback/linebacker from Mount Brydges, Ontario will join the Stingers for the 2015 RSEQ season.
"Coach [JP] Circelli introduced me to Micah and his father Bobby," recalled Stingers Head Coach Mickey Donovan.  "Right away we knew Micah would be a great addition for the Stingers Family."
"He has the right work ethic and attitude that we are looking for. In his first two games this year, Micah rushed for 400 yards with 35 carries. His passion for the game is what will propel him forward in the CIS."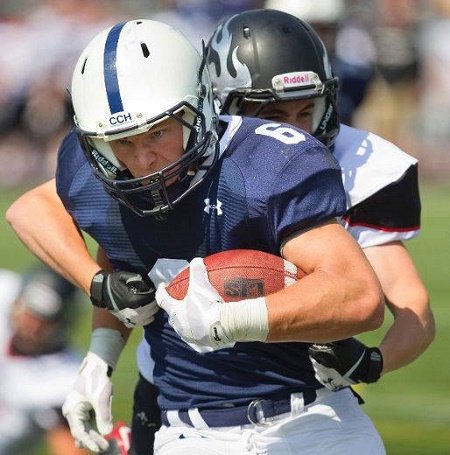 Sullivan is currently completing his final season with Catholic Central Crusaders of the Thames Valley Regional Athletic Association (TVRAA).  In his first three games this season with the team, the standout amassed 592 rushing yards.
In addition to the Crusaders, Sullivan has also played for the London Jr Mustangs of the Ontario Varsity Football League (OVFL).  In his final four games with the Mustangs as a linebacker, he registered 14 solo and 16 assisted tackles.
The following are his most recent test results: 40 speed = 4.58, Max Bench =305 (225×14).
For his part, Sullivan committed to the RSEQ school because of the comfort level he felt as well as the strengths of both the football and academic programs.
"I chose Concordia because from the minute I first walked onto the campus, it felt like home," explained Sullivan of his commitment.  "The new coaching staff is young and have a fresh drive for excellence that carries this newly revamped program."
"Concordia University Football carries a spirit of pride and determination that serves as a foundation for every student athlete. We are all winners in and out of the classroom as well as on and off the field".
(twitter: http://twitter.com/vohra_ameeta)
Advocating for football prospects one story at a time.