Port Colborne, Toronto area recruits commit to OUA team
The Windsor Lancers have announced the addition of three local recruits to their football program.
Enzo Lariccia, Daynar Facey and Curtis Holness are the newest Lancers.  All three Ontario recruits will join the team for the 2015 OUA season.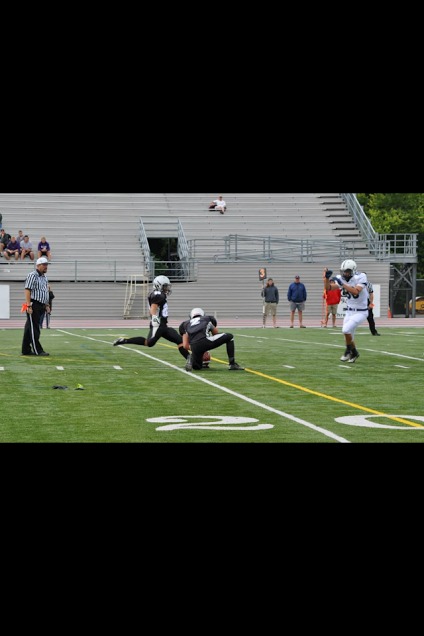 ENZO LARICCIA:
The 5'8, 175 pound kicker/punter from Port Colborne has previously suited up for both Lakeshore Catholic Gators of the Niagara Region High School Athletic Association (NRHSAA) and Niagara Spears of the Ontario Varsity Football League (OVFL).
"Enzo is a strong punter who can come in and compete for playing time early in his career," commented Lancers Head Coach Joe D'Amore.  "We are excited to get him with our kicking coach to work on his craft."
"We wanted to bring someone in to compete with the two guys on our roster and he can do that."
DAYNAR FACEY:
The 6'1, 180 pound wide receiver from Scarborough has previously played for Sir John A Macdonald Black Scots of the Toronto District Secondary School Athletic Association (TDSSAA) and Scarborough Thunder of the Ontario Varsity Football League (OVFL).
"Daynar is a raw athlete we feel is a little under the radar," assessed D'Amore.  "He has great quickness and change of direction and just needs to improve his route running skills."
"He will be a solid player for us."
Ultimately, the strength of the coaching staff as well as the recent commitment of a #CFC100 pivot was decisive factors in Facey's commitment.
"Coach Joe, Coach Donnavan [Carter] and coach John [Dent]all treated me and my family very well when we went to visit and they all seem like guys I would love to play for," expressed the wide receiver.  "Also, the commitment of Liam Putt interested me."
"I don't personally know him but I have heard great things from mutual friends who have played with him so he is someone I'm looking forward to meeting and playing with. Also, looking at the numbers from last year this team likes to throw the ball and as a receiver that is the kind of offence you want to be a part of."
CURTIS HOLNESS:
Among the teams the 5'11, 170 pound defensive back from Toronto has played for include Cardinal Carter as well as both the Metro Toronto Wildcats and Scarborough Thunder of the Ontario Varsity Football League (OVFL).
"Curtis is another raw athlete who has the ability to play on both sides of the ball," said D'Amore.  "We will bring him in as a free safety and let him develop his skills there."
"He has great speed and just needs to work on his technique."
Holness issued the following statement regarding his commitment:
"Picking the right University which had the exact program I wanted and had a supportive football staff was not going to be easy. In my experience, people will say anything to get your attention. So I had to not listen to any School hype, but do some in-depth researching myself."
"When I was looking at going to university, my first thoughts were the local ones in the Greater Toronto Area where I live. The only one that had the Film Production program I wanted and football was York. I also wanted to see what other schools in Canada could also accommodate my future. I found that Windsor and Manitoba could also play a part, so now I had choices."
"What made me pick Windsor where four things."
"1: My Program: Their Film Production department sounded amazing. The fact that they give you hands-on to all the latest industry technology like "RED" and Black Magic Cameras was great, plus their staff where always available to answer all my calls (and there where many)."
"2: Football: When I phoned to ask football questions, the Football coach Donovan Carter was so welcoming to answer all of my thousands questions. I go by my instincts and even my father said after a call with Coach Carter, "What a very pleasant man". "
"3: Outside Recommendations: Speaking with my older sister, who went to Guelph, she said by speaking to all her secondary schools friends, the ones that attended Windsor where the ones who mentioned the most, that they would recommend people to attend Windsor anytime. "
"4: My Gut Feelings: But my inner feelings where sealed when my parents and I went on our visit and met the professors and coaches for the first time. The film professors were so young and so in-tuned with the latest industry buzz. They have a massive recording studio and even bigger film studios, Wow… Then meeting Coach D'Amore, Coach Carter and their staff for the first time and their commitment to education first, plus their close tie with the kinesiology department, made it perfectly clear that the Windsor Lancers will now be my new Football home. "
"I would like to thank my Metro coach, Russ Hoff. As a full time teacher himself, he really gets that a good education trumps any other ambitions you may have. He really does his hardest to make sure all his players get a good education and hopefully grow into great leaders and men."
(twitter: http://twitter.com/vohra_ameeta)
Advocating for football prospects one story at a time.