Tartans standout takes in official visit with local CWUAA team, looking for more CIS suitors.
Campbell Tartans receiver Kristopher Calcutt has found inspiration literally in his own backyard.
Kristopher Calcutt
Positions:
Receiver, Kicker
Height/Weight:
6'0, 160 lbs
Teams:
Campbell Tartans (high school:  RIFL)
Commitment:
None
Official Visits:
Regina
Consideration:
Regina, Open
Class:
2015
Kristopher has played the sport for nine years.  This fall, he will play his senior season with the Campbell Tartans of the Regina Intercollegiate Football League (RIFL).
In 2013, the Regina receiver was selected as a RIFL Schwann Conference All-Star.
Throughout the year, Kristopher works hard with the ultimate goal of achieving gridiron success.
"I put in as much work in the offseason and I would when I am in season," says the Tartans standout.
While he credits his family and friends for being guiding sources of encouragement yet motivation, Kristopher tries to emulate a hometown NFL talent on the field.
"John Ryan because he made it to the NFL starting out of Regina," expresses Kristopher of the Seattle Seahawks kicker.
At this point, the Tartans standout is uncertain of his future academic goals and career aspirations beyond high school.  While he is open to consideration from any CIS school, he has taken in an official visit with Regina.
"I am considering any school that's give me a good chance of playing at either at receiver, kicker or both," adds Kristopher of his recruitment goals.
As for the recruitment process itself, it has been contained to within the province. However, the Tartans receiver is satisfied thus far.
"It has been mostly an in province scouting process," explains Kristopher, who participated in soccer at the 2013 Canada Games soccer.  "It has been exciting because I have been talked to for kicking and receiving."
Overall, the game has given Kristopher the recipe for success in all his gridiron and life endeavours.
"Doing hard work ahead of time helps you in the long run," comments Kristopher.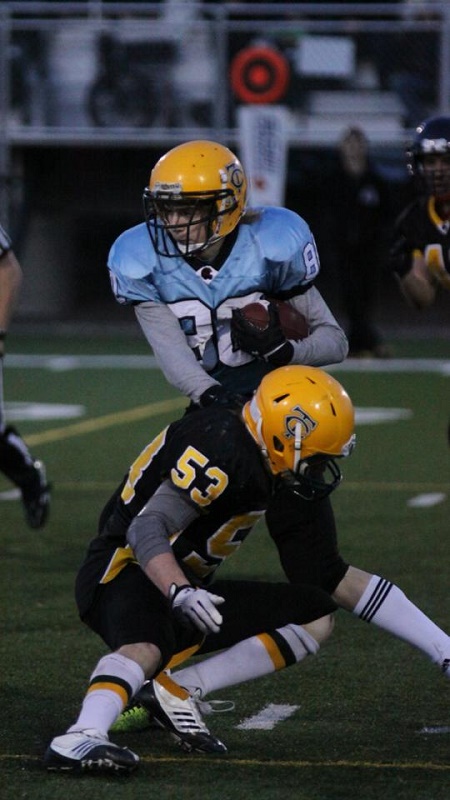 (twitter: http://twitter.com/vohra_ameeta)
Advocating for football prospects one story at a time.