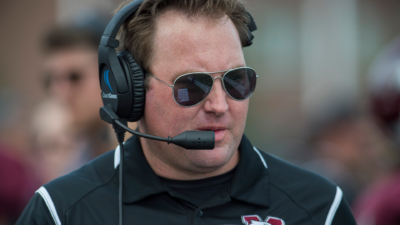 After three seasons of progressive service with the McMaster football program, Marauders co-offensive coordinator Tom Flaxman is moving to a new opportunity in 2019.
Flaxman, who arrived on McMaster's sideline in 2016 and was elevated to the position of co-offensive coordinator the next year, is headed to Kingston to assume the role of offensive coordinator for the Queen's Gaels.
"McMaster athletics thanks Tom for his three exemplary years of service to the football program and wishes him all the best as he takes on a new challenge," says McMaster Department of Athletics and Recreation associate director Mark Alfano.
"His continual professionalism and dedication to the program helped guide it positively through a period of transition this offseason, and for that we are grateful."
"Both as a coach and as a recruiter, Tom has been a great resource to this program," says Marauders head coach Stefan Ptaszek.
"The ability to build his own offence is a natural evolution for him and one he deserves. We're sorry to lose him, but happy to see him given this opportunity."
A Yates Cup champion in 2003 as a player with the Marauders, Flaxman spent two seasons with the program as a student-athlete under the guidance of hall of fame coach Greg Marshall.
He returned to McMaster in 2016 as director of football operations and offensive assistant, after coaching stops at the University of Toronto, Acadia University and on Marshall's staff at Western.
The search for the Marauders next offensive coordinator is underway.
source: marauders.ca
Advocating for football prospects one story at a time.