Sherbrooke adds two provincial commits to their 2019 class.
When linebacker Alexandre Boudreau and defensive back Félix Boyer from Cégep de l'Outaouais join the Sherbrooke Vert & Or, they will have the chance to make a name for themselves.
Alexandre Boudreau
For Alexandre Boudreau, Sherbrooke is a school of opportunity. "I chose to commit to Sherbrooke because it's a great university with a great deal of possibilities for their students," he said. "Second, the Vert & Or football team has been a powerhouse many times before and it would be an honour for me to play under those colours."
He added that the coaches were another reason why he chose Sherbrooke. "They are all on the same page. They are really easy to approach," Boudreau said. "They really want you to become the best version of yourself on and off the field. They are young and dynamic."
The 5'10, 185lbs outside linebacker is interested in either kinesiology or communications with a specialization in marketing.
Boudreau is a fellow Griffon teammate. He spent three seasons with the team. Before that he played with Les Titans du Collège Saint-Alexandre (RSEQ). With the Griffons, he was a two-time special teams MVP in 2016 and 2017. He also won a defensive MVP award in 2018. He finished first in tackles in the RSEQ Division 2. While he has lived in Gatineau for the past 12 years, he is from Halifax, Nova Scotia.
Félix Boyer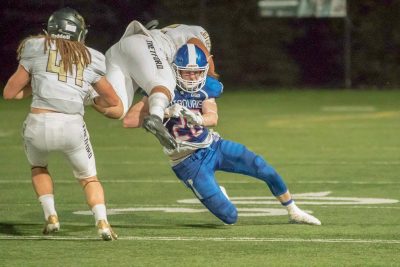 Boyer is a member of Les Griffons du Cégep de l'Outaouais (RSEQ Division 2). Standing at 6'3, 185lbs, he calls Gatineau, Québec, home.
Advocating for football prospects one story at a time.