Alberta, Quebec and British Columbia represented with newest Mustangs.
Western Mustangs have once again reaped the benefits of national recruiting success.
The team has announced the addition of three recruits from three different provinces – Quebec, Alberta and British Columbia.
Lane Raposo, Shakiym Hoyte and Kieran Janes have signed with Mustangs. All three will join the team for the 2015 OUA season.
"Were very excited that these three young men have decided to join our program," commented Mustangs Head Coach Greg Marshall.  "They are excellent additions to our program."
LANE RAPOSO:
The 6'5, 262 pound offensive lineman from Calgary, Alberta will be making the move out East to script the next gridiron and academic chapter.
In 2014, Raposo guided CFC#1 Notre Dame Pride of the Calgary Senior High School Athletic Association (CSHSAA) to their third consecutive Alberta Provincial Tier 1 Championship.
Moreover, the offensive lineman has also suited up for the Calgary Hilltoppers of the Calgary Area Midget Football Association (CAMFA).
Among the honours he has received include Calgary Division 1 All-Star selection, Hilltoppers Lineman of the Year as well as Heart of a Champion and Aaron Neidergasses Memorial Award.
"We're very excited about the addition of Lane to our program," expressed Marshall.  "Lane is a tremendous young man, who comes from a great football program in Calgary."
"His work ethic in the classroom, weight room, and on the football field is outstanding."
Raposo is looking forward to attending a school which is renowned for a tradition of excellence.
"Western is a very prestigious school, academically one of the best in Canada," elaborated the Calgary offensive lineman.  "Going to a school like Western knowing that you will leave with a very recognizable degree is what counts."
Equally important the strength of the football program and Raposo is looking forward to the chance to grow into an elite lineman while working alongside a couple of CIS All-Canadians.
"On top of that, having a football program that matches with the strong coaching staff Western has will be a great opportunity for myself to be pushed and grow not only as a player, but as a person as well."
"Having great offensive linemen to look up to such as Eddie Meredith and Sean Jamieson will also help speed up the process of me developing as an offensive lineman."
Ultimately, one key factor tipped the scale in the Mustangs' favour.
"What really attracted me to Western is the very family oriented atmosphere which was really important to me," expressed Raposo.  "Coming from Notre Dame, that was a really important aspect."
The Mustangs are looking forward to having Raposo on the offensive line.
"We think Lane has a huge upside; he's already a very strong young man and he's put a lot of work in in the gym," assessed Flaxman.  "He's a great athlete and he moves very well for an offensive lineman."
"We think he is a great fit for our offensive scheme here at Western."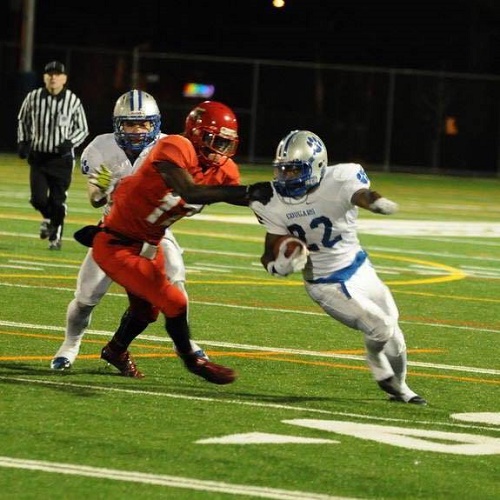 SHAKIYM HOYTE:
The 5'10, 190 pound defensive back/linebacker from Montreal, Quebec will be reunited with former teammates by virtue of his commitment to the Mustangs.
Hoyte completed a stint with CEGEP Division 1 team, Champlain-Lennoxville Cougars.  This past season, he registered 24 tackles, two bat downs, caught an interception and had a tackle for a loss.
Additionally, Hoyte is the third Cougars standout to join the team as #CFC100 ranked running backs Cedric Joseph and Anthony Joyal has also signed with the team.
"When Shakyim visited with his family last month, it was clear that he was a great fit for our program," recalled Mustangs Recruiting Coordinator Tom Flaxman.  "He is a great student, a hard worker and he fits in great with our team.
"He is a great addition to our football program."
For his part, Hoyte is ecstatic of his decision to join the Mustangs.  Ultimately, there were several reasons he chose to begin his CIS career in London, Ontario.
"I chose Western because I believe it's the best place for me," explained Hoyte.  "There is a huge sense of family and a great sense of brotherhood at Western similar to my CEGEP team at Champlain."
"On my visit, I really felt like I was a part of something special; the coaches and players made me feel at home. They have a great knowledgeable coaching staff that will help me to continue to develop as a player and the resources to help me achieve my academic goals as well."
Marshall said Hoyte will complement the team's defensive unit.
"Shakyim brings a great blend of speed and physicality to our defense and has the ability to play either the Sam linebacker position or in the defensive secondary," added the Mustangs Head Coach.
KIERAN JANES:
Recently, the 6'3, 225 pound defensive end from Burnaby completed his career with St. Thomas More Knights of the British Columbia High School Football Association (BCHSFA). This past season, he was selected as a BCHSFA 'AAA' All-Star.
"Kieran is a great addition to our program," commented Marshall.  "We've known Kieran and his family for a long time; he has tremendous character and is an outstanding student."
The Mustangs believe Janes will be an asset on defensive.
"Kieran fills a big need for us at the defensive end position, he's a multi-sport athlete and his size as well as his athleticism is a welcome addition to our defensive line."
(twitter: http://twitter.com/vohra_ameeta)
Advocating for football prospects one story at a time.