Recently, the Niagara Region High School Athletic Association (NRHSAA) annnounced major award winners and all-stars for the 2015 season.
#CFC100 and Ontario Prospect Challenge (OPC) Defensive MVP Ted Mansell was named the league's Defensive Player of the Year. The defensive standout suited up for St. Paul Patriots.
AN Myer Marauders pivot Tre Ford was selected as the league's Offensive Player of the Year as he guided the team to both Niagara 'AAA' and OFSAA Bowl victories.
Here is the complete list of Major Award Winners and All-Stars for Niagara 'AAA' Division: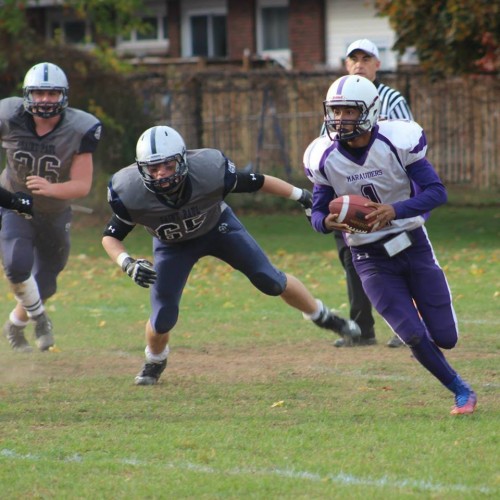 Offensive All-Stars:
QB – Tre Ford AN Myer
QB –  Travis Arp Denis Morris
RB – Jake Andrews AN Myer
RB – Dillon Caldwell St Paul's
WR- Keegan Oshust Denis Morris
WR – Dylan Warnock Denis Morris
WR – Michael Casciano AN Myer
WR – Elijah Finlay AN Myer
WR – Jack Gelbery Blessed Trinity
OL – Alessandro Krick St Paul's
OL – Tanner Geddes Denis Morris
OL – Matt Sacco Denis Morris
OL  – Jordan Mason Notre Dame
OL – Scott Powers Lakeshore Catholic
OL – J.P Audibert St. Paul's
Defensive All-Stars:
DL  – Rob Hough Denis Morris
DL – Austin Miller A.N. Myers
DL – Tommy Zarafonitis St Paul's
DL – Jerome Davis Blessed Trinity
LB – Tagg Rive AN Myer
LB – Mike Dominico Denis Morris
LB – Caldwell St. Paul's
DB – Twanell Bell Denis Morris
DB – Damonte Brundidge Denis Morris
DB – Tyrell Ford AN Myer
DB – Zyer Harris AN Myer
DB – Joe Murdaca AN Myer
Special Teams All-Stars:
P/K Denis Morris Owen Charnock
kick returners Murdaca and Warnock.
Advocating for football prospects one story at a time.