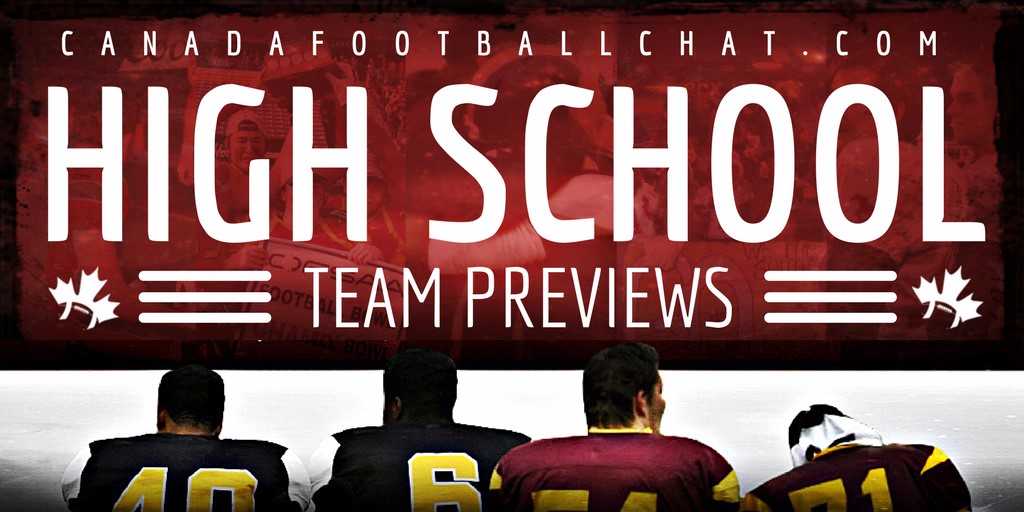 Leading up to the start of the high school season, we will be posting high school team previews from June to September as part of our comprehensive season coverage. Canadafootballchat.com (CFC) has tapped into our network of coaches to produce high school team previews for the 2017 season. The #CFCteampreviews highlight top returning players, team strengths, and toughest opponents.
CFC also will bring you the national high school football rankings known as the #CFC50. Last year's final rankings were the most controversial to date…and we heard about it. Whether you agree or disagree, we love hearing from you. For an explanation of how the rankings are computed, please scroll to the bottom of the page.
Grant Park Pirates (WHSFL – AAA John Potter, Winnipeg, Manitoba)
The Grant Park Pirates head into the 2017 football season with big expectations, "Grant Park expects to win the Potter conference and compete for the Provincial Championship in November," replied Doug Kovacs.
"We expect a very tough and competitive season in the Potter Division," said Kovacs. "The AAA division is one of the toughest week in & week out conferences in the country."
St. Paul's will be tough as they are always well coached, and have tremendous depth at all positions. The surprise team this season could be the Dakota Lancers, Kovacs explained, "They are athletic and fast on defense and rally to the ball, but their Quarterback will be the jewel of that team. Reid Vankoughnett is a tough mobile pivot with a strong arm and great awareness. He can run and throw, and has 4 receiving threats that are tall lanky and fast and can beat the defense in a variety of ways."
Despite being the smallest school in the John Potter Conference, the Pirates have finished third two years in a row. Grant Park has a 99% graduation rate among its football players, and has put 17 players into Junior, U Sports, or the NCAA in the last five years.
The coaching staff at Grant Park has remained intact the last three seasons, and they recently promoted Darryl Gerhsman from JV head coach to receiver coach on the varsity squad. Mike Kennedy will take on the new roll as the JV head coach, which he adds to the title of director of football operations.
The Grant Park program continues to succeed because of the constant and continuous support from Principal Susan Anderson, and the administration team of Mohammed Rezaii, and Bonnie McEachern.
This year's edition of the Pirates will have an interesting competition at quarterback as they have two seniors and a junior battling it out for starting playing time, Kovacs added, "Regardless all are going to play."
Jared Boone is in his final year with the Pirates. Jared is a dual threat quarterback with great understanding of the game and sharp reflexes. Jared can play safety and wide receiver as well.
The biggest improvement Jared has made to his game from last season is his lateral quickness and being able to stop and change direction as fast as possible. Jared has also been doing a lot of cardio so he'll be able to go both ways and plays special teams.

Jared's personal goals for next year are to lead his team to a championship, be a good teammate to the other players, and to do whatever needs to be done to succeed.
"Our team goals for next season are to be all completely on the same page on every play, all players execute their assignments, and to make it to the championship this year," said Jared.
Brendan Tessler is another senior on Grant Park. Brendan is an efficient passer who is great in the last two minutes of the game.
Wyatt Barber is the junior quarterback on the Pirates. Wyatt is also a dual threat quarterback who can change the game with his arm and legs. Brendan also plays corner and safety.
The x-factor for the Grant Park Pirates is running back and linebacker Blade Thickfoot. Blade is an aggressive and physical tackler who can drop into coverage. He's also a shifty running back with an excellent football IQ. "Blade's relentless pass rush and physical running style will be a great change of pace for the Pirates," mentioned Kovacs. "Blade can change a game on both sides of the ball with his play."
Three players to watch for on the Pirates offense are Cody Gushulak, Val Lazo, and Gabi Peyst.
Cody Gushulak is a senior running back, and a physical dual threat player that is lightning quick and has great hands. Cody is a great leader, and senior captain. Along with running the ball, Cody can also punt and return kicks.
Val Lazo plays offensive tackle, guard and defensive end. Val has a relentless motor and drive. The senior is a physical blocker and tenacious tackler. Val was a runner up for the Kas Vidruk in the 2016 season as a junior.
Gabi Peyst has great hands and speed. Last year, Gabi ran for 415 yards. This season as a senior, Gabi will be counted on to add a physical element to Grant Park's power run game.
On defense, Tyson Spence, William Huh, and Jordan Chizda have all stood out for Grant Park.
Tyson Spence is your prototypical defensive end or tackle. Last season Tyson earned 31 tackles, and 7 sacks. Multiple U sports and NCAA schools are interested in Tyson.
William Huh has been relentless as a defensive end and tight end recording 31 tackles, 2.5 sacks, 2 forced fumbles, and 2 interceptions. William is a great athlete and student.
Jordan Chizda is an excellent tackler and shut down corner. Jordan had 3 interceptions last year. The senior leader and captain also plays wide receiver, and returns punts and kicks.
On offense, the Grant Park Pirates run a Pistol Wing-T Scheme with a lot of misdirection and vertical passing game.
Defensively, Grant Park is a heavy pressure Field G scheme that employs a variety of fire zones and man press coverages.
The Pirates are known as a physical team that loves to hit and are fast. Grant Park brings a power running game each week to the table and their defense is aggressive and physical at the point of attack.
Grant Park Pirates (WHSFL – AAA John Potter, Winnipeg, Manitoba)
Head Coach: Doug Kovacs, 6th year as head coach.
#CFC50 Ranking: n/a
2016 Record: 5-2, ranked 3rd in AAA lost in the quarterfinals
Key Returnees: Eric Lempert, Tyler Stark, Ben Arnovitch, Tyrell Scott-Lysoshirko
Key Losses: Brandon O'Connor (University of Minnesota Crookston), Patrick Young, Marcel Dufault
Number of returning starters – Offense: 6
Number of returning starters – Defense: 4
"X" Factor: Blade Thickfoot
If you would like your high school team previewed, please contact 

[email protected]

.
CLICK HERE FOR 2016 FINAL CFC50 RANKINGS
How is the #CFC50 evaluated?
The #CFC50 rankings considers all conference and non-conference games (in Canada and the United States) while scrimmages are not evaluated (there is no such thing as an exhibition game – those are non-conference games).
Leagues included in rankings: British Columbia AAA Varsity, Alberta Tier One, Saskatchewan 12-man 4A, Manitoba AAA Varsity, Ontario OFSAA Bowl AAA qualified teams, Quebec Juvenile Division 1, New Brunswick 12-man, Nova Scotia Tier 1.
The #CFC50 is a relative ranking that considers top tier leagues from all eight high school playing provinces (minimum one team represented from each province).  The CFC Scouting Bureau consists of CFC Reporters, CFC Scouts, and also selected local reporters and scouts who submit local ranking results on a weekly basis.  This is the eighth year that Canadafootballchat.com has ranked the top high school teams in Canada.
Join the conversation online #CFC50 #CFCteampreviews

Advocating for football prospects one story at a time.