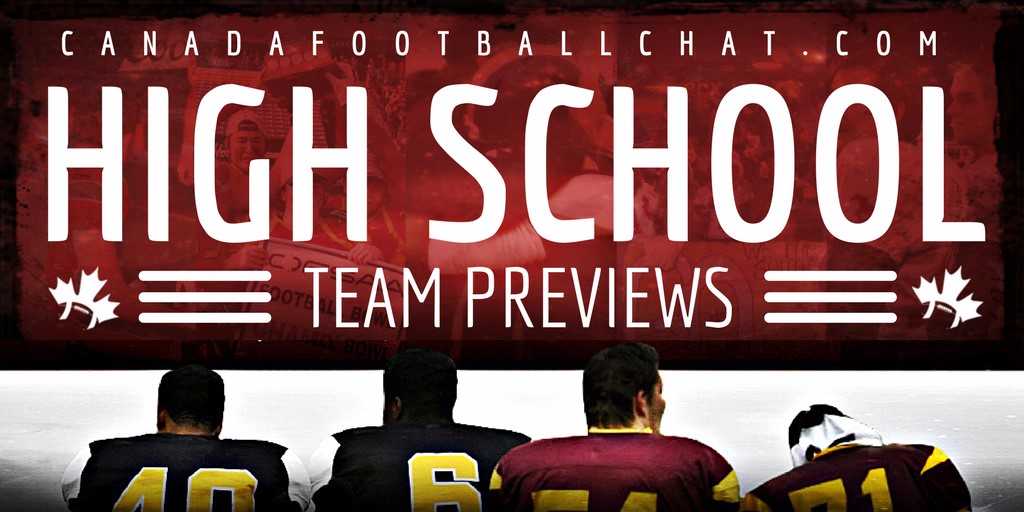 Leading up to the start of the high school season, we will be posting high school team previews from June to September as part of our comprehensive season coverage. Canadafootballchat.com (CFC) has tapped into our network of coaches to produce high school team previews for the 2017 season. The #CFCteampreviews highlight top returning players, team strengths, and toughest opponents.
CFC also will bring you the national high school football rankings known as the #CFC50. Last year's final rankings were the most controversial to date…and we heard about it. Whether you agree or disagree, we love hearing from you. For an explanation of how the rankings are computed, please scroll to the bottom of the page.
West Kildonan Wolverines (WHSFL – AA Kas Vidruk Div. –Winnipeg, MB)
The West Kildonan Wolverines are welcoming Russell Wallace back for his second season as head coach in 2017. The Wolverines are coming off of a rebuilding year with a new coach, their expectations this season are to continue to rebuild and their saying for this season is "Have No Doubt", Wallace explained. "We need to be confident in every match up we face and have no doubt that we can win every match up regardless of the situation."
This season will be Tanner Dola's last for West Kildonan. Tanner talked about what he expects from himself as a senior, "I really expect myself to be a reliable player that my team can count on for a big play, and just to be a player that other teams have to game plan how to stop."
In the offseason, Tanner improved his skills by training with recruit ready over the winter, and working on his speed and on field skill by going to the 7v7 competitions in the U.S and playing against some high end American talent. Tanner added, "I also started going to the gym more and working on getting bigger."
Along with Tanner Dola, the Wolverines are glad to have Michael Guerreiro and Nick Birch from last year's team.
Tanner is the leader of the Wolverines. Michael Guerreiro is a dedicated grade 12 leader, "I will be very surprised if I don't see him in a University or Junior football jersey next season," mentioned Wallace. Nick Birch is a grade 11 defensive lineman, "He spent a ton of time of the weight room in the offseason, came back lighter and stronger," said Wallace of Birch.
West Kildonan had two key losses in the last year. Duane Penner was with the team for 4 years and was the definition of Wolverine Football. Nathane Dunsmore anchored the defense last season and will also be joining the Winnipeg Rifles this season.
The Wolverines are typically a defensive team, they do not give up a ton of points in a game on defense, and on offense they try to control the clock, and manage the turnovers.
Coach Wallace thinks the WHSFL is a very competitive league, and he is excited to get going in 2017, "I think we have a very competitive league, Rick Henkewich does a great job with our league and I am very excited to see what the entire league does this year," replied Wallace. "I am extra excited to see what Steinbach will do this year, they are the defending champions of the division and they run a great program out there, I think they are the team to beat."

West Kildonan Wolverines (WHSFL – AA Kas Vidruk Div.–Winnipeg, MB)
Head Coach:  Russell Wallace 2nd season, 12th straight season in the WHSFL (11 seasons at the OC at Maples Collegiate)
#CFC50 Ranking: n/a
2016 Record: 1-6, lost in quarterfinal to Churchill 21-7
Key Returnees: Tanner Dola, Michael Guerreiro, Nick Birch
Key Losses: Duane Penner, Nathane Dunsmore
Number of returning starters – Offense: 2
Number of returning starters – Defense: 2
"X" Factor: Nick Birch

If you would like your high school team previewed, please contact 

[email protected]

.
CLICK HERE FOR 2016 FINAL CFC50 RANKINGS
How is the #CFC50 evaluated?
The #CFC50 rankings considers all conference and non-conference games (in Canada and the United States) while scrimmages are not evaluated (there is no such thing as an exhibition game – those are non-conference games).
Leagues included in rankings: British Columbia AAA Varsity, Alberta Tier One, Saskatchewan 12-man 4A, Manitoba AAA Varsity, Ontario OFSAA Bowl AAA qualified teams, Quebec Juvenile Division 1, New Brunswick 12-man, Nova Scotia Tier 1.
The #CFC50 is a relative ranking that considers top tier leagues from all eight high school playing provinces (minimum one team represented from each province).  The CFC Scouting Bureau consists of CFC Reporters, CFC Scouts, and also selected local reporters and scouts who submit local ranking results on a weekly basis.  This is the eighth year that Canadafootballchat.com has ranked the top high school teams in Canada.
Join the conversation online #CFC50 #CFCteampreviews

Advocating for football prospects one story at a time.