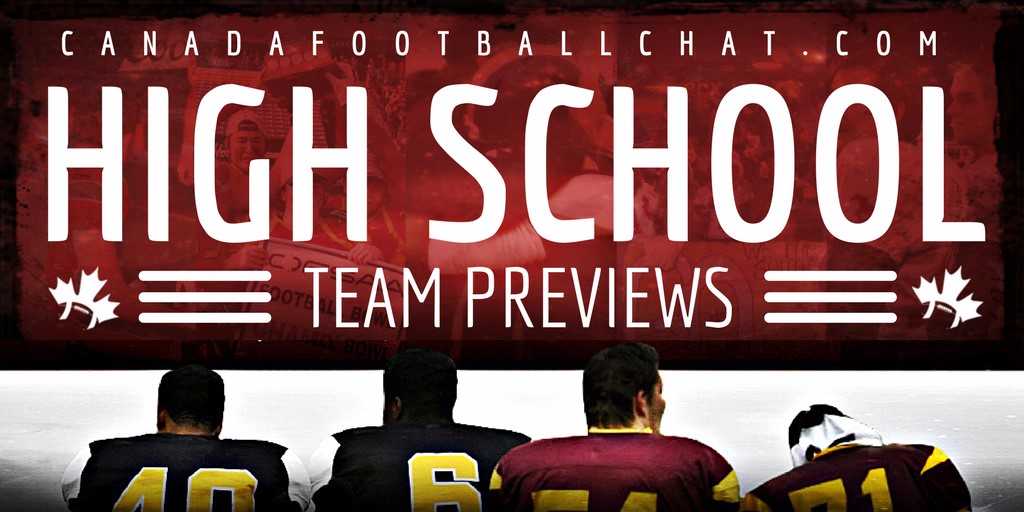 Leading up to the start of the high school season, we will be posting high school/Cégep team previews from June to September as part of our comprehensive season coverage. Canadafootballchat.com (CFC) has tapped into our network of coaches to produce team previews for the 2017 season. The #CFCteampreviews highlight top returning players, team strengths, and toughest opponents.
CFC also will bring you the national high school football rankings known as the #CFC50. Last year's final rankings were the most controversial to date…and we heard about it. Whether you agree or disagree, we love hearing from you. For an explanation of how the rankings are computed, please scroll to the bottom of the page.
Avon View High School Avalanche (NSSAF – Division 2, Avon View, NS)
There is a storm brewing out east. In Windsor, Nova Scotia the Avon View Avalanche are looking to shake things up at the top of the standings. Central Kings Rural High School has dominated the NSSAF Division 2.
The team is "young and hungry" says Manager/Assistant Coach Gord Chase, a strong recipe for success. This summer Avon View High hired new head coach JJ Chambers, who is tasked with the mission to dethrone Central Kings.
Luckily for him, he is not completely starting over as last year's team finished with a 5-3 record and a playoff berth. Unfortunately, they lost in the semi-finals. The biggest takeaway Chase took from last season's team may be what will carry them to success this year, "execute better."
Football is a sport where brains meet brawn and contrary to popular belief, it is not the physically strongest man who wins, but the mentally sharpest one. Chase, Chambers, and the rest of the coaching staff know what they have to do to sail the ship in the right direction: execute, execute, execute.
A team needs healthy and talented players to run a coach's game plan. The new regime will preach "proper hydration and preparation" during the week leading up to games. Drinking water, eating healthy, and studying films will result in players being in better conditioned on game-day both physically and mentally.
The Avalanche will field "18 returning players," including their starting quarterback Devin Bryan. "Bryan has three years of experience," says Chase. Their backup QB, Jack Sheehan "is eager to learn," adds Chase. A veteran quarterback and a young pup ready to become a wolf at the most important position on the field is a good problem to have.
The Avalanche will also boast returnees Sami Whidden and Tyler Eddy who made the NSSAFFL Division-3 2015 All-Star Team. Spencer Bauchaman and Jared Wile will lead the defensive side of the ball. According to Chase, Whidden could be the X-factor the Avalanche needs to get them over the hump.
Unfortunately, each year each team loses student-athletes to graduation, and the Avalanche are not different. The key losses are on "the defensive line, Ryan Hebb (receiver, running back, special team), and Jem Whidden at linebacker," says Chase. It will be up to the new generation to replace the men that once wore those jerseys.
At Avon View High School the expectations are high. Winning a few games is not enough, the team wants to be "competitive in our division, and [hopefully] win the Division Championship Game," says Chase. The conference Avon View plays in is loaded with talented rosters. "NKEC and Millwood are very competitive, […] JH Gillis and West Kings have also been on the rise in the past couple of seasons," says Chase, and at the top stands the aforementioned Central Kings.
Avon View High School Avalanche (NSSAF – Division 2, Windsor, NS)
Head Coach: JJ Chambers (1st year)
#CFC50 Rankings: n/a
2016 Record: 5-3, playoff berth; eliminated in playoff semi-finals.
Key Returnees: Sami Whidden, Devin Bryan, Spencer Bauchaman, Jared Wile, & Tyler Eddy
Key Losses: Ryan Hebb, Jem Whidden, the defensive line
"X" factor: Sami Whidden

If you would like your high school team previewed, please contact 

[email protected]

.
CLICK HERE FOR 2016 FINAL CFC50 RANKINGS
How is the #CFC50 evaluated?
The #CFC50 rankings considers all conference and non-conference games (in Canada and the United States) while scrimmages are not evaluated (there is no such thing as an exhibition game – those are non-conference games).
Leagues included in rankings: British Columbia AAA Varsity, Alberta Tier One, Saskatchewan 12-man 4A, Manitoba AAA Varsity, Ontario OFSAA Bowl AAA qualified teams, Quebec Juvenile Division 1, New Brunswick 12-man, Nova Scotia Tier 1.
The #CFC50 is a relative ranking that considers top tier leagues from all eight high school playing provinces (minimum one team represented from each province).  The CFC Scouting Bureau consists of CFC Reporters, CFC Scouts, and also selected local reporters and scouts who submit local ranking results on a weekly basis.  This is the eighth year that Canadafootballchat.com has ranked the top high school teams in Canada.
Advocating for football prospects one story at a time.