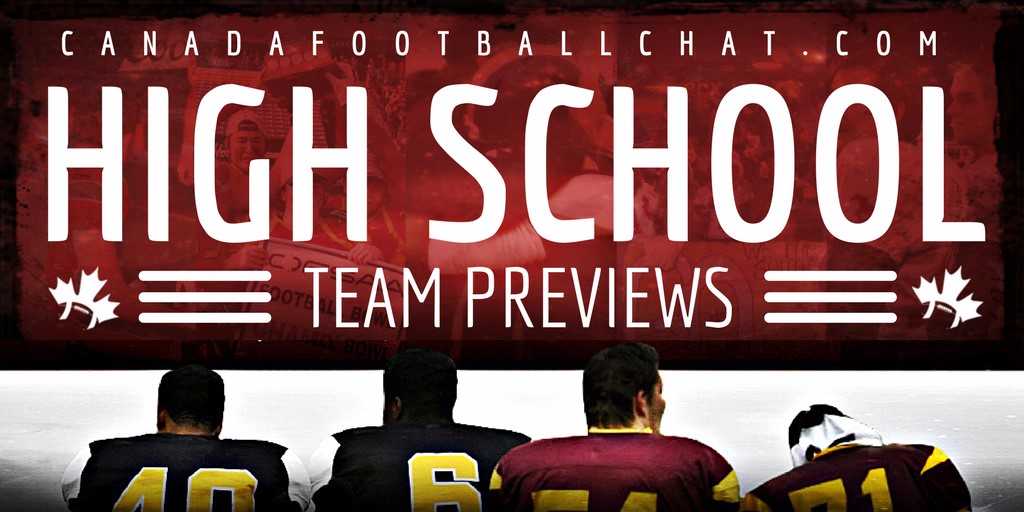 Leading up to the start of the high school season, we will be posting high school/Cégep team previews from June to September as part of our comprehensive season coverage. Canadafootballchat.com (CFC) has tapped into our network of coaches to produce team previews for the 2017 season. The #CFCteampreviews highlight top returning players, team strengths, and toughest opponents.
CFC also will bring you the national high school football rankings known as the #CFC50. Last year's final rankings were the most controversial to date…and we heard about it. Whether you agree or disagree, we love hearing from you. For an explanation of how the rankings are computed, please scroll to the bottom of the page.
Dryden Eagles (WHSFL – AA Kas Vidruk, Dryden, Ontario)
The Dryden High School Eagles are coming off of a historic 2016 season. The Eagles were undefeated all the way to the Canadinns Bowl, and then won the big game 21-0 over the Portage Trojans.
After finishing their season undefeated and winning the championship game, the Eagles were sent up one division from 'A', to 'AA'. "We are looking forward to the challenges playing in the Vidruk offers and want to sustain the enthusiasm for football we generated last season," said head coach Geoff Zilkalns."
This season, Dryden's goals are to battle in every game and see what that does for them. Coach Zilkalns mentioned, "We are not a big school so we can control our effort and will do so."
The Eagles are expecting a lot of physical games this year because all the teams will likely have a bit more depth this season than what they saw last year. "We know it will be a spirited affair when Portage comes to Dryden as we played them in the finals last year," said Zilkalns. "Vincent Massey Brandon defeated us in the 2015 semi-finals and was a well-coached, determined team."
Dryden lost three key players this off-season. Liam Wrolstad led the team in rushing and in scoring last season. Liam is also the career rushing leader at Dryden High School. Halfbacks Kris Bilous and Randy Russell are no longer with the team, and were dependable cover guys and tacklers.
Kadin Taylor is back with the Dryden Eagles. Kadin is a key member of the squad because he is tall and quick, and provides pressure on passing downs.
Players to watch for are senior quarterback Jarret Hicks, Grade 11 linebacker Gus Brosseau, and Grade 12 safety Thomas Moline.
Jarret Hicks is a strong leader who ran for over 1,000 yards and passed for 700. Gus Brosseau is a fast and big hitting player who is bright and active. Thomas Moline has had 7 interceptions in each of his first two seasons, and was leading the division each time.
The Eagles will be starting Jarret Hicks at quarterback, but Carter Armstrong is an exciting grade 10 prospect who will play this season as well.
The Dryden High School Eagles like to run a triple option based attack on offense, and an aggressive 4-3 defense.
We asked Geoff Zilkalns to describe his team to us in one word, and he replied, "Passionate."
Dryden Eagles (WHSFL – AA Kas Vidruk, Dryden, Ontario)
Head Coach:  Geoff Zilkalns 23 years with the team, 20th as head coach
#CFC50 Ranking: n/a
2016 Record: 10-0, won the Canadinns Bowl against Portage Collegiate 21-0
Key Returnees: Kadin Taylor
Key Losses: Liam Wrolstad, Kris Bilous
Number of returning starters – Offense: 6
Number of returning starters – Defense: 8
"X" Factor: Jared Dormer
If you would like your high school team previewed, please contact 

[email protected]

.
CLICK HERE FOR 2016 FINAL CFC50 RANKINGS
How is the #CFC50 evaluated?
The #CFC50 rankings considers all conference and non-conference games (in Canada and the United States) while scrimmages are not evaluated (there is no such thing as an exhibition game – those are non-conference games).
Leagues included in rankings: British Columbia AAA Varsity, Alberta Tier One, Saskatchewan 12-man 4A, Manitoba AAA Varsity, Ontario OFSAA Bowl AAA qualified teams, Quebec Juvenile Division 1, New Brunswick 12-man, Nova Scotia Tier 1.
The #CFC50 is a relative ranking that considers top tier leagues from all eight high school playing provinces (minimum one team represented from each province).  The CFC Scouting Bureau consists of twenty-seven CFC Reporters, CFC Scouts, and also selected local reporters and scouts who submit local ranking results on a weekly basis.  This is the eight year that Canadafootballchat.com has ranked the top high school teams in Canada.
Advocating for football prospects one story at a time.