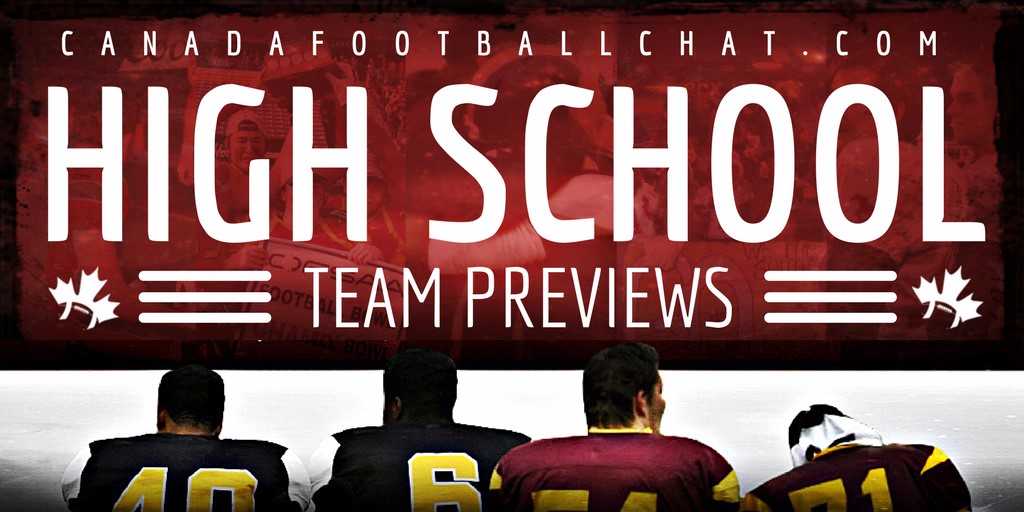 Leading up to the start of the high school season, we will be posting high school/Cégep team previews from June to September as part of our comprehensive season coverage. Canadafootballchat.com (CFC) has tapped into our network of coaches to produce team previews for the 2017 season. The #CFCteampreviews highlight top returning players, team strengths, and toughest opponents.
CFC also will bring you the national high school football rankings known as the #CFC50. Last year's final rankings were the most controversial to date…and we heard about it. Whether you agree or disagree, we love hearing from you. For an explanation of how the rankings are computed, please scroll to the bottom of the page.
The Maples Marauders Football Program was founded in 1981. Over the past 35 years, the Marauders have experienced success as a program both on and off the field. Head coach Peter Serrette added, "Football at Maples truly is an inclusive sport which unites students from a variety of backgrounds."
Peter Serrette labeled his team as relentless. "We're a young team but they are an eager group who love football. With our returning players leading the way we will be the hardest working team on the field."
The Maples Marauders are in the 'A' Currie Division. The Currie Division is usually balanced, and any team can win on any given night. "I think we will surprise a lot of the teams including ourselves!" said Serrette. "Churchill moving to the Currie division could be a team to watch for."
This year's goals for the Marauders are to build on last season, and make a deep playoff run.
The starting quarterback for the Maples this season will be Harrison Anderson. Harrison is a great athlete who will play both sides of the football.
On offense, expect the Marauders to keep defenses on their toes with a balanced running and passing attack.
Defense will be the strength of the Maples Marauders this upcoming season. While mixing up coverage packages and pressuring quarterbacks with several blitz packages, the Marauders hope to create turnovers.
The black and silver have three standouts on the defensive side of the ball. Matteo Urciuoli is a linebacker converted from defensive back, and a multi-sport athlete with speed to burn. Defensive backs Aziz Daoud and Calem Sikora are also standouts. Aziz is a hardworking athlete who lives at the gym, and Calem is the team captain who loves to lead by example.
The Currie Division is usually balanced and any team can win on any given night. "I think we will surprise a lot of the teams including ourselves!" said Serrette. "Churchill moving to the Currie division could be a team to watch for."
Maples Marauders (WHSFL – A Andy Currie, Winnipeg, MB)
Head Coach:  Peter Serrette 8th season as head coach (22nd with the program as player/assistant coach)
#CFC50 Ranking: n/a
2016 Record: 1-6
Key Returnees: Matteo Urciuoli, Harrison Anderson, Aziz Daoud ,Calem Sikora
Key Losses: Tyler Slusarenko, Eric Cespe, Trayvon Albert (Winnipeg Rifles), Noah Rampersad (Winnipeg Rifles)
Number of returning starters: 11
"X" Factor: Harrison Anderson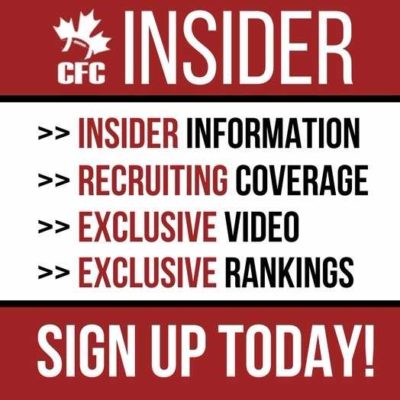 If you would like your high school team previewed, please contact 

[email protected]

.
CLICK HERE FOR 2016 FINAL CFC50 RANKINGS
How is the #CFC50 evaluated?
The #CFC50 rankings considers all conference and non-conference games (in Canada and the United States) while scrimmages are not evaluated (there is no such thing as an exhibition game – those are non-conference games).
Leagues included in rankings: British Columbia AAA Varsity, Alberta Tier One, Saskatchewan 12-man 4A, Manitoba AAA Varsity, Ontario OFSAA Bowl AAA qualified teams, Quebec Juvenile Division 1, New Brunswick 12-man, Nova Scotia Tier 1.
The #CFC50 is a relative ranking that considers top tier leagues from all eight high school playing provinces (minimum one team represented from each province).  The CFC Scouting Bureau consists of twenty-seven CFC Reporters, CFC Scouts, and also selected local reporters and scouts who submit local ranking results on a weekly basis.  This is the eight year that Canadafootballchat.com has ranked the top high school teams in Canada.
Advocating for football prospects one story at a time.