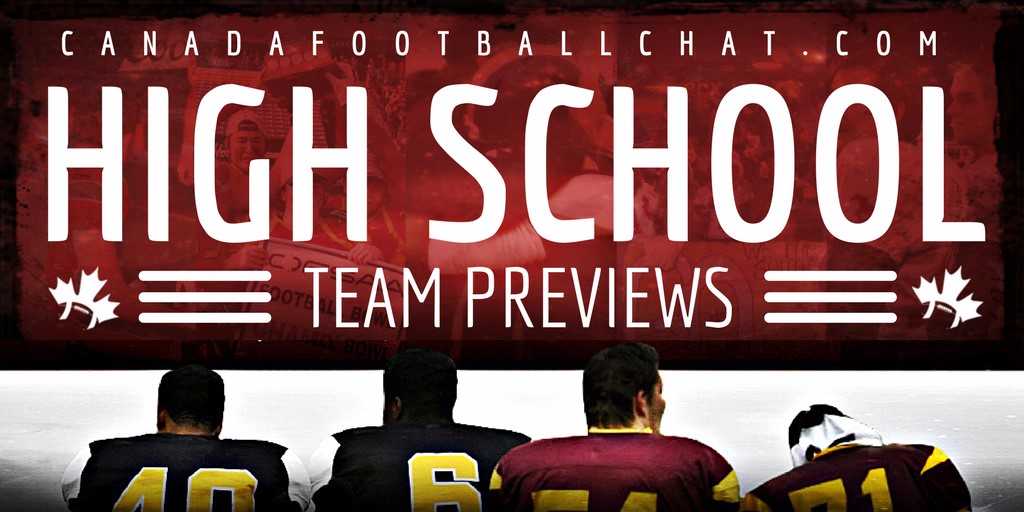 Leading up to the start of the high school season, we will be posting high school team previews from June to September as part of our comprehensive season coverage. Canadafootballchat.com (CFC) has tapped into our network of coaches to produce high school team previews for the 2017 season. The #CFCteampreviews highlight top returning players, team strengths, and toughest opponents.
CFC also will bring you the national high school football rankings known as the #CFC50. Last year's final rankings were the most controversial to date… and we heard about it. Whether you agree or disagree, we love hearing from you. For an explanation of how the rankings are computed, please scroll to the bottom of the page.
Sisler Spartans (WHSFL – AAA John Potter , Winnipeg, MB)
The Sisler Spartans are optimistic about their chances in 2017, coach Sean Esselmont explained, "This is a team that can make a run for it. Our team motto this season has been "buy in", and I believe if all 45 of our kids "buy in", this team has a chance to go all the way."
However, "Saint Paul's and Vincent Massey are perennial power houses and often the road to glory is through them," said Esselmont. "We as always will look forward to our annual charity game against north end rivals Garden City. We hope to bring the "McPhillips Bowl" back home to Sisler."

If coach Esslemont had to describe his team in one word it would be FAST. "I think our team speed is much higher this year and as such our offence and defence will both be very explosive," replied Esslemont.
Tyler Koniuck is returning for another year at quarterback for the Spartans. Tyler is an exceptional athlete, he ran a 4.6 at Recruit Ready and put up big numbers in Sisler's exhibition game (6 carries for 180 yards and 3 touchdowns).
Esselmont added, "TK as he is known to his team mates, will also help our team this year as a CB and had 2 pass break ups and an interception in our exhibition game."
At running back, league leader Brayden Desjarlais is back for another season as a Spartan. Brayden led the 'AAA' division of the WHSFL as a junior and will have an eye on eclipsing his totals from last season. Esselmont mentioned, "Brayden is 6'1 230 pounds and is a patient runner who explodes through holes and opposing defenders."
Last year's Team MVP, Easton Montour, is back in the black and red. Easton is a triple threat, offensively he occupies the money back position which is a hybrid slot/fullback/halfback position. In Sislers' spring game, Easton caught 6 passes and had 6 carries for a total of 130 yards and a touchdown. On defense, Easton plays Will LB and is the emotional leader of the defense. On special teams, Easton is an accomplished long snapper. Esselmont said of Easton, "At 6'2 215, he is an athlete that universities need to look at."
Austin Balan returns for another season as a Sisler Spartan. Austin made the team last year as a sophomore and was awarded by the league as the top rookie in the WHSFL.
"He (Austin) returns for his junior campaign and will return to his spot as a free safety but also will join the offence as a slot receiver," replied Esselmont. "Austin is a special talent that will be one of the best prospects in 2019."
During the off-season, Austin participated in speed training with Recruit Ready and played on their 7v7 team. Austin also continued with Sisler's weight program, and maintained a healthy diet throughout the off-season.
Austin's personal goals for this season are to strive for success not only on the defensive side of the ball, but on offense as well. "I would like to continue getting strong, faster and smarter during this upcoming season," mentioned Austin.
As a team, Austin talked about how Sisler's goals are to develop a lot of the younger players moving up to help their team in the coming years.
Austin added, "At Sisler we would really like to have a lot more wins under our belt in time for playoffs and hopefully make a good run out of it. We have a lot of returning players who have worked hard all summer. Our team has a lot of talent and character that I think will serve us well this season."
The X factor for the Sisler Spartans will be their "offensively line". The offensive line will be anchored by senior center Zane Dear and Sisler's offense has a combination of seniors (Gage Pollock, Umair Tahir) and juniors (Lance Leost, Noah Cabral, Nick Radocaj, Tyson Smith) that will all chip in to provide a solid group of blockers with great depth.
"Our OL affectionately called the Union will help lead our offense deep into the playoffs," concluded Esselmont.
Sisler Spartans (WHSFL – AAA John Potter , Winnipeg, MB)
Head Coach:  Dave Degrave & Sean Esselmont (Co-Head coaches, 5th year)
#CFC50 Ranking: n/a
2016 Record: 1-6, lost in first round of playoffs
Key Returnees: Brayden Desjarlais, Austin Balan, Easton Montour
Key Losses: Matthew Jarret (Winnipeg Rifles), Logan Leschyshyn, Ivan Jacques and Tre Cady
Number of returning starters – Offense: 5
Number of returning starters – Defense: 6
"X" Factor: Offensive line
If you would like your high school team previewed, please contact 

[email protected]

.
CLICK HERE FOR 2016 FINAL CFC50 RANKINGS
How is the #CFC50 evaluated?
The #CFC50 rankings considers all conference and non-conference games (in Canada and the United States) while scrimmages are not evaluated (there is no such thing as an exhibition game – those are non-conference games).
Leagues included in rankings: British Columbia AAA Varsity, Alberta Tier One, Saskatchewan 12-man 4A, Manitoba AAA Varsity, Ontario OFSAA Bowl AAA qualified teams, Quebec Juvenile Division 1, New Brunswick 12-man, Nova Scotia Tier 1.
The #CFC50 is a relative ranking that considers top tier leagues from all eight high school playing provinces (minimum one team represented from each province). The CFC Scouting Bureau consists of CFC Reporters, CFC Scouts, and also selected local reporters and scouts who submit local ranking results on a weekly basis. This is the eighth year that Canadafootballchat.com has ranked the top high school teams in Canada.
Advocating for football prospects one story at a time.