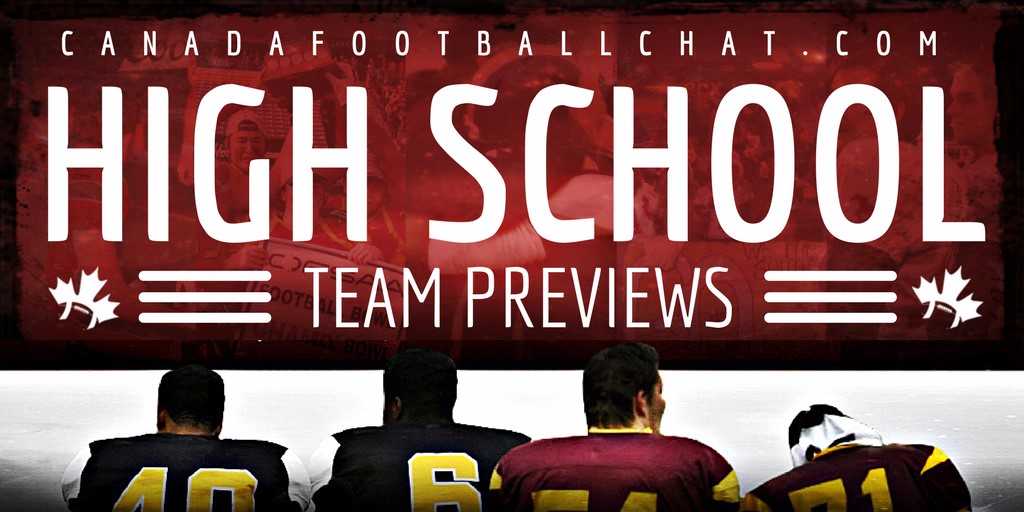 Leading up to the start of the high school season, we will be posting high school/Cégep team previews from June to September as part of our comprehensive season coverage. Canadafootballchat.com (CFC) has tapped into our network of coaches to produce team previews for the 2017 season. The #CFCteampreviews highlight top returning players, team strengths, and toughest opponents.
CFC also will bring you the national high school football rankings known as the #CFC50. Last year's final rankings were the most controversial to date…and we heard about it. Whether you agree or disagree, we love hearing from you. For an explanation of how the rankings are computed, please scroll to the bottom of the page.
David Suzuki Grizzlies (ROPSSAA, Tier 1, Brampton, ON)
The David Suzuki Grizzlies are hoping to keep the momentum going after winning the ROPSSAA Tier 2 Championship last season.
"Every year the goal is a ROPSSAA championship," Grizzlies head coach Ashley Squire-Smith said. "Anything short of that means we didn't get the job done."
The Grizzlies expect every game to be a challenge this year.
"Tier 1 ROPSSAA football is some of the best football in the province and we expect to be in a fight every week," he said.
The coaching staff will focus on having a cohesive unit so that everyone is on the same page during practice and prep.
"At this point in the year, the focus is really on players developing a deeper understanding of our systems and the specific thing we are trying to accomplish with every offensive play and defensive and special teams schemes," he said.
As for a team strategy, the Grizzlies are switching things up this season.
"Our offence will have some different looks this year," Squire-Smith said. "I think our approach will be a little more balanced and less reliant on the run than it has been in the past."
They have many weapons in their arsenal on offence and defence.
RB Romario Brown was the "SV Mississauga Warriors' leading rusher and finished third in the OPFL in total yards" last season, and "he's the best back in ROPSSAA football."
Lee Fyffe was their "leader" on their offensive line last season when they won the ROPSSAA Tier II championship.
WR Joshua Macleod "led the JV Mississauga Warriors in receptions, receiving yards and touchdown receptions in 2017."
Harnoor Dhaliwal played for the Mississauga Warriors this past spring and "finished first in the entire OPFL in tackles." He's one of their "team leaders" and he's capable of playing any position on the gridiron.
Aidan Palmer is a "dynamic linebacker that is always around the ball." He played for the Guelph Jr. Gryphons last spring and brings "a wealth of experience to the table."
Arvind Randhawa "made some huge plays for us last year at key moments". "He's great on both sides of the ball, has an excellent work ethic and is a guy who will do whatever he can to help his team win," he said.
D'Andre Brookes is the starting QB for the Grizzlies this season
"D'Andre had a breakout year throwing the ball last season as our JV QB and led us to the ROPSSAA finals," Squire-Smith said. "He has an excellent football IQ and is a natural leader."
A potential "X" factor for them is Simon Adams, who has proven to be versatile.
"Simon is returning to the offensive side of the ball this year after spending last year exclusively on defence at corner," he said. "He's got excellent speed and we believe he can be an impact player on both sides of the ball in 2017."
The best way to describe this team is that they're constantly "evolving". "Every year our players, program and systems evolve as a result of experience, skill sets, and our will to create something special together," Squire-Smith said.
Look for the Grizzlies to make their mark in Tier 1 this season.
David Suzuki Grizzlies (ROPSSAA, Tier 1, Brampton, ON)
Head Coach: Ashley Squire-Smith (8th year)
2016 Record: 6-1
Key Returnees: Harnoor Dhaliwal, Aidan Palmer, Lee Fyffe, Arvind Randhawa, Romario Brown, Romario Gonez, Devardo Daley, Simon Adams, Gaurv Manjania, Carlton Thompson
Key Losses: Anton Mathews, Dorian Miller, Jeff Gouveia, Jas Grewal, Dylan Selvin
Coaching Staff
Defensive Coordinator: Reade Smith
Offensive Coordinator: Chuck Crabbe
Offensive Line: Wes Fernandes
Offensive Line: Scott McDooling
Offensive Coach: David Hamilton
Running Backs: Jonathon Widgett
Defensive Backs: Adrian Donald
Defensive Backs: Nathaniel Byfield
Defensive Coach: Gord Gallimore

If you would like your high school team previewed, please contact 

[email protected]

.
CLICK HERE FOR 2016 FINAL CFC50 RANKINGS
How is the #CFC50 evaluated?
The #CFC50 rankings considers all conference and non-conference games (in Canada and the United States) while scrimmages are not evaluated (there is no such thing as an exhibition game – those are non-conference games).
Leagues included in rankings: British Columbia AAA Varsity, Alberta Tier One, Saskatchewan 12-man 4A, Manitoba AAA Varsity, Ontario OFSAA Bowl AAA qualified teams, Quebec Juvenile Division 1, New Brunswick 12-man, Nova Scotia Tier 1.
The #CFC50 is a relative ranking that considers top tier leagues from all eight high school playing provinces (minimum one team represented from each province).  The CFC Scouting Bureau consists of CFC Reporters, CFC Scouts, and also selected local reporters and scouts who submit local ranking results on a weekly basis.  This is the eighth year that Canadafootballchat.com has ranked the top high school teams in Canada.
Advocating for football prospects one story at a time.