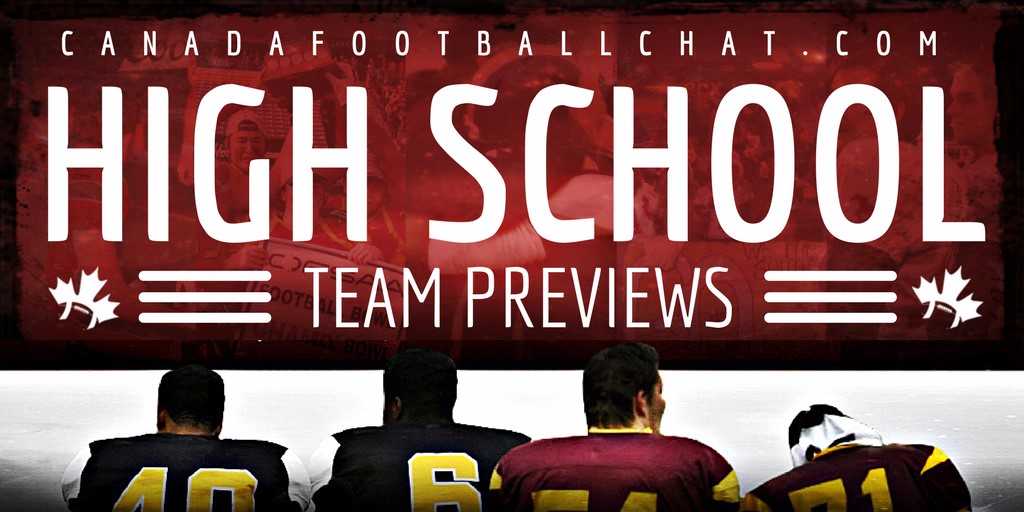 Leading up to the start of the high school season, we will be posting high school/Cégep team previews from June to September as part of our comprehensive season coverage. Canadafootballchat.com (CFC) has tapped into our network of coaches to produce team previews for the 2017 season. The #CFCteampreviews highlight top returning players, team strengths, and toughest opponents.
CFC also will bring you the national high school football rankings known as the #CFC50. Last year's final rankings were the most controversial to date…and we heard about it. Whether you agree or disagree, we love hearing from you. For an explanation of how the rankings are computed, please scroll to the bottom of the page.
Frontenac Falcons (EOSSAA – Kingston, ON)
The senior boys Frontenac Falcons are hoping to rebound after a heartbreaking loss to the Crestwood Mustangs in the OFSAA Bowl last season. Their championship dreams were shattered as a field goal attempt bounced off the upright with no time left on the clock. The final score was 19-18.
Falcons Head Coach Mike Doyle is confident that his team will be at the top of the standings again this year, though.
"We will challenge the best teams in the city," he said. "It will be a tight race this year."
Their ultimate team goal is to "focus on daily/weekly improvements". The Falcons biggest strengths are team chemistry and leadership. As for areas that require improvement, having many new faces will be a challenge for them.
"We will need some time early in the season to sort out all the pieces," Doyle said. "A lot of new players will have to contribute to be successful."
Their biggest rivals are the LaSalle Black Knights, Holy Cross Crusaders and Sydenham Golden Eagles.
Falcons return some key players in linebackers Eric Labrie and Silas Leslie, offensive lineman Petro Mastrodimitropoulos, returner Spencer Rily, centers Evan Fraser and Jack Wylie, defensive lineman Wil Burnette, and running back Liam Reid.
With eleven returning starters, this veteran group will no doubt be looking to get back to the OFSAA bowl and finish what they started.
On the down side, they have four key contributors who won't be returning: QB Brendan Steele (Queen's), R Jake Magee (Queen's) OL/DL Seth Vezeau and Matt Walker.
But on a positive note, they have some new additions who will be entering the fold in linebacker Hudson Harvey, running back Isaac Pascoal, defensive linemen Connor Hay and Cole Betz.
Eric Labrie is expected to be an "X" factor for the Falcons this season.
Frontenac Falcons (EOSSAA – Kingston, ON)
Head Coach: Mike Doyle
2016 Record:
Key Returnees: LB Eric Labrie, OL Petro Mastrodimitropoulos, R Spencer Rily, C Evan Fraser, C Jack Wylie, LB Silas Leslie, DL Wil Burnette and RB Liam Reid
Key Losses: QB Brendan Steele (Queen's), R Jake Magee (Queen's) OL/DL Seth Vezeau and Matt Walker

If you would like your high school team previewed, please contact 

[email protected]

.
CLICK HERE FOR 2016 FINAL CFC50 RANKINGS
How is the #CFC50 evaluated?
The #CFC50 rankings considers all conference and non-conference games (in Canada and the United States) while scrimmages are not evaluated (there is no such thing as an exhibition game – those are non-conference games).
Leagues included in rankings: British Columbia AAA Varsity, Alberta Tier One, Saskatchewan 12-man 4A, Manitoba AAA Varsity, Ontario OFSAA Bowl AAA qualified teams, Quebec Juvenile Division 1, New Brunswick 12-man, Nova Scotia Tier 1.
The #CFC50 is a relative ranking that considers top tier leagues from all eight high school playing provinces (minimum one team represented from each province).  The CFC Scouting Bureau consists of CFC Reporters, CFC Scouts, and also selected local reporters and scouts who submit local ranking results on a weekly basis.  This is the eighth year that Canadafootballchat.com has ranked the top high school teams in Canada.
Advocating for football prospects one story at a time.