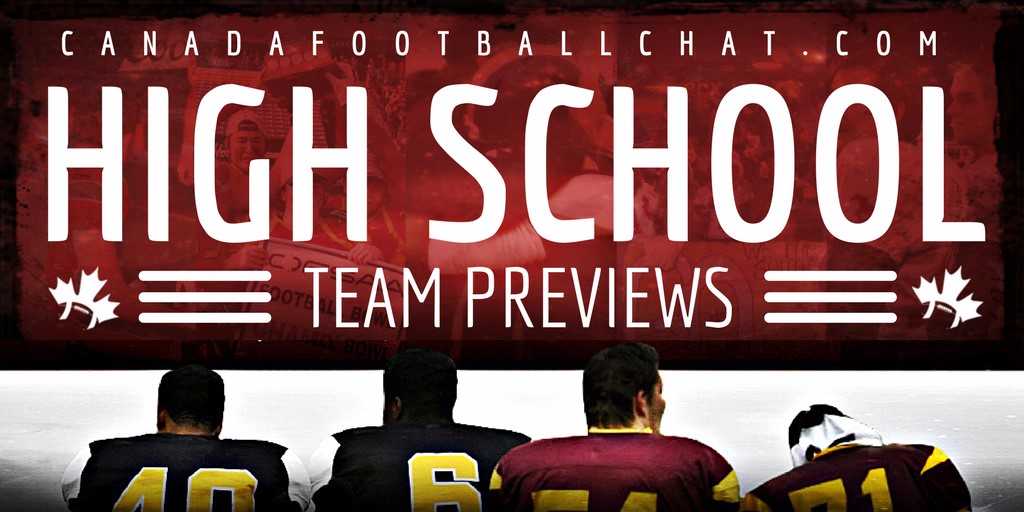 Leading up to the start of the high school season, we will be posting high school team previews from June to September as part of our comprehensive season coverage. Canadafootballchat.com (CFC) has tapped into our network of coaches to produce high school team previews for the 2017 season. The #CFCteampreviews highlight top returning players, team strengths, and toughest opponents.
CFC will also bring you the national high school football rankings known as the #CFC50. Last year's final rankings were the most controversial to date…and we heard about it. Whether you agree or disagree, we love hearing from you. For an explanation of how the rankings are computed, please scroll to the bottom of the page.
Sir John A. Macdonald Highlanders (WCSSAA, Waterloo, ON)
The Sir John A. Macdonald Highlanders are ready to get over their WCSSAA final lost and change the finally change the last sentence in their story for the 2017 season.
Head coach Josh Alexander is in his seventh year running the show, and as always expectations are high with the talented Highlanders roster.
"We expect to win the WCSSAA championship every year and 2017 will be no different."
The Highlanders made it all the way to the big dance last season but had two left feet in a 33-0 loss against the Jacob Hespeler Hawks.
They finished 7-2 last season with their only two losses to the Hawks. Their first loss was also lopsided in a 46-0 rout, despite those losses, their playbook remains the same
"Offensively we are multiple, primarily operating out of the spread. Defensively we are a 40 front," says Alexander.
Alexander adds there will be a battle for the pivot position this year.
"We will have a competition between Ahmed Fouad and Cam Steinbach," said Alexander when asked about the starting quarterback position.
As for players to watch on offense, along with Steinbach as either a WR or QB, Alexander included running back Nielsen Ngo and wide receiver, Sam Kannah.
On the defensive side of the ball, look for key returning players linebacker, Jake Surdykowski, defensive end, Adam ElHedhli, and defensive back Jarrett King.
Coach added centre Hayden Litwiller and lineman Zach Brick who will also be relied on heavily for the highlanders in the upcoming season.
"Deep" is the one word Alexander describe his teams as, even with the loss of  running back Conrad Henden, defensive back and wide receiver, David Froome, and lineman Justin Gaulton.
"This season's team will have the largest number of skilled and line positions than we've ever had at SJAM."
The Highlanders are confident in walking out of every game against every opponent but the Hawks with a win as they proved last season. Alexander knows to be the best they have to beat the best.
"Jacob Hespeler has been the team to beat in WCSSAA the last 4-5 years. We lost to them in last year's WCSSAA final and they ultimately went on to be finalists at OFSSAA. They have a great program and will be strong again next year. We also expect competition from a number of other programs. Waterloo-Oxford has a great thing going right now as does Elmira and Southwood."

Sir. John A Macdonald Highlanders (WCSSAA, Waterloo, ON)
Head Coach: Josh Alexander
2016 Record: 7-2
Key Returnees: C Hayden Litwiller, LB Jake Surdykowski, DL Adam ElHedhli, OL/DL Zach Brick
Key Losses: RB Conrad Henden, DB/WR David Froome, OL/DL Justin Gaulton

If you would like your high school team previewed, please contact 

[email protected]

.
CLICK HERE FOR 2016 FINAL CFC50 RANKINGS
How is the #CFC50 evaluated?
The #CFC50 rankings considers all conference and non-conference games (in Canada and the United States) while scrimmages are not evaluated (there is no such thing as an exhibition game – those are non-conference games).
Leagues included in rankings: British Columbia AAA Varsity, Alberta Tier One, Saskatchewan 12-man 4A, Manitoba AAA Varsity, Ontario OFSAA Bowl AAA qualified teams, Quebec Juvenile Division 1, New Brunswick 12-man, Nova Scotia Tier 1.
The #CFC50 is a relative ranking that considers top tier leagues from all eight high school playing provinces (minimum one team represented from each province).  The CFC Scouting Bureau consists of CFC Reporters, CFC Scouts, and also selected local reporters and scouts who submit local ranking results on a weekly basis.  This is the eighth year that Canadafootballchat.com has ranked the top high school teams in Canada.
Advocating for football prospects one story at a time.