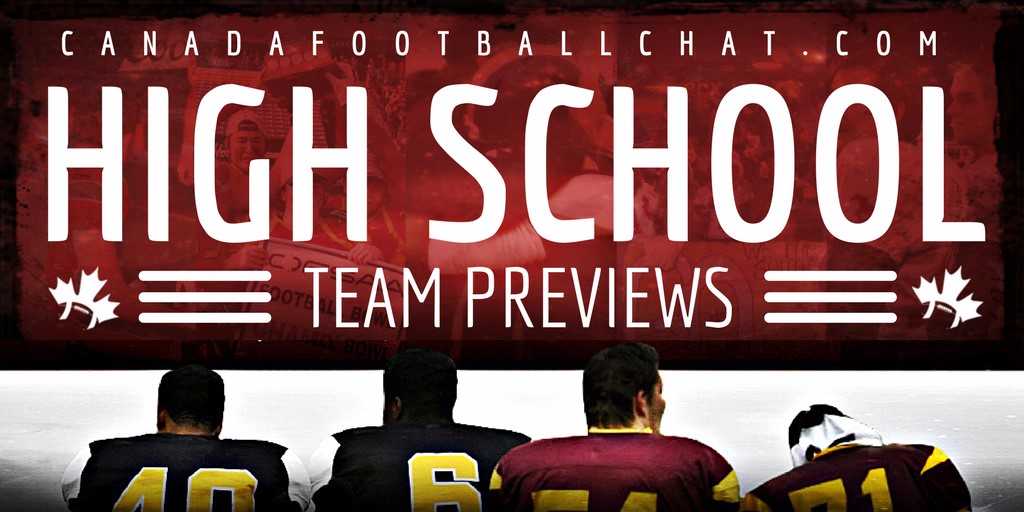 Leading up to the start of the high school season, we will be posting high school team previews from June to September as part of our comprehensive season coverage. Canadafootballchat.com (CFC) has tapped into our network of coaches to produce high school team previews for the 2017 season. The #CFCteampreviews highlight top returning players, team strengths, and toughest opponents.
CFC will also bring you the national high school football rankings known as the #CFC50. Last year's final rankings were the most controversial to date…and we heard about it. Whether you agree or disagree, we love hearing from you. For an explanation of how the rankings are computed, please scroll to the bottom of the page.
Korah Colts (NOSSA – Div 1, Sault Ste. Marie, ON)
While both the Junior and Senior Korah Colts football teams await the finished product of a brand new football field, Senior Head Coach Tom Annett wants the players to focus on starting the season off on the right foot, rather than worry about the boots on the ground on their old field.
"Our players are highly motivated after last season's 2 point loss in the city finals to Superior Heights. This was our best off-season to date for strength training attendance and progress. Our June combine testing numbers were the best they've ever been. We expect to be the strongest and fastest team in our league."
There are only 4 teams in the Colts league, no divisions or tiers, with the The Sault Ste. Marie city champion competing at NOSSA versus the North Bay and Sudbury city champions. The winner of the NOSSA finals earn the right to an OFSAA Bowl game.
Annett is entering his 6th year as the Senior Football Head Coach coming off a 4-4 season, and he describes his roster as a tough group.
"Our program constantly preaches toughness through our character/leadership training, through our off-season strength and conditioning program, and through competition in practice."
Annett expects their play style to change quite substantially in the upcoming season, partly because of the undergoing facelift.
"A small roster of just 24 athletes influenced much of what we did schematically [last season]. We are expecting a significant increase of players this season which will allow us to use more tempo on offense and have fewer 2-way players."
"We will be adding more formations to our offense in 2017 to exploit the depth we have at the Tight End position. Another major change for 2017 will be our practice facilities and practice format. Korah will likely be the only team in Canada practicing exclusive at an indoor turf facility this season."
"While practicing on an pristine indoor field has numerous advantages, there will also be some challenges, like no uprights to practice kicking field goals, limited space for practicing special teams and drop back passing, limited use of sleds and chutes, and occasional reduced practice times."
When it comes to impact players for the Colts, Annett doesn't look much farther than the big men up front.
"Darian Belkosky. He will be a two-way starter, but defensive-line is his primary position. Darian possesses explosive power which has helped him become one of the top defensive lineman in the province. He was Korah's nominee for league MVP in 2016."
"Graham Slater: Grade 12 Team Captain that had an incredible off-season; his explosive first step and great technique will be featured at the Offensive Tackle position,[and] Cameron Andreychuk. A Grade 12 Offensive Lineman whose versatility and great lower body strength allow him to play any position on the offensive line."
"The defensive and offensive lines should be the strength of the Korah Colts football team this year. We return all but 1 starter on each line. Also, we have a very talented group of athletes moving up from our 2016 City & NOSSA Championship junior team," Annett added.
Along with Belkosky, Devin Segin and Jacob Jurich are players to watch out for according to Annett.
"He's an elite pass rusher that possesses great quickness and length with his 6'2 frame. Devin will be featured at the Defensive End position." Annett said of Segin, adding this summer he is among the league leaders in sacks for the Varsity Sault Sabercats in the Ontario Football Conference.
Meanwhile Jurich will be "featured at the Middle Linebacker position. Jacob was awarded MVP in our local junior high school league last year. Jacob lead the JV Sault Sabercats in tackles this summer [In the OFC].
Under center for the seniors this season will be Jordan Robinson-Wright. Annett had very high praise for the young gunslinger.
"Jordan has proven to be one of the top JV aged QBs in the province with his exceptional play with the JV Sault Sabercats (OFC), and with his performance at various QB camps and showcase games throughout the offseason. Jordan brings a strong and accurate arm combined with the ability to run the ball effectively. Jordan's talents have the potential to make our offense multidimensional and explosive."
But perhaps the most intriguing player to suit up for the Brown and Gold next season is newcomer Nik Gervasi, who impressed Annett and everyone else during last June's combine. 
"Nik is a genetic anomaly who possesses a rare blend of freakish strength, size and speed. Nik has limited football experience, but he has all the tools to excel at the running back position. Based on his talents, we expect Nik to improve significantly throughout the season and eventually grow into one of the top running backs in the region."
As Annett welcomes one of the newcomers in Gervasi to the fold, others have moved on and will not play for the Colts this year. Centre and DT Adrian Torok will be a noticeable absence. Twice he has been nominated for the Hargreaves award for top lineman in the league.
Kyle Slater is also on the outside as the Linebacker and Fullback was voted a Most Valuable Defensive Player co-winner for his efforts last season.
Jarret Litalien took home the city's Male Athlete of the Year Award and has twice won the league's most valuable receiver honors, but has played his final year at Korah.
Topping off the key losses is last seasons leading rusher Ryan Yost, who is currently the Sault Sabercats Quarterback for their Varsity squad in the OFC.
Annett knows the small league has no weak link, and he only expects close games all season that could be a major factor come playoffs.
"I believe we have one of the most competitive high school football leagues in Ontario. We expect stiff competition from all teams on our schedule this season (White Pines, St. Mary's and Superior Heights). That said, Superior Heights has won the last 4 City Championships. They will continue to be the favourites until somebody beats them."
The Korah Colts 50th anniversary season sees them not playing or practicing on their own field, against 3 other tough teams in the region, and with some very big losses on the depth chart. However they are up for the challenge and have the talent, old and new- to contend for the city championship, and beyond.
Korah Colts (NOSSA – Div 1, Sault Ste. Marie, ON)
Head Coach: Tom Annett
#CFC50 Ranking: N/A
2016 Record: 4-4
Key Returnees: Jordan Policicchio, Gavin MacWilliam, Alex Segin, Tyler Legros, Antwon Fair
Key Losses: Jarret Litalien, Adrian Torok, Ryan Yost, Kyle Slater
Number of returning players: 12
"X" Factor: Nik Gervasi
If you would like your high school team previewed, please contact 

[email protected]

.
CLICK HERE FOR 2016 FINAL CFC50 RANKINGS
How is the #CFC50 evaluated?
The #CFC50 rankings considers all conference and non-conference games (in Canada and the United States) while scrimmages are not evaluated (there is no such thing as an exhibition game – those are non-conference games).
Leagues included in rankings: British Columbia AAA Varsity, Alberta Tier One, Saskatchewan 12-man 4A, Manitoba AAA Varsity, Ontario OFSAA Bowl AAA qualified teams, Quebec Juvenile Division 1, New Brunswick 12-man, Nova Scotia Tier 1.
The #CFC50 is a relative ranking that considers top tier leagues from all eight high school playing provinces (minimum one team represented from each province). The CFC Scouting Bureau consists of CFC Reporters, CFC Scouts, and also selected local reporters and scouts who submit local ranking results on a weekly basis. This is the eighth year that Canadafootballchat.com has ranked the top high school teams in Canada.
Advocating for football prospects one story at a time.