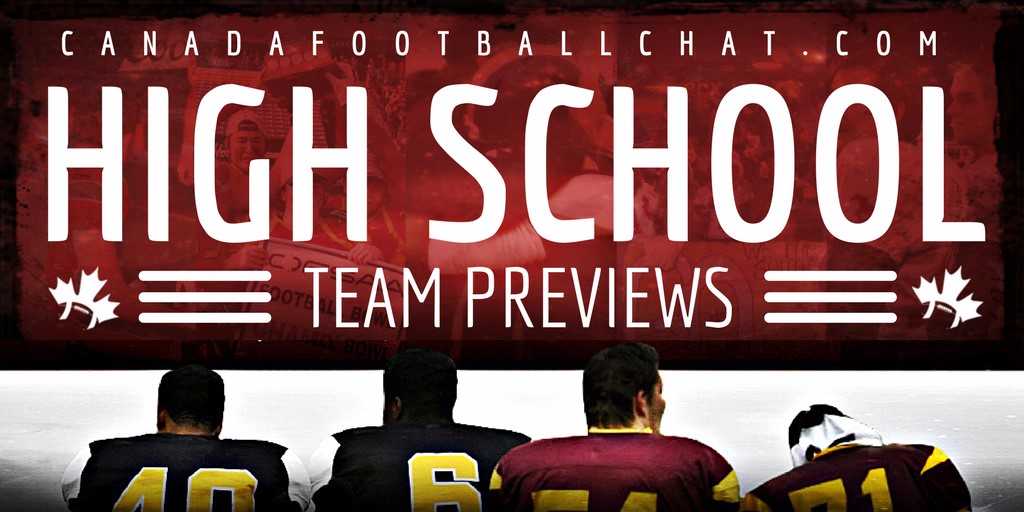 Leading up to the start of the high school season, we will be posting high school team previews from June to September as part of our comprehensive season coverage. Canadafootballchat.com (CFC) has tapped into our network of coaches to produce high school team previews for the 2017 season. The #CFCteampreviews highlight top returning players, team strengths, and toughest opponents.
CFC will also bring you the national high school football rankings known as the #CFC50. Last year's final rankings were the most controversial to date…and we heard about it. Whether you agree or disagree, we love hearing from you. For an explanation of how the rankings are computed, please scroll to the bottom of the page.
MM Robinson Rams (Halton Public – Tier 1, Burlington, ON)
The MM Robinson Rams squad is led by fourth year Head Coach Marco Ferrone, with Offensive Coordinator Marcello Campanaro running the offense in a fast paced spread. Meanwhile on the other side of the ball Ferrone's team likes to run a gap sound defense style of play.
"This year at the (senior) level we are welcoming back Marcello Campanaro as our offensive coordinator.  His experience and expertise will add a lot value to our coaching staff as well as our game plan." added Ferrone.
With a new season comes a fresh set of challenges and goals not just for the Rams, but for any team.
Coming off of a 3-3 season where the Rams qualified for the Tier 2 players only to drop the semi-final to Hayden two games later, Ferrone's team is facing some key losses in the depth chart.
Former left tackle Noah Pezik-Brown has graduated and is headed to McMaster University in the fall, while left guard Gordie Clark played his final season in high school and for the Rams.
However, there are just as many – if not more – key returnees that balance the scale of the previous graduating class.
On both of sides of the ball is where Nathan Brennan will call home from 2017, sliding in as both offensive and defensive tackle.
Grinding out every yard in the backfield will be running back Ayden Amestoy who is looking to make an impact game in and game out.
Getting each play started for the offense will be the center, but it's the man he is snapping the ball back to that has Ferrone the most excited.
"Spencer Leuschner. Spencer is going into grade 11 and can play any skilled position on the field.  He will be one of the top players regardless of what spot he is put in, including QB."
Ferrone says Leuschner can be their 'X Factor' for the Rams, and also added that Spencer Leuschner will be getting his fair of snaps under center next season.
Along with Leuschner, Coach Ferrone says Fullback Liam Smith is someone to watch and keep tabs on. Of Smith, "(he's) aggressive, (and) never (backs down) from contact, great hands and a good runner."
Jerome McLean also has"non-stop hustle" at the receiver and halfback positions, adding that he "always makes plays" and is a "great blocker and route runner." 
Ferrone also shouted out running back/defensive back Ben Burke for his "blazing speed."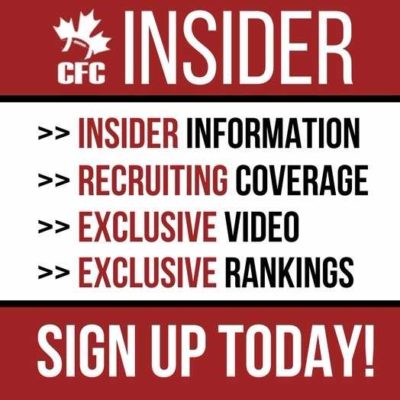 All of these players and talent aside, it's a brand new ballgame for the league in a whole. But there is one team the Rams are looking for revenge against.
"Our league drastically changes this year now that the Catholics and Publics are in separate leagues.  Competition will be good.  Iroquois will be back at the Senior level backed by some great, athletic players and size.  At both the Senior and Junior level, we can't wait to compete again Hayden.  They eliminated our Junior team in the tier 1 semi-finals and our Senior team in the tier 2 semi-finals." Ferrone explained.
Along with the slice of revenge pie the Rams are looking to break off, their personal goals going into the season are more modest.
"Continue to develop (our) offensive and defensive systems, grow as a team and continue to increase the sizes of our rosters," added Ferrone.
With eight players returning on offense and five returning on defence, the Rams roster is destined to look different for the 2017 season, but Ferrone isn't worried the early chemistry won't be there. "We play for each other. (We're a) family."
MM Robinson Rams (Halton Public- Tier 1, Burlington, ON)
Head Coach: Marco Ferrone
#CFC50 Ranking: N/A
2016 Record: 3-3
Key Returnees: Nathan Brennan, Emmerson Ruck, Ayden Amestoy
Key Losses: Noah Pezik-Brown, Gordie Clark
Number of returning starters- Offense: 8
Number of returning starters- Defense: 6
"X" Factor: Spencer Leuschner
If you would like your high school team previewed, please contact 

[email protected]

.
CLICK HERE FOR 2016 FINAL CFC50 RANKINGS
How is the #CFC50 evaluated?
The #CFC50 rankings considers all conference and non-conference games (in Canada and the United States) while scrimmages are not evaluated (there is no such thing as an exhibition game – those are non-conference games).
Leagues included in rankings: British Columbia AAA Varsity, Alberta Tier One, Saskatchewan 12-man 4A, Manitoba AAA Varsity, Ontario OFSAA Bowl AAA qualified teams, Quebec Juvenile Division 1, New Brunswick 12-man, Nova Scotia Tier 1.
The #CFC50 is a relative ranking that considers top tier leagues from all eight high school playing provinces (minimum one team represented from each province).  The CFC Scouting Bureau consists of CFC Reporters, CFC Scouts, and also selected local reporters and scouts who submit local ranking results on a weekly basis.  This is the eighth year that Canadafootballchat.com has ranked the top high school teams in Canada.
Join the conversation online #CFC50 #CFCteampreviews

Advocating for football prospects one story at a time.