Leading up to the start of the high school season, we will be posting high school/cegep team previews from June to September as part of our comprehensive season coverage. Canadafootballchat.com (CFC) has tapped into our network of coaches to produce high school team previews for the 2017 season. The #CFCteampreviews highlight top returning players, team strengths, and toughest opponents.
CFC also will bring you the national high school football rankings known as the #CFC50. Last year's final rankings were the most controversial to date…and we heard about it. Whether you agree or disagree, we love hearing from you. For an explanation of how the rankings are computed, please scroll to the bottom of the page.
Blessed Trinity Thunder (NCAA – Grimsby, ON)
by Veronica Reiner
Resiliency has been a key attribute for the Blessed Trinity Thunder. The team overcame injuries and hardships during the last year. They will also be losing star receiver Jackson Holloway and two year starting QB Kameron Hallas, as well as defensive players Max Pouliot and Christian Leonard who anchored the team's front seven.
However, this does not stop the team from striving to be the be the best – Blessed Trinity Thunder collectively played with toughness regardless of the outcome for 48 minutes in their most recent game. Their goals also remain lofty.
"We expect to win the NCAA and SOSSA and represent the region at OFSAA.  That is the end goal every year, this year is no exception," Head Coach of the Thunder, Mark Antonelli said.
In 2016, the team made it as far as the 4-3 regular season record and a semi-final loss to the eventual NCAA champions CFC50 ranked Denis Morris. Mark Antonelli is the Head Coach of the program, entering his second year as head coach, and 4th overall at the senior level.
Furthermore, when asked about an X factor for the team, instead of pointing out one specific player, Antonelli highlighted the toughness of the entire team as a group. He claims the groups strength this year will only be as strong as the grade 11's anchoring the seniors.
"We have a talented group of grade 11's coming up from a championship calibre junior program," explained Coach Antonelli. "If they come in with the same mindset as they did in junior, we will be successful."
Despite the losses of several players, there are plenty more to watch out for.
Offensively, there is tailback Glenn Butler, "who had a breakout football campaign in 2016, and looks to have a bigger year", said Coach Antonelli. There is also Isaac Mcalonan, tailback and receiver.
"He has great spatial awareness and was showcased in one of the CFC all-star challenges," said coach of Mcalonan.
Defensively, Eddie De La Garza, a linebacker, will be anchoring the defence as a perennial and will be representing Team Ontario this summer. The quarterback position this year is wide open, with three players battling for first team reps including Dante Joyner, Rob O'Donnell and Xavier Hamidu.
There will also be 23 returning players from last years senior squad, most of which could return again for a 12B year.
Antonelli expects competition from both Niagara Falls schools, St. Paul's and St. Michael, as well as Notre Dame in Welland.
"Our league is the toughest league in Niagara and arguably the province," Coach Antonelli stated.
"We cannot forget about Denis Morris who won our league last year and AN Myer who plays in another Niagara league; who won SOSSA and who is ranked via CFC based on 2016 results," said Antonelli. "Any of the other schools I mentioned would have fared well this past OFSAA, which is a testament to how strong the Niagara region is. If I go by results of the junior crops coming up, those are the teams that should challenge in our league. If we survive that gauntlet, then we should be in good shape for a SOSSA championship."
The Blessed Trinity CSS will definitely be a team to watch out for in the coming season.
Blessed Trinity Thunder (NCAA – Grimsby, ON)
Head Coach: Mark Antonelli (2nd year as Head Coach of the program, 4th overall Varsity)
#CFC50 Ranking: NR
2016 Record: 4-3 regular season (semi-final loss to CFC50 Denis Morris)
Key Returnees: Glenn Butler, Isaac Mcalonan, Dante Joyner, Rob O'Donnell, Xavier Hamidu
Key Losses: Jackson Holloway, Kameron Hallas, Max Pouliot, Christian Leonard
Number of Returning Starters: 23
"X" Factor: n/a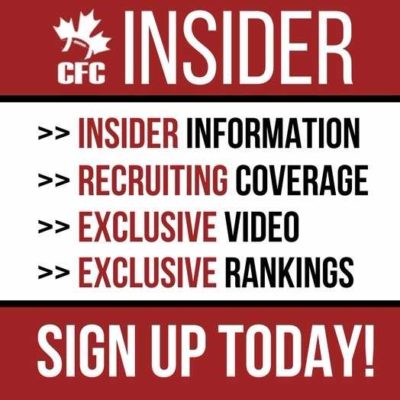 If you would like your high school team previewed, please contact 

[email protected]

.
CLICK HERE FOR 2016 FINAL CFC50 RANKINGS
How is the #CFC50 evaluated?
The #CFC50 rankings considers all conference and non-conference games (in Canada and the United States) while scrimmages are not evaluated (there is no such thing as an exhibition game – those are non-conference games).
Leagues included in rankings: British Columbia AAA Varsity, Alberta Tier One, Saskatchewan 12-man 4A, Manitoba AAA Varsity, Ontario OFSAA Bowl AAA qualified teams, Quebec Juvenile Division 1, New Brunswick 12-man, Nova Scotia Tier 1.
The #CFC50 is a relative ranking that considers top tier leagues from all eight high school playing provinces (minimum one team represented from each province). The CFC Scouting Bureau consists of CFC Reporters, CFC Scouts, and also selected local reporters and scouts who submit local ranking results on a weekly basis. This is the eighth year that Canadafootballchat.com has ranked the top high school teams in Canada.
Advocating for football prospects one story at a time.