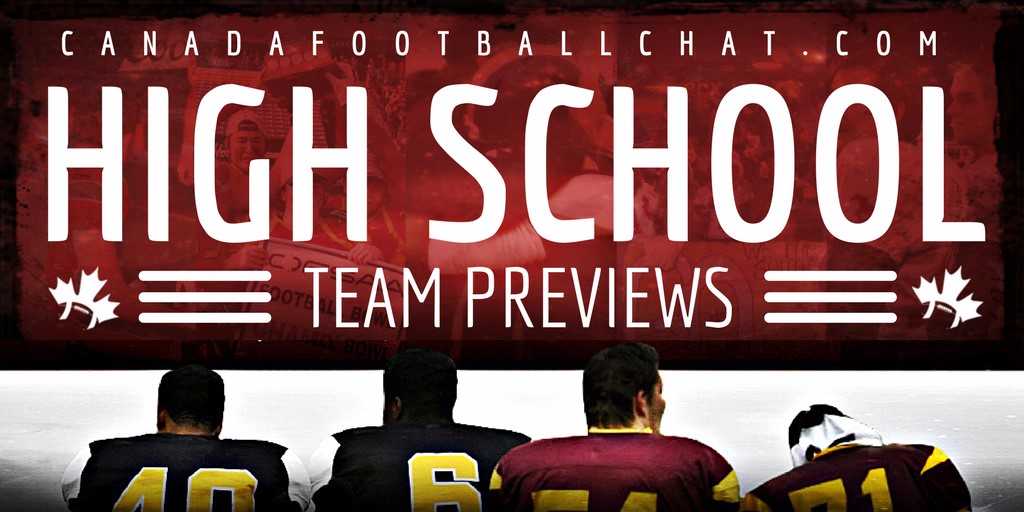 Leading up to the start of the high school season, we will be posting high school/Cégep team previews from June to September as part of our comprehensive season coverage. Canadafootballchat.com (CFC) has tapped into our network of coaches to produce team previews for the 2017 season. The #CFCteampreviews highlight top returning players, team strengths, and toughest opponents.
CFC also will bring you the national high school football rankings known as the #CFC50. Last year's final rankings were the most controversial to date…and we heard about it. Whether you agree or disagree, we love hearing from you. For an explanation of how the rankings are computed, please scroll to the bottom of the page.
St. Joseph Jaguars (NCSSAA – Tier 1, Ottawa, ON)
Over the past several seasons, the St. Joseph Jaguars have established a solid football program with a winning track record.
"We look to capitalize on the tradition of success our program has become accustomed to," Jaguars offensive coordinator Kevin Kelly said. "Over the past four years, our team has competed in Tier 1 final three times and in 2015 we advanced to the OFSAA – A/AA semi-finals. We look to build on past success with a trip back to the city championship."
Last year, their record was 3-3 and they lost in the semi-finals of the playoffs.
The Jaguars, along with every other team in the league, are trying to knock off the team who won OFSAA last year.
"The team circled on everyone's calendar is St. Matthew High School," he said. "St. Mark's is a team we usually play every season and played them in the finals two years straight, splitting it one and one. They beat us at home in the semi-finals by three points. If we play each other this year, it will most likely be for a trophy and I'm sure both coaching staffs are okay with that!"
The Jaguars have made minor coaching changes this season.
"Our coaching staff has changed a bit with the retirement of our long-time defensive coordinator and co-founder of the program, Mario Panetta," Kelly said. "Mario has returned to help with the defensive line and the new head coach Scott Broadhurst was the other co-founder of our program.
Player development has always been something that their coaching staff has focused on.
"We have always worked towards developing players with a high football intelligence," he said. "Smart players that understand the game and can adjust. In addition to this, we have put in the work to take it one step further and be more physical. Smart players that play with a controlled aggression is a focus of ours this year."
"Eager" is a word that best describes their squad.
"Our team is a fairly veteran core that has been waiting for their opportunity to lead as we lost quite a few starters to graduation," Kelly said. "The players filling those positions have been a part of our program for the last three years."
The Jaguars have a few players who will be important contributors.
Offensively, Jaedan Mclaughlin and Daniel Falcone will "look to build on their experience in the Fox 40 Prospect Challenge and give us many options in the air and on the ground." Defensively, "Aiden Duperron could possibly be the best stand-up lineman in Ottawa high school football."
"He has the measurables and athleticism for the next level and he's got two years of ball to go," he said.
They lost a few key players: CFC100 WR Honoreal Illoki, QB Liam Kennedy and OL Nikko Gettas. But they also have a couple key guys returning to their program from the junior level: DL Nick Balfe and FB Brandon Pitre. They are expected to give the Jaguars a "boost." In total, they have 36 returning players.
The Jaguars have a starting QB in place for this campaign and "his arm strength is his greatest asset."
"Brendan Adams moves up from our junior squad and has some big shoes to fill now that our starter for the last three years, Liam Kennedy, has graduated and is currently playing with the Bishops Gaiters," Kelly said.
There's one member of their team who is versatile and could be an "X" factor.
"Terrell Brown is an all-around athlete that has played many positions for us including quarterback," he said. "He is a multi-sport athlete and can line up on both sides of the ball without hesitation."
All in all, their football program "is as strong as it ever was."
"Even though we have added an elite level football program in Football North, the interest in football is strong as there will be 57 players sporting the Blue and Gold this season," Kelly said. "Many schools can field a football team, we like to think we're different in that we can field two!"
St. Joseph Jaguars (NCSSAA – Tier 1, Ottawa, ON)
Head Coach: Scott Broadhurst (14th season with the program and 1st season as head coach)
2016 Record: 3-3
Last #CFC50 Rank: 47
Key Returnees: DL Nick Balfe, FB Brandon Pitre
Key Losses: WR Honoreal Illoki, QB Liam Kennedy, OL Nikko Gettas
Coaching Staff: HC Scott Broadhurst, DC Chris Cummings, OC Kevin Kelly, LBs Zack Dean, QBs/RBs Darren Cassidy, DL Mario Panetta

If you would like your high school team previewed, please contact

[email protected]

.
CLICK HERE FOR 2016 FINAL CFC50 RANKINGS
How is the #CFC50 evaluated?
The #CFC50 rankings considers all conference and non-conference games (in Canada and the United States) while scrimmages are not evaluated (there is no such thing as an exhibition game – those are non-conference games, forfeits are not considered in overall record).
Leagues included in rankings: British Columbia AAA Varsity, Alberta Tier One, Saskatchewan 12-man 4A, Manitoba AAA Varsity, Ontario OFSAA Bowl AAA qualified teams, Quebec Juvenile Division 1, New Brunswick 12-man, Nova Scotia Tier 1.
The #CFC50 is a relative ranking that considers top tier leagues from all eight high school playing provinces (minimum one team represented from each province). The CFC Scouting Bureau consists of CFC Reporters, CFC Scouts, and also selected local reporters and scouts who submit local ranking results on a weekly basis. This is the eighth year that Canadafootballchat.com has ranked the top high school teams in Canada.
Advocating for football prospects one story at a time.