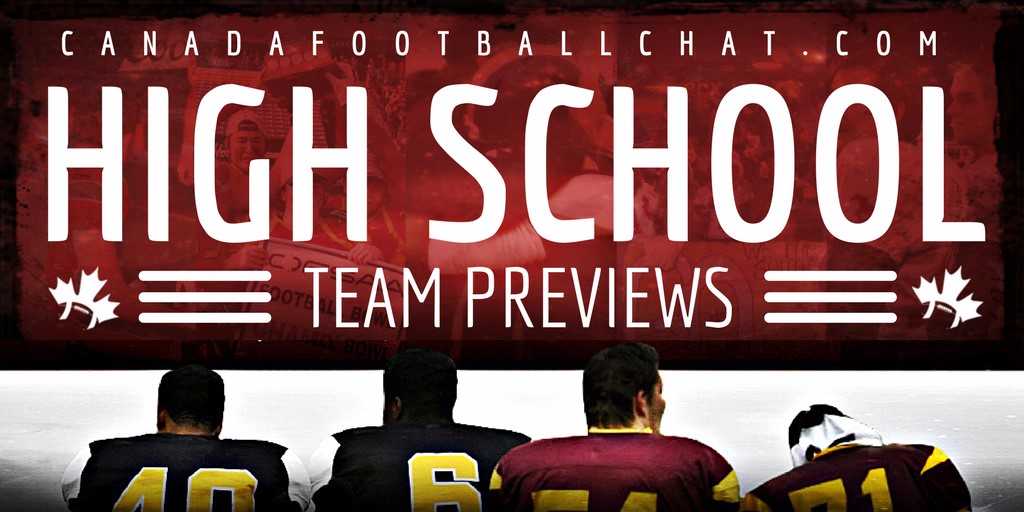 Leading up to the start of the high school season, we will be posting high school team previews from June to September as part of our comprehensive season coverage. Canadafootballchat.com (CFC) has tapped into our network of coaches to produce high school team previews for the 2017 season. The #CFCteampreviews highlight top returning players, team strengths, and toughest opponents.
CFC will also bring you the national high school football rankings known as the #CFC50. Last year's final rankings were the most controversial to date…and we heard about it. Whether you agree or disagree, we love hearing from you. For an explanation of how the rankings are computed, please scroll to the bottom of the page.
Upper Canada College Blues (CISAA- Toronto, ON) 
The Upper Canada College Blues are looking to tear through the league once more in 2017 and defend their title as CISAA Champions.
Head Coach David Brown points to two players on different sides of the ball to help lead the Blues.
"Rasheed Tucker. [He's our] starting running back, [he's] strong and elusive with excellent vision. [Definitely] one of the main factors in the team's success the last two years."
"Yassin Belkhou [is] a good linebacker who began to come into his own at the end of last year. He will be a key player for us this fall."
The Blues roared to a 8-1 record last season and Brown says their game plan and shot calls were a key part in the results.
"We play a spread offense with multiple formations and misdirection. Defensively we change regularly but it is focused on gap control, assignment and disciplined football. "
It is in fact discipline Brown mentions, as their bedrock to a championship team.
"We are not the biggest or fastest, but the boys put in a ton of work in the gym and the film room understanding their assignments and their roles in each situation. They trust each other."
We told you about UCC winning the CISAA varsity football title on Wednesday. Here are players with principal Sam McKinney and their trophy. pic.twitter.com/P7GfyXl9Ga

— UCC_Community (@UCC_Community) November 11, 2016
The goal for the fall goes without saying. Defend the title. It won't be easy though, as Brown explains.
"The league is quite strong with Saint Andrews in Aurora, Saint Mike's of Toronto and Trinity College in Port Hope. I believe that Saint Andrews will be quite strong this upcoming season with a big offensive line and some very impressive skill players on both sides of the ball. Saint Mike's was a couple of bad bounces away from the championship game last year, and I feel as though they are going to be quite strong. They have a good QB (Jonas Hatcher), [an] excellent RB (Keon Edwards) and [a strong] O-Line."
The Blues will hope to bring just that to their opponents in 2017-18 and with discipline, a precise game plan and a will to succeed, it looks like no one will stop them.
Upper Canada College Blues (CISAA- Toronto, ON) 
Head Coach: David Brown
#CFC50 Ranking: n/a
2016 Record: 8-1
Key Returnees: CFC100 Rasheed Tucker, Yassin Belkhou
Key Losses: None
Number of returning starters- Offense: 6
Number of returning starters- Defense: 5
'X' Factor: n/a

If you would like your high school team previewed, please contact 

[email protected]

.
CLICK HERE FOR 2016 FINAL CFC50 RANKINGS
How is the #CFC50 evaluated?
The #CFC50 rankings considers all conference and non-conference games (in Canada and the United States) while scrimmages are not evaluated (there is no such thing as an exhibition game – those are non-conference games).
Leagues included in rankings: British Columbia AAA Varsity, Alberta Tier One, Saskatchewan 12-man 4A, Manitoba AAA Varsity, Ontario OFSAA Bowl AAA qualified teams, Quebec Juvenile Division 1, New Brunswick 12-man, Nova Scotia Tier 1.
The #CFC50 is a relative ranking that considers top tier leagues from all eight high school playing provinces (minimum one team represented from each province).  The CFC Scouting Bureau consists of CFC Reporters, CFC Scouts, and also selected local reporters and scouts who submit local ranking results on a weekly basis.  This is the eighth year that Canadafootballchat.com has ranked the top high school teams in Canada.
Join the conversation online #CFC50 #CFCteampreviews

Advocating for football prospects one story at a time.