Leading up to the start of the high school season, we will be posting high school/cegep team previews from June to September as part of our comprehensive season coverage. Canadafootballchat.com (CFC) has tapped into our network of coaches to produce high school team previews for the 2017 season. The #CFCteampreviews highlight top returning players, team strengths, and toughest opponents.
CFC also will bring you the national high school football rankings known as the #CFC50. Last year's final rankings were the most controversial to date…and we heard about it. Whether you agree or disagree, we love hearing from you. For an explanation of how the rankings are computed, please scroll to the bottom of the page.
Aden Bowman Bears (SHSAA – 4A Conf., Saskatoon, SK)
After failing to make it back to the city championship last season, Aden Bowman will look to return to the big game in 2017. The Bears have fell short to their rivals the Holy Cross Crusaders three straight years, a team they will need to beat in order to bring glory back to Bowman.
It will be a different looking group this fall, with a heavy turnover in terms of their roster. Multiple seniors will be gone, which leaves many openings on the field for younger players to slide their way into. "The key to our team is to bring the young guys up to speed fast. We are very deep in grade 11's and have some very good grade 10's that can start in senior. If we can get those guys up and contributing all year we will be deep and skilled" adds Chad Palmer, offensive coordinator of the Bears.
The Bears will enter the 2017 season like they did in the 2016 season, with a new quarterback. Last year, Aaron Pankratz made the transition from receiver to line up under centre for his senior year. Aaron will be returning to play his natural position for the University of Alberta Golden Bears this fall. Grade 11 Quinn Santha will be the presumed week one starter. Santha was Grade 11 "It'll be nice to have a guy for two years and hopefully he can continue the good quarterback tradition at Aden Bowman." Palmer notes.
Matt Digout will return to the Bears backfield once again this fall. The senior running back showed glimpses of brilliance in 2016, and will look to make the most of his increased workload this season. He will head into the year as the lead back with Landon Garrison graduated. Digout suited up for the U18 Team Saskatchewan at the Canada Cup in Nova Scotia this summer as a defensive back, however his athletic ability will be relied on to make this Bears offence tick.
Grayson Gunn will be a third year starter on the offensive line in 2017. Gunn will be a cornerstone at left tackle, and will be relied on to keep Santha's blindside protected. Senior receiver Matt Dyck will be a player to watch for the Bears. Dyck will be relied on heavily by Santha in the aerial attack with Everett Iverson graduated moving on to the University of Saskatchewan Huskies.
On the defensive side of the football, Zach Boot will be counted on to lockdown the opposing teams top receiver. "Boot is a super fast, exceptional cover guy" notes Palmer. Zach was apart of the U17 Team Saskatchewan squad that traveled south to Arlington, Texas for the 2017 International Bowl. He was able to make an instant impact on the game by intercepting a pass, and returning it 37 yards. Boot also added two tackles on the big stage.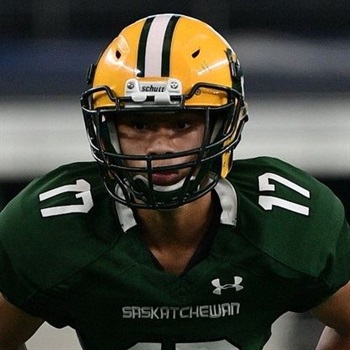 Boot in action with Team Saskatchewan at the International Bowl.
Alongside Boot on the defence will be two twins. James and Barry Amiss are both super aggressive football players, who play with no fear. "Even though their both DB size their hard work and motor make them both play about 30 pounds heavier than they actually are." assesses Palmer. Look for these two to be big time playmakers along the line and at linebacker in 2017.
Expect Marcus Baxter to be an X factor for the Bears. "He's a big soccer guy and if he can commit to our team this fall it gives us a great great kicker and our best option at safety." notes Palmer, who'll hope Baxter will be able to step into a key role on the defensive side of the ball and on specials. 
Look for Bowman to peak later in the season. If this group can work their way into a playoff spot, watch out as they'll have the potential to shock in Saskatoon.
Aden Bowman Bears (SHSAA – 4A Conf., Saskatoon, SK)
Head Coach: Justin Loshack (5th season)
2016 Record: 4-2
Key Returnees: DB Zach Boot, OL Grayson Gunn, RB Matt Digout, REC Ryan Dagenais, REC Blade Wiggins, DB Connor Steer
Key Losses: QB Aaron Pankratz, REC Everett Iverson, LB Matthew Panattoni, DB Evan Kretzer, DB Tyler Verity, LB Simon Bahrey, LB Chad Yausie, RB Landon Garrison, REC Jake Murphy
"X" Factor: DB/K Marcus Baxter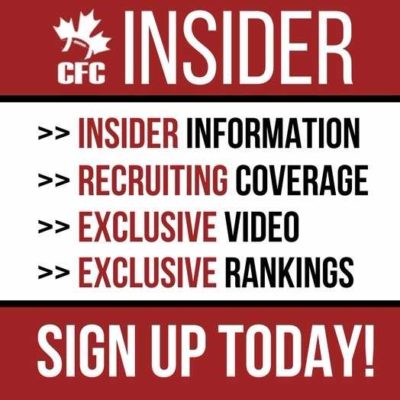 If you would like your high school team previewed, please contact 

[email protected]

.
CLICK HERE FOR 2016 FINAL CFC50 RANKINGS
How is the #CFC50 evaluated?
The #CFC50 rankings considers all conference and non-conference games (in Canada and the United States) while scrimmages are not evaluated (there is no such thing as an exhibition game – those are non-conference games).
Leagues included in rankings: British Columbia AAA Varsity, Alberta Tier One, Saskatchewan 12-man 4A, Manitoba AAA Varsity, Ontario OFSAA Bowl AAA qualified teams, Quebec Juvenile Division 1, New Brunswick 12-man, Nova Scotia Tier 1.
The #CFC50 is a relative ranking that considers top tier leagues from all eight high school playing provinces (minimum one team represented from each province). The CFC Scouting Bureau consists of CFC Reporters, CFC Scouts, and also selected local reporters and scouts who submit local ranking results on a weekly basis. This is the eighth year that Canadafootballchat.com has ranked the top high school teams in Canada.
Advocating for football prospects one story at a time.