– Photo credit: Florence Pin
With the playoffs slowly approaching, the Vanier Cheetahs and the Champlain-Lennoxville Cougars are on the verge of pulling away from the pack. However, they still stand in each other's way. Their last division matchup, which will take place Saturday and will settle the debate of which team truly deserves the "top dog" moniker.
Meanwhile, here's your weekly dose of information on the Q's best teams.
Vanier Cheetahs (6-0): 189 PF / 76 PA / +113
Last Game: 37-12 WIN against CNDF (4-2)
Next Opponent: Champlain-Lennoxville (5-1)
Believe it or not, the undefeated Cheetahs will get a run for their money this weekend as they face off against the impressive Cougars. The duel, pegged as a classic unstoppable-force-meets-immovable-object type, should shed some insight as to how good Vanier's defense actually is. The Red Cats are currently on pace to finish the season with 126 points allowed, a number that was bested only twice since the start of the 10-game season era. Actually, the last time a defence was this efficient,  it paved the way for the Cheetahs to win the  2012 Bol D'Or. Another great statistical tidbit? Vanier ranks fifth in the league in offensive plays, meaning they don't even need to be spending much time with the ball to win games. I guess their 20 interceptions have helped to make their scoring drives shorter…
Injured and/or Unavailable: Wade Cyr (OL/DL), CFC 100 François Hamel (FS), Mathieu Boucher-Paiment (OL)
Player to Watch: Kean Harelimana (LB) 40 tk, 1 sk, 3 Int, 2 tk for loss, 3 PD
The youngest Harelimana brother has Rookie of the Year written all over his performances. A bona fide ballhawk AND a tackling machine, Kean has been instrumental in the Cheetahs' defensive prowess this year.
Champlain-Lennoxville Cougars (5-1): 272 PF / 135 PA / +137
Last Game: 38-28 WIN against Vieux Montréal (4-2)
Next Opponent: Vanier (6-0)
Posting outrageous offensive numbers seems to be the Cougars' modus operandi this season. On pace to beat the season points scored record by more than 70, the touchdown hungry felines are scoring offensive touchdowns every 11.2 plays. Even more ridiculous, they are generating 8.28 yards per attempted play.  However, these numbers will be put to the test against the top seeded Cheetahs. Coming off a mediocre game against Vieux Montréal, developing quarterback Michael Arruda will need to show he can perform well against the Division 1's top teams. After all, CFC 100 Cedric Joseph and his band of yard-munching running backs can't do it all on their own.
Injured and/or Unavailable: CFC 100 Anthony Joyal (RB), Jacob Nutbrown (DB), Charles Béchard-Marinier (DB), Guillaume Caron (LB)
Player to Watch: Béchir Janfaoui (REC) 8 catches, 6 carries, 338 yds, 4 TD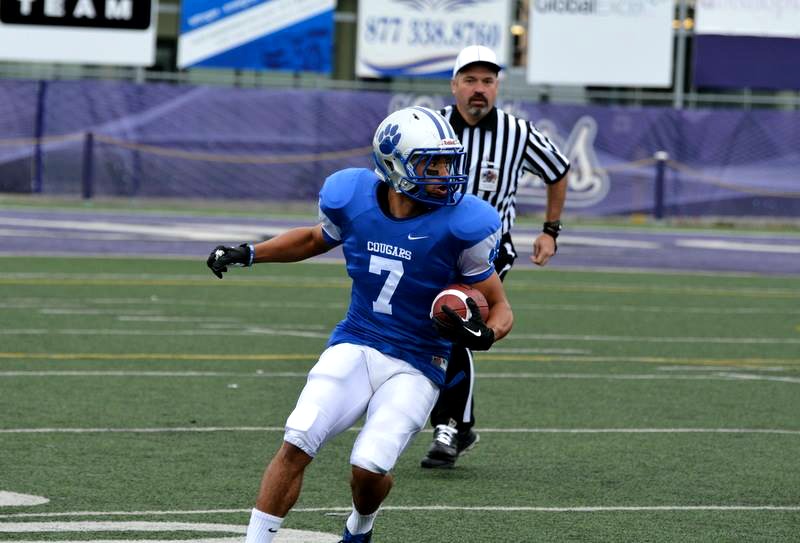 While six players have had more touches than him on offense, the diminutive speedster still managed to rack up the third most yards on the team. A tremendous weapon, Janfaoui is used sparingly by his coach. However, whenever a big splash is needed, he delivers in a spectacular way.
Vieux Montréal Spartiates (4-2): 162 PF / 127 PA / +35
Last Game: 28-38 LOSS against Champlain-Lennoxville (5-1)
Next Opponent: Garneau (2-4)
It seems like the downtown Montreal team has lost its offensive mojo. After a record-setting 2013 campaign, this season's mediocre attack is quite surprising. Although they average 70-plus offensive plays per game (the rest of the top 4 sits right under 60), the Spartiates can't seem to consistently churn out productive plays. The culprit? A high turnover rate. Of course, injuries on their offensive line don't help either. At least, their defense keeps them in the hunt. The rest of the way should prove a little easier for the golden men since three out their next four opponents show a losing record.
Injured and/or Unavailable: Ethan Makonzo (LB), Michael Craig (RB), CFC 100 Frédérik-Xavier Duhamel (OL), Samuel Peever-Bernard (OL), Maxime Champagne (OL)
Player to Watch: CFC 100 Louis-Mathieu Normandin (REC) 44 catches, 516 yds, 7 TD
– Photo credit: Florence Pin
By far the most targeted receiver in the league, Normandin has been on the receiving end of 46% of his team's completions. His unfaltering hands give QB Frédéric Paquette-Perreault a solid option on almost every play.
CNDF Notre-Dame (4-2): 149 PF / 136 PA / +13
Last Game: 12-37 LOSS against Vanier (1-5)
Next Opponent: Édouard-Montpetit (0-6)
It's difficult to assess a team's power when their top offensive player is missing in action. Nevertheless, a visit from last place Édouard-Montpetit should help them get back into the win column. For a team always so focused on their aerial game, this year's rushing numbers are quite surprising. Also, when passing, they have limited their opponents to one interception in 51.7 offensive plays, which is the league's best.
Injured and/or Unavailable: CFC 100 Samuel Chénard (QB), Manuel St-Aubin (RB), Mathieu Boutin (DB), Alexandre Gagnon (DL), Christophe Lajoie (OL), Joseph Poirier-Couture (OL)
Player to Watch: David Côté (K/P) 40.5 yds per punt, 55.2 yds per kickoff, 9 out of 11 in FG
Rookie kicker David Côté has been showing off some serious skills since joining the Notre-Dame. With averages close to or better than those of lauded veteran Dominic Pelletier, CNDF's young specialist is starting to make a name for himself.
Advocating for football prospects one story at a time.