Inter-divisional games are behind us as the season heads into the home stretch. While the big four have already punched their ticket to the playoffs, most teams are still jockeying for the best position possible. With the injury bug now running amok, most teams can't wait for the bye week.
Here's my last weekly update before the break.
Vanier Cheetahs (7-0): 212 PF / 92 PA / +120
Last Game: 23-16 (OT) WIN against Champlain-Lennoxville (5-2)
Next Opponent: Montmorency (2-5)
Nothing says dominant like a good old 7-0 record and an almost close first place clinch in the league. With their unbeaten streak on the line last week, the Cheetahs laid it all on the line to capture an overtime win against the Cougars, a tremendous foe and rival. While their defensive play has been the talk of the town, rookie QB Dimitrios Sinodinos is also making a name for himself. Boasting the best completion percentage (and only one over 60%) amongst quarterbacks with at least 100 pass attempts, the freshman's performance is defniitely surprising. While Vanier's excellent recruitment efforts in gaining linemen is obviously paying dividends on the offense, Sinodinos' calm demeanour and solid decision-making at a young age is certainly commendable.
Injured and/or Unavailable: Wade Cyr (OL/DL), Mathieu Boucher-Paiment (OL), Tomas Jack-Kurdyla (OL), Daniel Verrillo (OL), Brinsley Smith (DB)
Player to Watch: Jamie Harry (REC) 13 catches, 265 yds, 1 TD
Harry currently sits 2nd on the Cheetahs in receiving yardage, even though he missed the season's first five games. After changing schools AND positions during the offseason (he used to play DB), the highly gifted athlete obviously hasn't missed a beat. Now playing in a system that emphasizes aerial plays, Harry should have no problem piling up yards from here on out.
Champlain-Lennoxville Cougars (5-2): 288 PF / 158 PA / +130
Last Game: 16-23 (OT) LOSS against Vanier (7-0)
Next Opponent: Garneau (2-5)
Overtime losses are heartbreaking. It is more so when you come so close to beating the top team in the league. Nevertheless, the Cougars are a legitimate contender as their last game proved it. How often does an opposing team manage to place the ball in the air 45 times without it being intercepted? Not often. If the big cats meet again this season, chances are the Cougars' secondary will correct this anomaly. Until then, the focus shifts back to their division and the chase for a first round bye. The formula remains quite simple: three wins and they are in.
Injured and/or Unavailable: Xavier Gilbert (DB), Jacob Nutbrown (DB), Charles Béchard-Marinier (DB), Boka Cedric-Axel Kouao (LB), Nicolas Coutu (OL), Olivier Turcotte (REC)
Player to Watch: CFC 100 Frédérik Robitaille (DE) 32.5 tk, 5 sk, 8 tk for loss, 3 PD
An incentive for opposing pivots to get rid of the ball quickly, CFC 100 Robitaille is one of the many Cougars' players with the ability to instill fear. A human battering ram, he wears down offensive linemen until he gets his chance to knock the quarterback to the ground. The 14 sacks he amassed in his last 16 games are a testament to his efficiency.
Vieux Montréal Spartiates (5-2): 185 PF / 137 PA / +48
Last Game: 34-10 WIN against Garneau (2-5)
Next Opponent: Édouard-Montpetit (0-7)
In their bid to limit turnovers and especially interceptions, the Spartiates seem to be limiting the number of pass plays they attempt. After reaching 30 attempts in three of his first four games this season, pivot Frédéric Paquette-Perreault hasn't gone above 28 tries in his last three matchups. The lighter load has led to his first interception-free contest since August 23rd. Improved ball protection is the last hurdle this team needs to jump before it can be dubbed a serious contender. The golden men still have three games to figure a way to clear it.
Injured and/or Unavailable: Ethan Makonzo (LB), Raphaël Muntu (DB), Michael Craig (RB), CFC 100 Frédérik-Xavier Duhamel (OL), Maxime Champagne (OL), Argenis Jesus Francisco (OL), Honnely Emerusabe (OL), Danny Debrosse (REC)
Player to Watch: CFC 100 Mike-Brian Lusikila (RB) 136 carries, 638 yds, 5 TD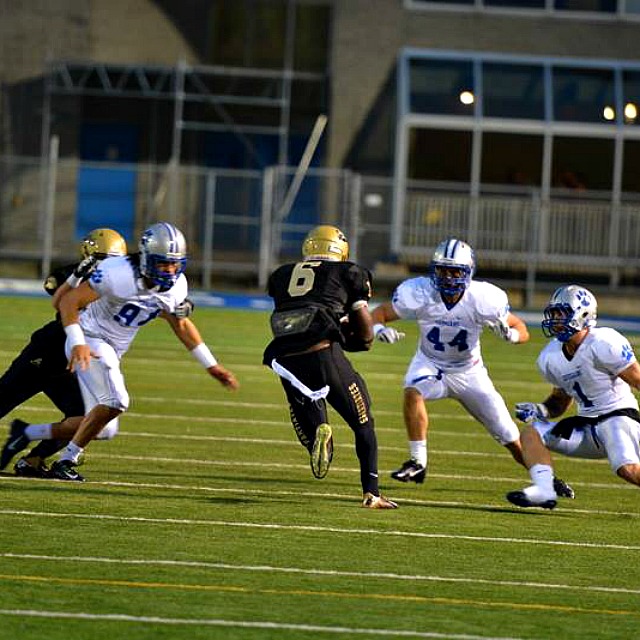 No one has carried the ball more often these last three years than this guy. While his yards per carry average has dropped in his senior season (6.4 during his first two seasons to 4.7 this year), he's still churning out impressive rushing sequences despite a less than stellar offensive line. If the team continues to cap pass attempts, he may be relied on more than ever down the stretch.
CNDF Notre-Dame (5-2): 181 PF / 149 PA / +32
Last Game: 32-13 WIN against Édouard-Montpetit (0-7)
Next Opponent: Lévis-Lauzon (2-5)
While they wait for the first place clash against Champlain-Lennoxville on October 17th, CNDF visits the underrated Lévis-Lauzon Faucons this week. This matchup between the third best defense (CNDF) and the third best offense (Lévis-Lauzon) is laden with traps that CNDF do not want to fall into. The Faucons hate their crosstown rivals and they'll want to avenge the drubbing they suffered earlier this year. Meanwhile, CNDF has gone from a trigger-happy aerial offense to a slow and steady run first squad. I smell an upset in the making…
Injured and/or Unavailable: CFC 100 Samuel Chénard (QB), Manuel St-Aubin (RB), Mathieu Boutin (DB), Nicholas Plourde (DB), Antoine Kirouac (DB), Vincent Martin (DB), Christophe Poulin-Lapierre (LB), Cédric Forbes-Mombleau (LB), Alexandre Gagnon (DL), Nathaniel Doyon-Simon (DL) Christophe Lajoie (OL), Joseph Poirier-Couture (OL), David Sévigny (OL)
Player to Watch: CFC 100 Louis-Philippe St-Amant (LB) 36 tk, 1 sk, 1 Int, 6 tk for loss, 2 PD
The Notre-Dame's swiss-knife, CFC 100 St-Amant is called upon to do it all: cover receivers, stop the opponent's game and, occasionally, pressure the quarterback. A high football IQ and well-rounded physical abilities allow him to make plays anywhere on the field. Against Lévis-Lauzon and Champlain-Lennoxville's strong offensive capabilities, he'll be counted on to steer the defense and ultimately secure a win.
Advocating for football prospects one story at a time.