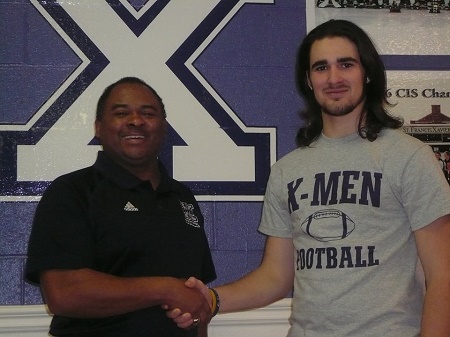 Barrie wide receiver becomes newest recruit to join AUS team's 2014 class.
An Ontario standout favoured the direction one AUS team is heading towards and decided that he wants to be part of this positive movement.
Consequently, Jesse Alves is the newest St. Francis Xavier X-Men.  Recently, the 6'3, 185 pound wide receiver from Barrie, Ontario signed with the team for the 2014 AUS season.
"I committed to STFX because I loved the coaching staff and all the players they treated me like one of theirs, was a part of their family and I loved the atmosphere there as they are all together," explained Alves of his decision.  "It's just like one big family."
"The football program is great.  It's on the rise to be at the top of the AUS and is striving for the AUS championship everyone works hard to be greater and the coaches do absolutely anything for their players which is all you can ask for from a coach."
The Ontario wide receiver joins the X-Men after guiding his high school team, St. Joan of Arc Knights of the Georgian Bay Secondary School Association (GBSSA) to their first OFSAA Bowl victory over the Central Technical Blues in late November. In the 2013 season, Alves amassed 784 receiving yards on 59 catches and scored 17 touchdowns in 10 games.
Additionally, Alves suited up for the Huronia Stallions of the Ontario Football Conference (OFC).
X-Men Head Coach Gary Waterman is thrilled to have a marquee player become part of the fold.
"Jesse is a dynamic receiver with big play potential," commented Waterman.  "We're excited to have him join the X-Men family and are looking forward to a great future."
Echoing the sentiments of Waterman is X-Men Offensive Coordinator Steve Snyder.
"Jesse is a sought after recruit that we are thrilled about landing here at X," said Snyder.  "Once we get players on campus the environment here sells itself, Jesse was very comfortable here and praised the family like atmosphere we take pride in."
http://www.youtube.com/watch?v=Lrygcz1wHJ8&feature=youtube_gdata
(twitter: http://twitter.com/vohra_ameeta)
Advocating for football prospects one story at a time.