Ontario 27, Saskatchewan Green 19
Ontario defeated Saskatchewan-Green 27-19 to capture gold at the 2014 Football Canada Cup at the University of Saskatchewan's Griffiths Stadium in Saskatoon.
Ontario got off to a rough start, fumbling on the game's opening play to give Saskatchewan-Green the ball at their opponents 28-yard line. Saskatchewan took advantage as Kristopher Calcutt kicked a 36-yard field goal to give Sask-green an early 3-0 lead.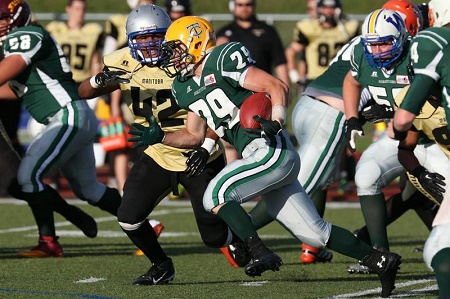 Ontario was in tough once again following the early field goal as Saskatchewan punter Eric Despins pinned them back to their own 3-yard line. Ontario responded driving down the field and took the lead on a 59-yard Jevante Stanley touchdown run.
Ontario added a 38-yard Gabriel Siemieniec field goal to make the score 10-3.
Saskatchewan stormed back after pinning Ontario at back at their own 3-yard line. Saskatchewan linebacker Logan Mainil stepped in front of a CFC TOP 100 Kyle Gouveia pass, returning it 18-yards for the major. The touchdown tied up the game at 10 with just over a minute to play in the first half.
Ontario answered back as Gabriel Siemieniec hit a 13-yard field goal to put Ontario up 13-10 heading into halftime.
Ontario increased their lead 20-10 midway through the third quarter as defensive back Ben Cross picked up a Saskatchewan fumble and returned it for a touchdown.
Saskatchewan answered on their next possession culminating in a 4-yard touchdown pass from CFC TOP 100 quarterback Sawyer Buettner to his favourite target Kade Belyk making the score 20-17.
Backed up to their own 5-yard line, Ontario conceded a safety touch at the end of the third quarter to narrow the Ontario lead to one 20-19.
With starting quarterback Kyle Gouveia struggling to find his rhythm in the second half, Ontario turned to dual threat quarterback Kevin John who orchestrated an Ontario drive down to the 9-yard line. Fullback CFC TOP 100 Marquis Richards took over from their driving the ball in from the 1-yard line to widen the Ontario lead 27-19 with four minutes left to play in the game.
Saskatchewan tried to answer, facing 3rd down and 2 at the Ontario 51-yard line and 3 minutes left to play. It was not meant to be as Sask fumbled on the exchange, allowing CFC TOP 100 & Ontario defensive lineman Carter Wilson to recover and sealing the game for Ontario.
Quebec 22, Alberta 19
A late minute field goal helped Quebec capture bronze with a 22-19 win against Alberta at the 2014 Football Canada Cup at the University of Saskatchewan's Griffiths Stadium in Saskatoon.
After meeting in the previous three gold medal games, Quebec and Alberta 2014 marked the 4th consecutive year the teams would square off on the final day of competition.
Quebec led 17-0 at the end of the first quarter following a John Molson field goal, a 20-yard Samuel St-Maurice touchdown run and a Mathieu Blanchette receiving touchdown from quarterback Zacharie Quiviger.
Alberta replied early in the second quarter with a 1-yard CFC TOP 100 Alex Basilis quarterback sneak to inch closer 17-10.
Following the score Quebec received great starting field position at the Alberta 35-yard line. Alberta's defense stepping up forcing a turnover as Alberta defensive lineman Anthony Hume intercepted a batted pass at the line to stop the Quebec attack in its tracks. Alberta was unable to capitalize on the turnover as Quebec's defense stood strong, forcing a punt with a minute to play in the opening half.
To end the third quarter, following a conceded Alberta safety earlier in the quarter, Alex Basilis recovered his own punt at the Quebec 32-yard line to give Alberta a fresh set of downs. Alberta took advantage as kicker, Des Catellier nailed a 30-yard field goal to narrow the Quebec deficit to 3 points, 19-16.
A second Catellier field goal tied the game up at 19 with 4 minutes to play.
Zacharie Quiviger connected with a receiver François Rocheleau who made a spectacular 20-yard reception to set up a Quebec first and goal at the 5-yard line. With 1:10 to play in the bronze medal game John Molson kicked a 13-yard field goal to give Quebec a 22-19 lead.
With the clock winding down, Alberta tried to respond. With under a minute to play, a pass interference penalty against Quebec gave Alberta a 1st down at the Quebec 43-yard line. Following a stifling Quebec blitz set-up a 2ndand 24, Basilis threw over the middle and was intercepted by defensive back John Molson to seal the Quebec victory.
Manitoba 24, Saskatchewan White 10
Manitoba captured 5th place on the final day of the 2014 Football Canada Cup at the University of Saskatchewan's Griffiths Stadium in Saskatoon with a 24-10 comeback win.
Saskatchewan-White drew first blood following a fumble recovery at the Manitoba 32-yard line. Quarterback Tyler Hermann hit Sean Renouf in the corner of the end zone to make the score 7-0 with 2 minutes to play in the opening quarter.
A rouge followed by a conceded safety touch made the score 9-0 at the end of the first quarter.
Manitoba replied following a Saskatchewan fumble at midfield. After a Trevor Wright touchdown run was called back due to an offsides penalty, he ran the ball down to the 12-yard line on the next play. Brandon Stitch took over from there narrowing the Sask lead 9-7.
Manitoba took the lead 10-9 at the end of the first half with a 39-yard line drive field goal by Keenan Onyebuchi.
With four minutes to play in the first half, Manitoba struck again following a fumble recovery which gave them great field position at the Sask 35-yard line. Quarterback William Reimer found Jake Robertson on a 12-yard touchdown strike to widen the 'Toba lead 17-9.
A Trevor Wright rushing touchdown sealed the Manitoba victory 23-10.
Nova Scotia 44, New Brunswick 0
In the opening game on the final day of the 2014 Football Canada Cup on Sunday, Nova Scotia took a 42-0 halftime lead to win 44-0 against New Brunswick. With the win, Nova Scotia finishes the tournament in 7th position.
Nova Scotia took an early 9-0 lead after New Brunswick conceded a safety followed by a 15-yard Michael Ogilvie end zone plunge.
A Thomas Hoyt 11-yard jet sweep touchdown run on a made the score 15-0 at 1:17 of the opening quarter.
Following a single and conceded safety, backup quarterback Cameron Valardo connected with Greg Hutchins on a 62-yard touchdown to widen the Nova Scotia lead 25-0 with 6 minutes to play in the opening half.
Starting at the NB 25-yard line following a Jon Main interception, quarterback Duncan Patterson found Thomas Hoyt over the middle and forced his way into the end zone to make the score 33-0.
Patterson found Valardo who was lined up as a receiver to make the score 40-0.
Following back-to-back Hutchins' singles made the score 42-0 at the half, New Brunswick conceded a second half safety to make the final score 44-0.
Photo credits:  Louis Christ, SmugMugINC
Advocating for football prospects one story at a time.