Champlain College Lennoxville Cougars (42) v.s Cégep Lévis-Lauzon Faucons (28)
To make things simple, the Cougars started the season at kick off, meanwhile it took the Falcons a little bit longer to get their act together, which ultimately led to their downfall despite a 26 point second half surge.
At the break it was all Cougars up 21-2 with quarterback Thomas Bolduc putting together an accurate game with some help from CFC60 receiver Thomas Trottier, who finished the night with a team high six catches for 102 yards and a touchdown. Jeremie Grace Kankolongo also played a key role out of the backfield finishing with 87 yards and a major, meanwhile on defence Brendan Murphy led the way with 10 tackles and CFC60 Michael Brodrique wasn't far behind with seven tackles of his own.
On the opposite side it was all about the run game for the Falcons once they finally got rolling, and when you have a guy like CFC60 Joanik Masse, guess you might as well use him. He ended up touching the ball 41 times for 359 yards which is quite an impressive performance, then quarterback Adrien Guay also added 135 yards on eight carries with a pair of touchdowns in the second half. It was too little too late, but Lévis-Lauzon still deserves credit for a scrappy effort in the end.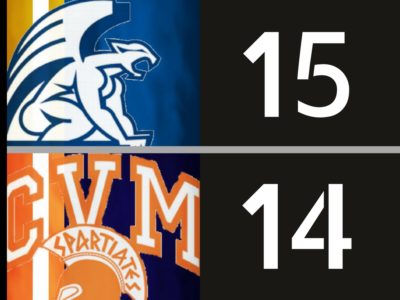 Cégep du Vieux Montréal Spartiates (14) v.s Campus Notre-Dame-de-Foy (15)
In  the marquee matchup of the weekend, CNDF was able to climb their way back to victory over Vieux Montréal after surrendering an early 10-0 lead and surviving a last second scare with the uprights becoming the hero.
The first quarter saw CNDF jump out of the gates with a 33 yard field goal by Vincent Blanchard , which they then followed up with a touchdown pass by Philip Charpentier to Vincent Girard resulting in that comfy 10-0 lead. But after a safety pulled them within eight, the Spartiates were able to capitalize on another turnover which they turned into more points off a Arnaud Desjardins pass to CFC60 Jefferson Pierre that pulled them within one point.
Later Roberto De Angelis connected on a 31 yard field that gave Vieux Montréal a 12-10 lead, then that's where the defensive stand off began. After trading some safety's back and forth, Blanchard – who was the true hero in this game – stepped up and nailed another field goal which gave CNDF a 15-14 lead, and set the stage for De Angelis to attempt a game winner. Unfortunately the fairy tale ending was put on the backburner as his final kick banged off the uprights, which resulted in a dead ball and thus no chance at even sending the game to overtime.

Collège André-Grasset Phénix (51) v.s Cégep Garneau Élans (20)
André-Grasset picked up where they left off last year with another swift blowout over the Élans, who struggled to find any rhythm attempting to play catch up in this one.
The story of the day was the emergence of rookie pivot Jonathan Sénécal, who led the Phénix with an outstanding 352 yards on just 14 completions, and if that's not impressive he also added four touchdown passes to his total. Helping to ease the burden was the CFC60 pair of Kevin Mitale and François Rocheleau, who combined for 265 yards on just seven receptions and three touchdowns between them, while Bruno Provencher provided a helping hand on the final major. The defence also helped out when needed with a couple interceptions by CFC60 Bruno Lagace and Nathan Laflamme.
On the other side Garneau did find some success with Daniel Lefebvre rushing for 69 yards and a touchdown, while Christophe Tremblay-Harnois added another, but they were simply overmatched by the offensive firepower from André-Grasset.
Collège Montmorency Nomades (14) v.s Cégep Limoilou Titans (33)
This contest was mucher closer than the final tally indicates with the scoreboard reading 16-7 at halftime, but eventually Limoilou started finishing some drives to run away with a 33-14 victory.
The star of the game was quarterback Olivier Bamrounsavath, who led the Titans in both passing and rushing with a combined 223 combined yards to go along with a pair of touchdowns, but he was not the only effective playmaker in the backfield. Philippe Genest also had a big game contributing 71 yards and a major, Pier-Olivier Cadoret chipped in 58 yards on eight carries, while Joel Paquet topped it all off with 37 yards on just seven carries and added another touchdown. In total the Titans gained 340 yards along the ground, which ultimately was the dealbreaker in this one.
To their credit Montmorency never rolled over with an effective game plan through the air led by quarterback Benjamin Pelletier, who finished with 227 yards and a touchdown on 17 completions. CFC60 Frederic Antoine was one of his go to targets racking up five receptions for 60 yards, while Mathieu Renault and Paul-Antoine Ouellette were also productive finishing with 79 and 40 yards respectively.
Cégep Saint-Jean-sur-Richelieu Géants (11) v.s Vanier College Cheetahs (36)
Everything was clicking for the Cheetahs in this one, meanwhile on the other side despite being able to move the ball a bit, the end zone was the Géants kryptonite.
It was all about CFC60 Samuel Emilus, CFC60 Patrick Charles, and Darnel Jarrett on offence, who combined for the majority of Vanier's numbers topping over 255 yards and five touchdowns as a trio. Each of them were impressive in their own right, but it's hard to overlook the gutsy performance by the non CFC60 player in that bunch, who made a nice argument for a spot on the list after gaining 91 yards on just 13 carries to go along with his two touchdowns. Tshitenge Tshisthi Bukasa also had a a good showing with four receptions for 62 yards, which was second only to Emilus who led the way with 107 yards and a touchdown pass from pivot Noah Craney.
For the Géants, they found some success with Jesse Swennen and Étienne Doyon gaining close to 100 yards on 18 carries, but their pass game faltered with Nathan Lupien leading the team with three receptions for 83 yards.
Advocating for football prospects one story at a time.