CanadaFootballChat.com brings you the Top 10 National High School Games of the Week.  Each week, we will share with you the must see games of the week.
CLICK HERE TO VIEW CFC 50 NON-PUBLIC SCHOOLS
10) MANITOBA
Garden City Gophers @ Sisler Spartans
Thursday October 1st, 6:15pm
Two teams in the top rung of the John Potter Division ('AAA') in the Winnipeg High School Football League (WHSFL) will battle it out Thursday evening.
Garden City Fighting Gophers put their undefeated record on the line (3-0) when the team hosts the always competitive Sisler Spartans (2-1).
Special teams may be a factor in this one.  WHSFL Player of the Week Landon Marsch was a perfect 6 for 6 on conversion attempts, added a 39 yard field goal, two singles as well as had four punts for 169 yds (average of 42.25 yards), seven kickoff punts for 375 yardds (average of 53.57 yards) and a special teams tackle in last week's victory over Sturgeon Heights Huskies.  He will be the one to watch for in this one.
All eyes will be on #CFC100 defensive back Marcel Arruda Welch. He is expected to anchor the Gophers defence.
The Spartans will be in hot pursuit throughout this one to hand the Gophers their first loss of the season.
9) QUEBEC
College Jean Eudes Eagles @ CFC#32 Academie Saint Louis Arsenal
Saturday October 3rd, 1:00pm, Academie Saint-Louis
With the RSEQ Juvenile Division 1 season past the midway mark, teams are trying to asset themselves in the standings with only a few weeks left in the regular season.  The two teams are no exception.
CFC#32 Academie Saint Louis Arsenal is coming into this contest with a 3-2 record.  However, redemption is on their mind. In their previous meeting back on September 6th, 2014, the College Jean-Eudes Eagles won 27-12.
Quarterback Olivier Bamrounsavath, running back Jean Philippe Houle and receiver Marc Bouchard are the standouts on the Arsenal's offence while Athony Beaule anchors the defence.
However, the Arsenal have to find a way to stop Renaud Stephenne. In last weeks's win over Jacques Rousseau Sphinx, the Eagles running back scored five touchdowns and amassed 235 rushing yards on 26 carries.
A tug of war is set to ensure between the two squads on Saturday afternoon.
8) NEW BRUNSWICK
Riverview Royals @ Tantramar Titans
Saturday October 3rd, 1:00pm
In New Brunswick, the big game is a battle of two undefeated squads as the Riverview Royals travel down to Tantramar to visit the Titans.
This is a rematch of last year's quarterfinals which saw the Titans edge out the Royals 21-20.
Offensively, the Titans will be led by pivot Nevin Becker.
At stake is first place in the New Brunswick High School Football League 12-Man Eastern Division. Expect another tight game that could come down to special teams or a field goal.
7) ONTARIO
Denis Morris Redmen @ CFC#17 A.N Myer Marauders
Friday October 2nd, 3:00pm
Two teams that have begun their seasons undefeated will tangle on Saturday afternoon.
Last week, CFC#17 A.N. Myer Marauders enjoyed a 38-0 halftime lead en route to routing Lakeshore Gators 41-0.
Meanwhile, the Denis Morris Redmen took down the Notre Dame Fighting Irish 33-14.  Pivot Travis Arp connected with Keegan Oshust for two touchdown passes.
Not only will the Arp/Oshust connection be something for the Marauders to deal with on offence, but threats Dylan Warnock and Austin Pilato as well.  The Redmen's special teams is strong as well, led by Owen Charnock.
As for the Marauders, Troy Colosimo will be the player to watch.
The Redmen will be looking to avenge a 30-0 loss suffered at the hands of the Marauders in 2014.
This one has the makings of being an intriguing yet dramatic contest in the Niagara Region High School Athletic Association 'AAAA' League.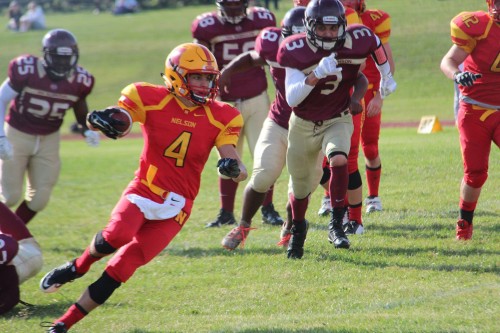 6) ONTARIO
CFC#14 Assumption Crusaders @ Nelson Lords
Friday October 2nd, 7:00pm
Under Friday Night Lights, another chapter in a storied rivalry will take suit as Nelson Lords will host CFC#14  Assumption Crusaders in Halton Secondary School Athletic Association (HSSAA) action.
The Lords still have a sour aftertaste from their last meeting.  Exactly one year ago, the Crusaders earned a 21-0 shutout victory.
On offence, the Lords have a powerful viable options in Ethan Rolle, Quinn Pritchard. Zach Hoffner and Nathan Egert, who all tallied majors in last week's victory over MM Robinson Rams.  Quarterback Justin Morgan will lead the game execution plan for the Lords offence.
Recent McMaster Marauders commit Adam Preocanin could be the difference for the Lords on special teams.
However, the Lords are going to have to find a way to contain the Crusaders' player to watch – #CFC100 explosive running back Dominic Mandalfino.  He will provide tons of headaches for the Lords defence throughout the game.
The only thing for certain is that one team will suffer their first defeat of the regular season in Burlington on Friday night.
5) ONTARIO
CFC#2NP Upper Canada College Blues  @ CFC#3NP Trinity College Bears
Saturday October 3rd, 2:00pm
It seems as though a week goes by and another big Conference of Independent Schools Athletic Association (CISAA) rivalry takes shape.
Two of the top three #CFC10 NON PUBLIC SCHOOL ranked teams will battle in this game as second ranked Upper Canada College Blues will visit third ranked Trinity College Bears on Saturday afternoon.
In a rematch of last year's CISAA semi-finals, the Blues are hoping to continue their lucky streak against the Bears.  In that previous meeting, the Blues scored a 36-23 win en route to claiming the league championship.
Patrick Stevenson, Clayton Jeffrey, Justin Wong and Hunter Okubasu will provide the offence prowess for the Blues while Josh Bailey will be the one to watch for the Bears.
This game could be a prelude to the postseason and if its anything like their previous games, expect another high scoring affair between the two rivals.
4) BRITISH COLUMBIA
CFC#42 Kelowna Owls @ Mount Boucherie Bears
Friday October 2nd, 6:30pm (APPLE BOWL)
This week, it's a AAA Eastern Conference clash that highlights the schedule as CFC#42 Kelowna Owls (1-0) go head-to-head against the Mt. Boucherie Bears (1-0) in a battle of two teams looking to get an early jump on the conference standings.
The Owls have a key player in CFC#100 Parker Simson, who has been an absolute stud so far this season. In their 49-8 win over Lord Tweedsmuir last week, Simson would end the day throwing for 99 yards and a pair of touchdowns, making three catches for 77 yards and a score, and also rushing four times for 57 yards and two more touchdowns. Filling in at quarterback, Adam DiBiase also had a productive day completing five of six passes for 148 yards and a touchdown and also catching  four passes for 99 yards and a score, while also adding in another off a one-yard sneak. On defence, Sean McMechan led the team with eight tackles, Cole Stregger recorded five tackles, and Zack Vint finished the day with four tackles and a sack.
Last week, the Bears' strong defense was highlighted in their 32-0 win over Centennial. In the shutout, CFC#100 Zac Callaghan recorded six tackles and two fumble recoveries, cornerback Chris Smith recorded two picks and four tackles, and Taylor Knoll recorded five tackles, a pick, and a safety. On offence, Ty Truong led the team with 14 carries for 152 yards and a touchdown, while Spencer Schmidt led the receiving corps and hauled in six catches for 114 yards, including a 41-yard touchdown pass. Callaghan also rumbled for a score in the team's win.
In a matchup of two solid teams, which team will come out on top? Tune in this week to find out!
Source: British Columbia High School Football Association
3) ALBERTA ****BONUS 2 for 1****
The fourth week of the season always seems to be the week of choice for rivals to meet on the gridiron.  This year the Edmonton area will have not one but two Battle of the 'Burbs that will be must see games in their respective communities.
GAME #1 – CFC#10 Bev Facey Falcons vs. Salisbury Sabres
Thursday, October 1, 5:00 p.m., Strathcona Athletic Park (Sherwood Park)
It was thought that the new Emerald Hills Stadium in Sherwood Park would be up and running by now but with it still under construction venerable old SAP gets at least one more shot at the big game.  Get there early is all we can say.
GAME #2 – CFC#40 Bellerose Bulldogs vs. Paul Kane Blues.  Friday, October 2, 7:30 p.m., Riel Park (St. Albert)
Two rival teams from different Tiers but the same city.  Bellerose has established themselves as a strong Tier I program while Paul Kane is in Tier II.  Now with Paul Kane moving up to Edmonton Division I, the bragging rights for St. Albert are up for grabs
Source: Alberta Schools Athletic Association
2) SASKATCHEWAN
Central Cyclones @ Peacock Tornadoes
Friday October 2nd, 4:00pm
It was bound to happen at some point in the 2015 season.
Two undefeated top teams in the Moose Jaw High School Football League (MJHSFL) are set for a collision course on Friday afternoon as Peacock Tornados will host the Central Cyclones.
The last meeting between these two rivals was the MJHSFL Semi-Finals when the Tornadoes blew away the Cyclones 43-14.
However, this is a new year and new season.  The Cyclones defence have been a force to be reckoned with thus far in 2015. Offensively, Zach Hagerman has proven to be tough to contain.  In last week's victory over Yorkton Raiders, the Cyclone standout rushed for 321 yards.  Morever, the duo of Aiden Coleman and Aidan Baillie are dangerous when they have the ball in their hands. Pivot Ryan Reidy has tons of viable options to create some offensive magic with on Friday.
What about the Tornadoes?
The team proved last week that they can deal with anything that crosses their path.  In last week's 60-0 rout of Vanier Vikings, they were able to contain Kelton Kouri.
Kyle Arndt has been the offensive spark for the Tornadoes.  Last week, the Tornadoes standout tallied five majors (three in the 1st quarter alone) and rushed for 191 yards in the victory.
In addition to Arndt, Dawson Kurz and Meko Cridland will be other targets for quarterback Park Andrews.
What may determine this game is defence and the Peacocks' unit demonstated their aggressive and tenacious play last week.  They only allowed Kouri 25 yards on 26 carries and the VIkings offence to muster six first downs.
This one undoubtedly is the must see game of the week in the Prairies.  Fans will be on the edge of their seats for this one from start to finish.
1) ONTARIO
CFC#26 Pickering Trojans @ CFC#19 Paul Dwyer Saints
Thursday October 1st, 2:00pm
The top game of the week is a clash of two #CFC50 teams in Durham.
If last year's Lake Ontario Secondary School Athletic Association (LOSSAA) Championship is any indication this is set to be another marquee showdown as CFC#26 Pickering Trojans will visit rivals CFC#19  Paul Dwyer Saints.  The Saints defeated the Trojans 14-7.
It will come down to which team can seize opportunity.  Make no mistake, defence and special teams could be the decisive factor in this one.
However, all eyes will be on a pair of #CFC100 Trojans – linebackers Kesean Bennett and Damian Lombardi. These two could be the difference makers in how this game turns out.
With the history and traditional close battles, it is undoubtedly the most intriguing high school game of the week nationally.  Fireworks are set to ensure on Thursday afternoon and this one is expected to go down to the last play of the game.
Advocating for football prospects one story at a time.