#CFC100 Sage Doxtater knows how to keep a secret.
Despite the fact the 6'7, 330 pound offensive lineman from Glencoe, Ontario committed to NCAA Division 1 Football Subdivision Team New Mexico Aggies two weeks ago, it only became official last week.
The #CFC100 recruit from Ontario received the offer from the Aggies in late November.  Additionally, Doxtater held offers from Football Championship Subdivision (FCS) team, Stony Brook Seawolves, who compete in the Colonial Athletic Association (CAA) and FBS squad Illinois State Redbirds.
In the end it came down to both the Aggies and Redbirds.  Ultimately, he chose the Aggies.
Overall, there were two major reasons why Doxtater opted for the Aggies.
"The deciding factors were that I really felt comfortable with the coaching staff and the players and the coaches told me I have a really good chance to start as a freshman," explained the lineman.
However, there will be no time to process his decision as he is beginning the next chapter of his gridiron and academic life at New Mexico this upcoming Friday.
"There was a huge sense of relief," added Doxtater.  "I'm early enrolling, so there's not that much time to prepare."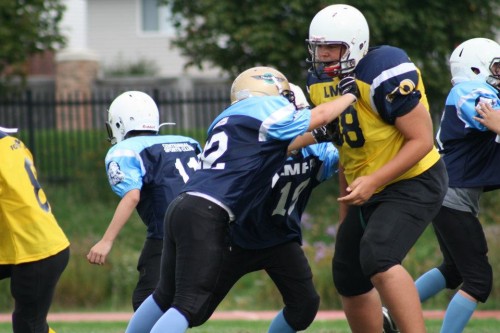 Recently, the Ontario standout completed his season with Canada Prep Academy Raiders.  Previously, he has suited up for the London Jr. Mustangs of the Ontario Varsity Football League (OVFL) where he was selected as a league All-Star in 2014. Furthermore, he played in the London Minor Football Association (LMFA).
Doxtater was a participant in the 2015 Ontario Prospect Challenge (OPC). He is also ranked on the #CFC100 CLASS 2016 RANKINGS.
With his dream realized, Doxtater said he wouldn't have been able to achieve it without the encouragement of a couple of key individuals.  One of those is Canada Prep Raiders Head Coach Geoff MacArthur.
"Last year before the summer break, he told me that if I continued to do the things that I was doing I was on track to be a bust," recalled Doxtater of MacArthur.  "That really gave me a huge reality check and it made me realize the things I needed to do to be successful."
Additionally, the offensive lineman wanted to acknowledge the significant role his trainer at Powerhouse, Steve Hendrickson has played with preparing him for the next stage of his career.
"He helped me get to where I needed to be physically so I could have a sick senior season," commented Doxtater of Hendrickson.
Now that the new stage of his career is only days away, the offensive lineman is looking ahead and has high hopes for his future with the Aggies.
"I should be able to contribute right away to the New Mexico State offense," expressed Doxtater.
(twitter: http://twitter.com/vohra_ameeta)
Advocating for football prospects one story at a time.